Student Chapters
Conference inspires a shift in undergrad's career goals
An undergraduate's first scientific conference is always exciting, but for Anna Crysler, Experimental Biology 2021 was especially significant. Crysler, now a recent graduate of Albion College in Michigan, was one of 12 students to win the American Society for Biochemistry and Molecular Biology's Undergraduate Research Award for proposed research that was an extension of a presentation she gave during the Antibacterial Targets and Drug Discovery poster session at EB 2021.
Crysler joined Craig Streu's lab during her sophomore year at Albion. At the time, she was considering medical school, and she saw the Streu lab as a great opportunity for personal growth and hands-on science.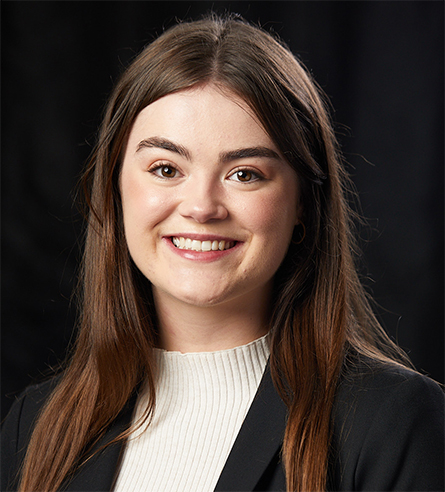 Courtesy of Anna Crysler
Anna Crysler's first national science conference was Experimental Biology 2021,
an all-virtual event.
"Albion College is undergraduate only," she said. "It's a great opportunity to do research because we aren't working under a graduate student, we are working directly under our PI, and the work we do is ours," Crysler said.
Crysler was introduced to the world of biochemistry through her membership in the Biochemistry Club, which also happens to be the ASBMB Student Chapter at Albion.
"I was quickly surrounded by other students who loved learning more about their field outside of class," she said. "We also volunteered at science fairs and performed demonstrations for young kids, which was inspiring to be a part of and watch kids' faces light up with excitement over chemistry and biology."
Crysler's presentation for EB 2021 focused on her work with nanobodies, which are single-domain antibodies, and how she used directed evolution in yeast to develop novel nanobodies that can be used as antibiotics and diagnostic agents. This research could help combat the ongoing problem of antibiotic resistance. The future of Crysler's project involves optimizing her design strategy and finding ways to develop an efficient workflow to produce this type of biologics.
Due to the ongoing pandemic, Crysler's first national conference was held virtually, and many of the presentations were recorded, creating a layer of complexity for many presenters.
"With it being virtual, and having to record the voiceover, I recorded myself probably 20 times before I was satisfied," she said. "I wanted it to be perfect."
With her undergraduate exposure to hands-on research and scientific presentations, Crysler's interest swayed from medical school to graduate school. The process of performing and presenting her research at the conference showed her "all of the science that is out there," she said. "It was inspiring and definitely contributed to my decision to go to grad school."
To gain experience in the biotech industry, Crysler has taken a predoctoral position with Adimab, a New Hampshire company that focuses on antibody discovery and production.
And what advice would she give undergraduates pursuing science?
"Balance is important. Weeding out every so often the things that no longer brought me enjoyment or fulfillment was important for me," she said. "Following opportunities that pique your interest makes it easier to engage in them."
Enjoy reading ASBMB Today?
Become a member to receive the print edition monthly and the digital edition weekly.
Learn more
Get the latest from ASBMB Today
Enter your email address, and we'll send you a weekly email with recent articles, interviews and more.
Latest in People
People highlights or most popular articles