Stroopwafels
This week's staff picks
As the summer slips away and we continue our strange pandemic existence, we continue to seek escape — by watching and listening to captivating stories, by getting outside, and even by fretting over houseplants.
---
I'm Thinking of Ending Things (Charlie Kaufman, Netflix)
"I'm Thinking of Ending Things" is, on the surface, a movie about a woman going to meet her new boyfriend's parents. Pretty quickly, you'll notice that things don't quite seem to be adding up. I'll leave the synopsis at that because watching this movie unfold when you have no idea where it's going is just so fascinating.
This movie is apparently not for everyone (critics love it, but among audiences it's pretty polarizing). However, if you like movies that can be described as surreal and enigmatic, love a good old-fashioned dream ballet sequence and enjoy puzzling out the meaning of a story, this movie is for you.
—Joanna Kotloski, marketing associate
---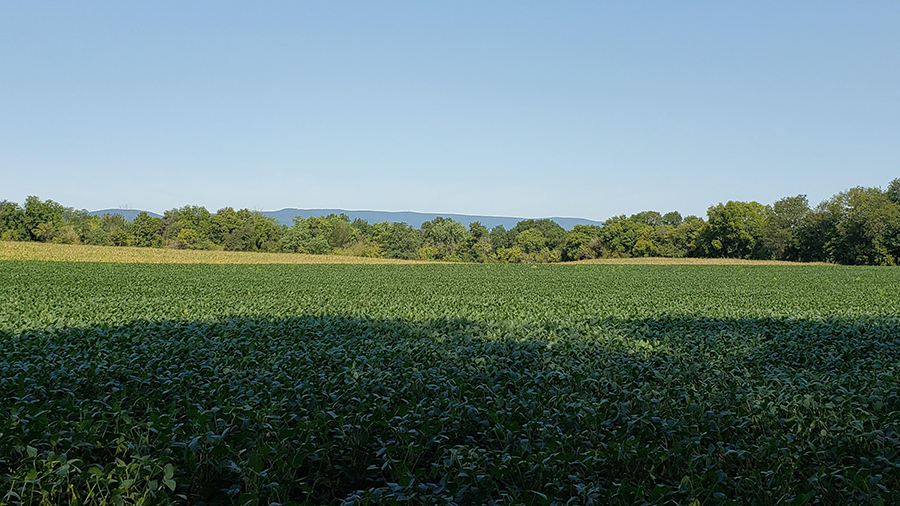 Laurie Reluzco
The Thomas Farm Loop Train at the Monocacy National Battlefield in Maryland alternates between farm fields, above, and shady woodland stretches, below right.
Laurie Reluzco
Labor Day weekend was beautiful where I live in Maryland, and I found a new trail nearby at the Monocacy National Battlefield. The Thomas Farm Loop Trail starts as gravel then turns to dirt and takes you into the woods and along the Monocacy River. You come out of the woods and walk beside a cornfield, then back into the woods you go. You walk the backstretch along a soybean field and link back up with the gravel road. It's a good late summer walk because it's mostly shade.
If you want to find a new trail near where you live, I recommend this website. It's easy to use and lists more than 100,000 trails for hiking, running, biking and more — I found 32 trails in my area. Descriptions include length, difficulty and approximate time, as well as gorgeous photos, maps, reviews and more.
It's always good to be outside.
—Laurie Reluzco, meetings coordinator
---
Plant help (B. Willow)
A lot of my friends are really into house plants, but ever since I overwatered a succulent two years ago, I've been reluctant to get another one. For the past few weeks, I've been interested in overcoming my worries and getting a new plant. B. Willow, a shop based in Baltimore, Maryland, has been an incredible source of information. There's an entire section on their website dedicated to plant care. They even offer plant help consultations via Zoom! After listening to me ramble about my lost succulent, my friend gave me a jade plant two days ago (which I'm already obsessively fretting over). With hope renewed, I'll be scheduling a curbside pickup order for supplies to care for the jade plant. If all goes well, I might even add another (extremely resilient) plant to keep it company.
—Allison Frick, multimedia and social media content manager
---
Two podcasts on conspiracy theories
Warren Wong/Unsplash
Recently, on a long drive, my partner and I listened to two podcasts: one on the psychology of conspiracy theories, and how falling for them is aided by the architecture of the internet, and the other a journalist's journey trying to prove or disprove a conspiracy theory about the origins of a rock anthem known around the world.
"Rabbit Hole" starts as a story about a West Virginia man's journey into and out of wild conspiracy theories, then unfolds over eight episodes into a collage of stories about the internet. They're all loosely connected to how YouTube and its algorithm power the rise of un-provable beliefs. I recommend it if you've ever been puzzled reading words like "QAnon" or "PewDiePie." (Kevin Roose, New York Times)
In "Wind of Change," a journalist investigates whether the CIA had a hand in writing a hit rock song that topped the charts just after the fall of the Berlin Wall — a conspiracy theory for the ages, which his ex-spy source categorically refuses to repeat on the record. Warning: If you listen to this podcast, the first four bars of the song will be stuck in your head for days. (Patrick Radden Keefe, Pineapple Street Studios & Crooked Media & Spotify)
They add up to something like 16 hours of listening, but together, I found these two investigations to be a fascinating pairing, raising questions about where we find information, what we doubt and how we establish trust that I think are crucial for all of us.
—Laurel Oldach, science communicator
Join the ASBMB Today mailing list
Sign up to get updates on articles, interviews and events.
Latest in Opinions
Opinions highlights or most popular articles