Stroopwafels
This week's staff picks
Every week, the ASBMB staff shares what we've been reading, listening to, watching and doing. Even as we prepare to mark the nation's birthday, our minds remain on the international wave of protests against racial injustice and the ongoing COVID-19 pandemic,.
---
How to Make Magnolia Baker's Original Banana Pudding recipe at home – Claire Leaden, Secret NYC
I took a break from baking various types of bread to make Magnolia Bakery's Famous Banana Pudding. This yields a large amount that's perfect for the family or an apartment full of roommates. My household does not own an electric mixer so hand whisking everything made the process much longer, but other than that, this was an easy dessert to make.
— Stephanie Paxson, diversity and undergraduate education coordinator
---
No Reservations: Narnia (Rachel Manija Brown aka Adonohana/AO3) and "No Reservations: Narnia," A Triumph of Anthony Bourdain Fan Fiction (Helen Rosner/The New Yorker).
In this mashed-up masterwork of glittering mimicry, a fan fiction writer asks herself, "What if 'No Reservations'-era Anthony Bourdain went to Narnia?" She then proceeds to knock it out of the park so hard that Bourdain, when years later shown the piece by food writer Helen Rosner, said, "This is astonishingly well written with an attention to detail that's frankly a bit frightening. I'm both flattered and disturbed. I think I need a drink."
— John Arnst, science writer
---
The Farm (Tribeca Studios)
Trigger warning: Brief combat scenes, discussions of war injuries.
This short film introduces the audience to a six-week farming boot camp of sorts, where veterans (and non-vets) get an intensive introduction to the actual practices and economics of farming with the goal of enabling entrepreneurs and helping veterans re-integrate into society. A powerful/inspiring message overall with some charming and moving vignettes.
— Catherine Goodman, JBC scientific editor
---
The Yorkshire Vet (GroupM Entertainment, Motion Content Group and Daisybeck Studios/Acorn TV)
I have to admit I love an escapist series and I love British shows, so this is a nice addition to my All Things Brit canon. It's a documentary series about two veterinarians who work in Yorkshire and run the surgery started by James Herriott of "All Creatures Great and Small" renown. In these terrible times, I find it so calming to watch these intrepid vets and their skilled staff as they take on everything from lambing to cow emergency surgeries to helping countless family pets thrive. Sometimes it's good to put up your feet and watch something soothing for a change.
— Lisa Schnabel, senior designer
---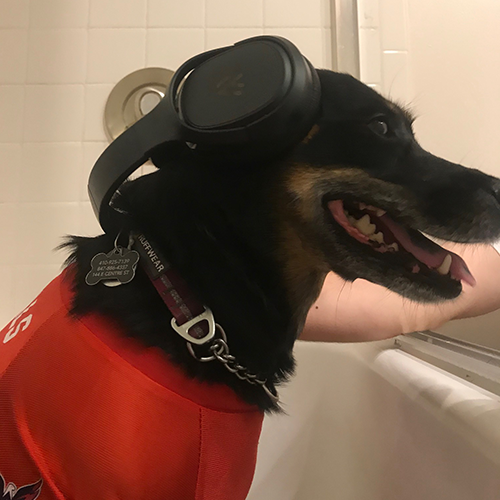 Laurel Oldach
Laurel Oldach's dog Hope, sporting a makeshift compression shirt and headphones, hunkers down in the bathtub during a scary storm.
"Isn't this a lovely day (to be caught in the rain)?" (Irving Berlin and various recording artists)
Thunderstorm season has officially arrived here in central Maryland, and since I've been spending more late afternoons at home than usual, I'm acutely aware of how afraid my dog, Hope, is of storms. Recently, while I camped out with her in the bathroom (our only window-free space) to ride out a storm, I found myself crooning "Isn't this a lovely day?" to drown out the storm. It reminded me just how much I love this song.
If you haven't heard it before, I recommend two classic recordings: the dreamy, relaxed cover by Ella Fitzgerald and Louis Armstrong, which is everything a jazz standard ought to be, and the upbeat film sequence starring Fred Astaire and Ginger Rogers, where the song and its lyrics take a backseat to the terrific tap number (filmed in one continuous take, just as Astaire always demanded),
— Laurel Oldach, science communicator
---
Beyond Training and the "Skills Gap": Research and Recommendations for Racially Equitable Communications in Workforce Development (Race Forward)
I am still making my way through this report by Race Forward, but I've read enough to know that it's important to share it. The researchers conducted a content analysis of more than 200 newspaper and wire service articles about technology or healthcare jobs and about the workforce-development agencies that represent those sectors. They were looking at how the media coverage was framed. They wanted to know "how and to what extent the news coverage reinforces or challenges the dominant frames (e.g., personal responsibility, individualism, and unquestioned meritocracy) that situate a 'skills gap' as the central or sole challenge and the 'training' of individual workers as the central or sole solution." This individualistic, rather than systemic, framing is problematic because it "absolves institutions and systems from their share of responsibility for racial and ethnic employment outcomes," they argue. In short: If you make it about the worker, not the system in which the worker is trying to operate, you can justify leaving the system unchanged.
— Angela Hopp, communications director and executive editor of ASBMB Today
---
Hamilton (Lin-Manuel Miranda, DisneyPlus)
I first heard about "Hamilton" about five years ago when I was planning a birthday treat for my daughter in New York. I'm embarrassed to admit that I ended up buying ticketst to "An American In Paris." It was a great show with killer dancing, but not a cultural phenomenon. Then I listened to the "Hamilton" soundtrack all the way through on Spotify, and I cried — a lot. I sent the link to my kids and bought the CDs. Since then, I've seen it twice on stage, listened to it countless times and watched a great PBS documentary. Oh, and I read Ron Chernow's book, which inspired Miranda to write the show. At this point, my Hamilfandom is bordering on cliche, but If you don't have DisneyPlus, I suggest you lean on a friend to invite you over real soon for a watch party. You won't regret it. As we mark the most fraught July Fourth in recent memory, you might be heartened to see a nation's founding that we can all be proud of.
— Comfort Dorn, ASBMB Today managing editor
Join the ASBMB Today mailing list
Sign up to get updates on articles, interviews and events.
Latest in Opinions
Opinions highlights or most popular articles