Stroopwafels
This week's staff picks
Every week, the ASBMB staff shares what we've been reading, listening to, watching and doing (we're seeing more crafts and cooking). As we all weather the COVID-19 pandemic and our new normal of social distancing, we look for ways to cope and connect — and a bit of entertainment to take our minds elsewhere.
---
Some Good News with John Krasinski (YouTube)
During trying times, I reach for the good news. It's very easy to find statistics, political opinion and sadness on all the news channels.
The past 4 days, I've avoided all news by working on my parents farmette. My body aches from the farm work. My dad passed away 1½ years ago to lung/brain cancer, and my 87-year-old mom is all alone in a big house. We've had to let the Visiting Angels and biweekly housekeeper go. It's up to me and my sister to practice strict social distancing so we can take care of Mom. My son Brandon, who lives with my mom, is now with his brother and wife because he's an essential healthcare worker – another worry of ours.
So here's some good news with John Krasinski and special guest Steve Carrell. Laughter is the best medicine.
— Robin Crawford, senior meetings coordinator
---
When the world stops, traveling in John Keats' "Realms of Gold'' (Frances Mayes, New York Times)
When he was 24 years old, John Keats spent a week in isolation aboard a ship off the coast of Naples. I found this account of his time at anchor beautiful and relatable — as was its author's description of traveling by way of the nearest bookshelf.
— Laurel Oldach, science communicator
---
Audiobooks and acrylic paint (Amazon)
When it was time for me to go to college, I moved into the dorms and my family moved into the suburbs. I spent my summers at their new house and lived there for a month or so between jobs in different states, but I never really considered the room in which I slept to be mine. It had lots of things in it that didn't belong to me: my mother's porcelain doll collection, my late grandmother's fancy clothes, an antique vanity strewn with perfumes and makeup. But there was one thing that I greatly admired: a painting by my grandfather.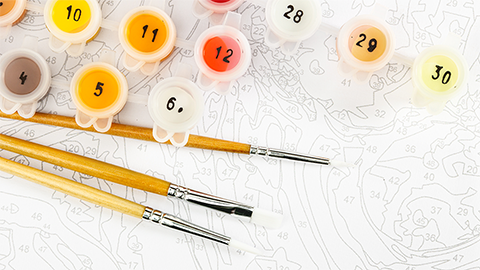 Now, Texas schools, when I was in them, did little in the way of art history. (I have zero hope that that has since changed.) So I was a little embarrassed when, in my 20s, I remarked to my mother that my grandfather truly had been a gifted painter — and she gently informed me that the painting in question was a paint-by-number version of a masterpiece, which I later learned was "Café Terrace at Night" by Vincent van Gogh.
About a year ago, I decided to order my own paint-by-number sets, and I've really enjoyed doing them. There are many available on Amazon. Paired with audiobooks, they're a good way to pass the time and calm the nerves during this homebound period. I'm also getting that art education after all.
— Angela Hopp, communications director
---
Marcella Hazan's Bolognese Sauce (Essentials of Classic Italian Cooking, republished in The New York Times)
Since childhood, I have enjoyed cooking and baking in my free time, but with traffic in the DC area as it is, our dinner plans more often revolve around quick and easy preparations. This recipe is exactly the opposite. It is deceptively simple, with only five steps, but the key is to let this sauce bubble away on the stove, testing your patience, for many hours. When working from home, I can start this recipe at lunch and let it cook, relatively unattended, while I work through the afternoon. Smells of tomatoes and wine with faint hints of onion and butter envelope the entire house. By dinner, those smells merge into a sense of warmth and coziness, and for a brief moment around the dinner table, anxiety is replaced by comfort.
— Kirsten Block, director of education, professional development and outreach
---
Watercolor in the woods: A beginner's guide to painting the natural world (Rosalie Haizlett Illustration, Instagram)
A few years ago, while I was visiting my sister in Pittsburgh, I stumbled across Seth Pitt's artwork in a coffee shop. I loved his pieces. They are whimsical and heartfelt and somehow communicate aspects of life's heaviest challenges with beautiful stories and characters. On the back of his prints, he described his studio's hometown, Thomas, West Virginia, which is in Tucker County. It sounded so lovely and cozy that my mom and I visited last summer. I fell in love with the little town, and went back last fall with one of my best friends to hike at Dolly Sods, which is nearby. I wanted to go back this spring.
My visit is postponed, but Instagram is a great way to keep up with the artists and galleries in Thomas. Seth tagged some other local artists recently on Instagram, and I have found some new favorite accounts to follow, including Rosalie Haizlett's. She was supposed to show her work at another lovely gallery in Thomas called Bloom. If you love nature, I think you'll enjoy her work. I saw earlier this week that she is offering an online painting course.
I have been taking yoga and dance classes online, and have found that comforting, so when I saw this class, I thought it might be fun to share for this week's Staff Picks. I haven't worked up the courage to sign up yet, but I'm getting there! Every other night I work on an adult coloring book, and it's helping. I'm hoping that learning more about art will help during these heartbreaking times.
Here are the Instagram accounts that keep me excited to get back to West Virginia and bring up fond memories to continue to navigate this crisis. I hope they brighten your days as much as they do mine: @theartofseth, @rosaliehaizlett, @thosewhobloom, @nellierosetextiles and @tuckercounty_wv.
P.S.: Nellie Rose is organizing a campaign to make masks to help with the shortage of N95 masks. It is called Holler! MASKFORCE. Learn more here.
— Ally Frick, multimedia and social media content manager
---
This company offers a handful of trivia, drawing and word games that you can play remotely with friends and family. My favorite game they've created is Trivia Murder Party, a killer game with a funny yet deranged host that kills off players during rounds of trivia and fun mini games. I usually play these games in person, but the website explains how to use platforms like Zoom and Google Hangouts to connect with others. It's a great way to get a big group of people together for a bit of fun while we're all cooped up at home.
— Stephanie Paxson, diversity and undergraduate education coordinator
---
Music to Be Bored (José Gregorio (Bam) Rodríguez, Facebook)
My cousin, a Grammy-award winner bass player (yep, I'm bragging) based in New York City, is doing a meditation music set every night live at 9 p.m. EDT during COVID-19 social distancing. It's helping me pause every night to enjoy an hour of breathing, inspiration and community during these challenging times. (Also on Instagram
here
, but Facebook sound is better).
— Quira Zeidan, education and public outreach coordinator
Join the ASBMB Today mailing list
Sign up to get updates on articles, interviews and events.
Latest in Opinions
Opinions highlights or most popular articles