Science Communication
From pipette to pen
"What are you doing?" my mother asked me. "So, you are not a scientist anymore?" she wailed as I explained to her that I was switching careers — moving from being a bench scientist to a science writer and communicator.
This reminded me of the time I decided to do graduate studies in South Korea. I grew up in a small town in India; my immediate family's idea of higher education was training to be either an engineer or a doctor. It was a daunting task to explain to my mother that I wanted to do a Ph.D. in biochemistry.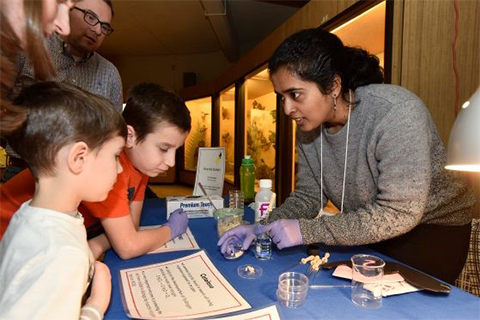 Arti Dumbrepatil
The author presents her first science communication activity for the University of Michigan Museum of Natural History.
"Scientists are these weird people who work in labs — I am not sure what they do. Do they even earn a decent living? This field is for the rich. We do not know of any scientists!" Her exact words still ringing loud in my ears after all these years.
When I considered breaking into science writing and communication as an immigrant scientist, I contemplated common hurdles such as how and where to start my new career. Little did I know that these would be the least of my concerns.
My mother had suffered a bad marriage and was harassed by her family because she did not have much money. So, she did not like the idea of me leaving the stable income of an academic job to chase my new passion. First and foremost, I had to convince my immediate family that being a science communicator is a real career. My experience might not be universal, but for many immigrants from Asia, family opinions weigh heavily in career decisions, and these families prefer careers with financial security.
I had a hard enough time explaining to them what I did in the lab. Explaining what I wanted to do as a science writer was even more arduous. The best way was to dive in headfirst, seek opportunities to communicate science, and then have my family read and/or watch what I had created.
My first science communication activity, for the University of Michigan Museum of Natural History, was to teach middle school students how enzymes work. My mother had fun viewing the recording. I think it was the first time she understood how enzymes work. Watching the science communication video, she understood that science writing and communication was just not a temporary phase but was going to be a new career.
Soon, my mother was not only on board with my career goals, but she also pointed out that science writing should not be just in English. Most people in the world speak other languages, she noted, and science articles do not translate well.
Visa challenges
As a scientist on a visa who was trying to break into science communication, I also had to deal with complex U.S. immigration laws. Most international students and postdoctoral researchers like me are on J1 and/or H1B visas. The rules are complex, and, as foreign citizens, we have limited options for fellowships and internships. These limited opportunities often define our early career choices. Switching careers while navigating visa rules is often risky, expensive and emotionally taxing.
Most newsrooms and media outlets, although they state a commitment to diversity in their workforces, shy away from hiring foreign workers, wary of taking on tedious visa sponsorship paperwork. As an immigrant science writer and communicator, my chances of getting my dream job seemed largely determined by whether a potential employer was willing to sponsor a visa.
As an international postdoctoral researcher on an H1B visa at the University of Michigan, visa-based employment restrictions did not permit me to apply for science writing internships and fellowships. I was fortunate to have a supportive postdoctoral advisor who encouraged me, and the department allowed me and a few graduate students to form a science writing club. I was the only postdoc in this club.
I built a niche and network that allowed me to explore many facets of science writing. Through the writing club, I got connected to the science communication cell at the University of Michigan Museum of Natural History. I had to complete a ton of paperwork from the international office to be able to complete the museum's science communication course. And then I needed another mountain of paperwork to be able to work with school children for my first science communication project, "Enzymes in Action."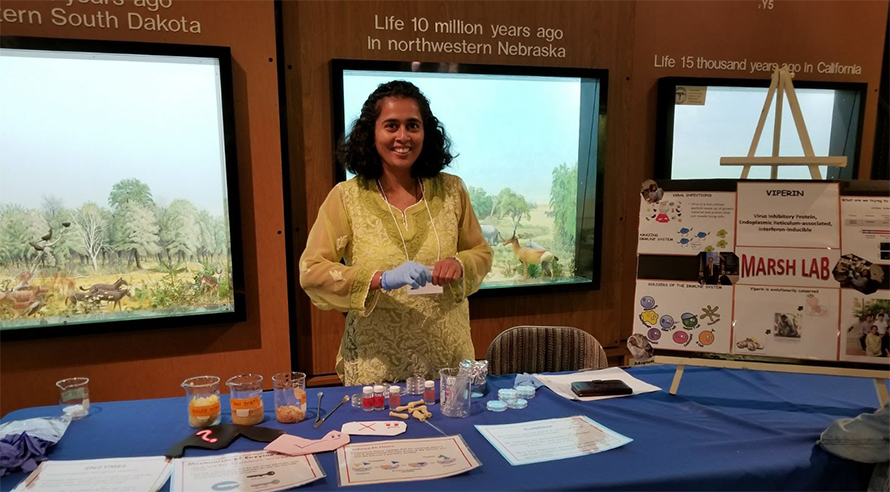 Arti Dumbrepatil
The author organized a science communication activity for the Association for Women in Science at the University of Michigan.
Leaping from challenge to challenge, including visa issues and limited opportunities as an international postdoc, I realized that I could learn from every available opportunity. Each science communication activity and article helped me build strong relationships with mentors and editors and gave me the confidence to grow as a science writer and communicator.
I was thrilled to land my first full-time job as a science writer, but an employer with a discriminatory attitude towards immigrants upended my hope of continuing with that job. Although the experience was harrowing, I was lucky that my work visa was not sponsored by the employer but supported by my husband's J1 visa. So, even though I had to quit the job, I was able to continue to work as a science writer in the U.S.
This experience was a setback, but it had a silver lining. The clients that I worked with at my previous positions were happy with my work and started to reach out to me directly for assignments through social media. I shared my work on LinkedIn, and many more potential clients contacted me after reading these posts. I was in uncharted waters again, figuring out how to work as a freelancer and continue to develop as a writer and communicator.
I took the plunge and started accepting freelance science writing and content development projects. It took time and persistence to develop a client base and find answers to questions such as how much to charge for a project, where and when to start planning content development meetings and how to pay my taxes. Establishing myself as a freelancer was like a roller coaster ride — filled with fun but scary.
Embracing awkwardness
During my early job interviews, hiring managers almost always asked me, "As a non-native speaker, how eloquent is your English?"
However, uncomfortable this question made me, I answered it to the best of my ability, explaining that I had published peer-reviewed papers in high-impact journals, written grant applications and presented at international conferences. As an immigrant scientist turned science communicator, I initially felt like an outsider in the field, but identifying, acknowledging, and distinguishing nuances across cultural and scientific identities made me a better science translator for the community. Because I have lived these identities, my stories can reach and engage more readers.
Another common question was "As a scientist turned science writer will you be able to write science communication articles for the general public?"
I was lost as to how to answer this question. I hoped my portfolio would be enough to show my competency as a science communicator. Hiring managers may think my scientific training makes me less able to break down scientific jargon, but it is extremely advantageous because I am trained to learn and dissect scientific facts. Not only that but working at the bench trained me to do accurate research for my news articles and helped me build and explain activities to promote general scientific awareness.
Learning curve
If I were asked these two questions today, my answer would be along these lines: "As a science writer and communicator, I know communities are not homogeneous; they are filled with diverse, real faces with unique personalities and cultural backgrounds. Science stories should reflect this fact along with the cool science. At the core of all science writing and communication is the fact that science is for the people, of the people and by the people."
Immigrant science writers and communicators are more apt to tell stories that represent overlooked topics and voices and share the work of researchers from around the world. As a member of the mixed scientific cultural pot, I have the advantage of being a community liaison, which often helps me get unique insights from researchers across borders on how their cultural journey shaped their research and life. I hope that many more immigrant science writers highlight the achievements and stories of underrepresented groups in science, which will inspire the next generation to pursue science careers.
An immigrant science writer's cultural and scientific identity is not a burden — it is an inspiration. It defuses hesitation among scientists and non-scientists and helps to eliminate pseudoscience.
I like to think that every science story I write will help readers discover the relevance of science to their lives and inspire them to say, "Science has a place in my world."
Enjoy reading ASBMB Today?
Become a member to receive the print edition monthly and the digital edition weekly.
Learn more
Get the latest from ASBMB Today
Enter your email address, and we'll send you a weekly email with recent articles, interviews and more.
Latest in Careers
Careers highlights or most popular articles