Essay
Demystifying the gap
As chief scientific officer of Truckee Applied Genomics, I was honored to give a talk at the Experimental Biology conference in the spring of 2022. While there, I attended several other events, including those hosted by the American Society for Biochemistry and Molecular Biology.
The conference had great attendance, but few industry participants. This disparity made me stand out and sparked interesting conversations with early career academics about the differences between industry and academia. Popular questions included "How do I make the switch?" and "Is the grass really greener on the other side?"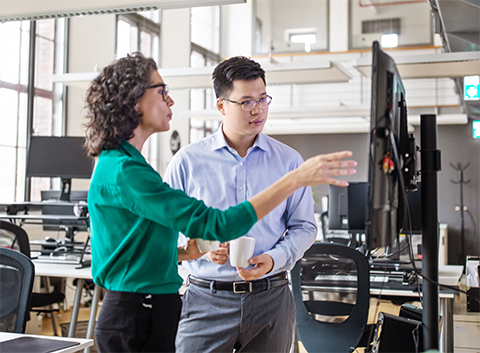 Many Ph.D. graduates in molecular biology and biochemistry are now considering work in industry, drawn to better working conditions and higher salaries than in academia. Also driving this trend is the fact that there are far more doctoral graduates than available academic positions. As a result, many such graduates won't receive any tenure-track or full-time offers. This was not something I acknowledged while pursuing my own doctorate. I assumed the only viable career option was conducting academic research, and it felt wrong to even discuss other options. Yet, most Ph.D.s ultimately end up working in industry, statistics show. It's important to acknowledge this reality, and I'm happy to see more young scientists are exploring these career paths.
As a professional in molecular biology or biochemistry, you may have observed a gap between academia and industry. This gap is starting to close as collaborations and joint programs become more common. Nevertheless, the two sectors do not always connect or understand each other, resulting in fewer opportunities and resources for aspiring professionals.
Debunking common myths about academia and industry may increase understanding and encourage professionals in science, technology, engineering and medicine to explore a wider range of career options.
Myths debunked: The truth about industry and academia

1. Publication and conferences. Many people think that industry scientists don't attend conferences or publish their work. In fact, many companies — big and small — encourage their scientists to keep current with the latest knowledge by doing just that. It's worth noting that in industry it's important to create materials well in advance, as legal staff must review studies before they go public. So, polish your project management skills and plan accordingly.

2. The point of no return. For a long time, I believed the myth that you can't go back to academia once you leave it for industry. However, many professionals are successfully transitioning back to academia after gaining experience in industry — or working in both areas simultaneously. The academic community increasingly embraces this movement, as it brings fresh ideas and perspectives to the field.

3. Meaningful work. Some believe that industry jobs lack meaning compared with academia and are solely focused on making money. However, this is not accurate. Certain industry jobs may seem dull and lacking direction, but people have a wide range of roles and responsibilities. With the potential for immediate impact, industry work can be just as fulfilling and purposeful as academic research. I derive more satisfaction from the work I do in industry, because I share a sense of accomplishment with my team in achieving our goals, instead of constantly working independently on projects.
4. Work environment. Many people think that industry jobs come with a less flexible work environment compared with academia. This is no longer true either. In recent years, the work environment in many industries has become more flexible and accommodating to employee needs. There is a greater emphasis on collaboration and team-building, as well as more opportunities for career growth and development.

4. Postdoctoral requirement. Many think transitioning to industry requires completing a postdoctoral position. Yet, companies often highly value doctoral graduates as scientists who can apply their knowledge immediately, even without a postdoc. In fact, some senior positions are available for people with doctorates and zero years of professional experience.

5. Job security and lab work. In the past, academia offered stability and job security through tenure. Yet, these days, it is actually easier to find job security in industry, which offers an abundance of job opportunities and greater flexibility to switch between jobs. Although tenured principal investigators may have some stability, they still have the responsibility of supporting their lab staff. This can become stressful, especially when funding is running low.
It's a misconception that in industry, you may be limited to laboratory benchwork or forced into fields like sales. Actually, industry provides numerous career opportunities beyond the lab, such as regulatory affairs, technical writing and project management.
6. Work visa options. STEM professionals who require a work visa to work in the United States often think they can only take lower-paying, postdoctoral jobs until they obtain permanent residency, which would allow them to work without a company-sponsored visa. However, the health care and biotech industries also provide opportunities for STEM professionals with work visas. These industries are growing rapidly and need skilled workers, making them more open to sponsoring visas for foreign workers. Many pharmaceutical and biotech companies in coastal biotech hubs such as San Francisco and Boston offer visa sponsorship programs for qualified candidates.
Although it may seem difficult, it is possible to find an industrial job that offers visa sponsorship. Keep in mind that the demand for workers in STEM fields changes over time, so hiring practices and policies may also change. STEM professionals looking for a work visa should consider all options and be willing to explore different industries.
Industry and academia may seem distinct, but they actually have several features in common. Both sectors place importance on strong communication skills that enable cooperation among colleagues, partners and other stakeholders. Both rely heavily on problem-solving skills and the ability to analyze data quickly and accurately. They also require professionals to think critically and understand the latest technologies or methods in their field. I believe the divide between academia and industry is not as wide as some may think. Bridging the gap simply requires an understanding of the unique needs and strengths of each.
Enjoy reading ASBMB Today?
Become a member to receive the print edition monthly and the digital edition weekly.
Learn more
Get the latest from ASBMB Today
Enter your email address, and we'll send you a weekly email with recent articles, interviews and more.
Latest in Careers
Careers highlights or most popular articles