Essay
How the ASBMB shaped my career
The society helped me on my path from Ph.D. student to science policy professional
When we take a moment to reflect, we always can find a few moments, people or connections that took our lives in directions we never had imagined. In my case, two factors significantly shaped my career transition from science to science policy: the American Society for Biochemistry and Molecular Biology and a draft 2017 tax bill.
As a Ph.D. student at the University of Kansas Medical Center, I joined my first-choice lab with a vibrant new assistant professor, Bret Freudenthal. Under his mentorship, I studied the mechanisms by which DNA polymerases process DNA damage using X-ray crystallography and enzyme kinetics.
I passed my qualification exams and was progressing in my dissertation project when I heard that lawmakers had proposed a provision in the federal tax law that would make graduate students' tuition waivers qualify as income. This meant a student would pay income taxes on any tuition that was paid or waived as part of their employment or research program. I would have owed another $750 or so a year in federal taxes. The proposal could have cost grad students in other programs upwards of $10,000 per year.
Such a change would burden all graduate students across the nation and likely cause many to drop out of their programs. Those without other financial resources to fall back on would be hit the hardest — that is, disproportionately first-generation students, students without familial or spousal support, and students from low socioeconomic backgrounds.
I felt compelled to act. Organizations and schools were speaking out on social media, but I wanted to tell the lawmakers themselves about the devastating effect this law would have on my peers' and my financial security. But I didn't know the first thing about policymaking and governance.
With an ignited passion to learn about advocacy and be a voice for my peers, I applied to be part of the 2018 ASBMB Capitol Hill Day.
Hill Day solidified my passion
Prior to the COVID-19 pandemic, the ASBMB public affairs department brought trainees to Washington, D.C., each spring to speak to lawmakers about the importance of supporting basic science and its workforce. In 2018, I was one of 20 trainees who came to Capitol Hill, where ASBMB public affairs staff trained us and then split us into small groups to advocate at nearly 100 congressional offices collectively.
Through Capitol Hill Day, I learned how to communicate effectively to lawmakers by tailoring my science to be relevant to issues they are concerned about. I also met peers from across the nation who were interested in science policy and the ASBMB public affairs staff who organized everything.
I gained extremely valuable skills, but I was even more influenced by the energy I felt being in D.C.
I sat next to the ASBMB president, Natalie Ahn, and chair of the Public Affairs Advisory Committee, Matthew Gentry, who spoke with the excitement and conviction that comes with being experienced advocates. I felt a strong sense of purpose when it was my turn to advocate for what was important to me: basic science and brilliant scientists.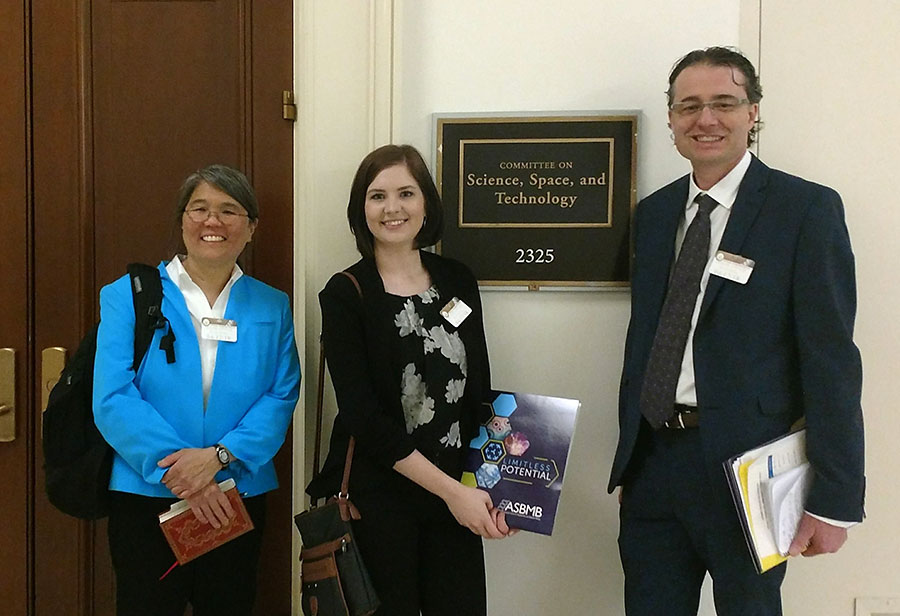 Courtesy of Natalie Ahn
Natalie Ahn, Mallory Smith and Matthew Gentry in front of the U.S. House Committee on Science, Space and Technology office during the 2018 Capitol Hill Day.
Gentry moonlighted as our tour guide. He shared interesting stories and detailed knowledge of the events held on Capitol Hill that day, and he recognized many of the people we passed. He insisted that we ride the underground train between the House and Senate buildings; I'm still not sure whether it was actually a shortcut.
On the plane ride home, I was overwhelmed by my gut feeling that this was just the beginning. I didn't know how or when, but I'd be back one day.
Over the next year, I pursued science advocacy and outreach activities in my community; I organized the Kansas City March for Science festival, hosted science cafes, served on research and student councils at KUMC, and more. I also pushed my dissertation project forward, published my first first-author paper and made good progress on my second one.
Connections at the annual meeting
Noting my progress in both science and policy, my adviser offered to send me to the annual ASBMB meeting rather than the field-specific meeting our lab typically attended.
I was intimidated to attend a conference alone. Then I got a huge confidence boost when the ASBMB selected my abstract for a travel award and an oral presentation at a session — my first national presentation!
En route to Orlando, I nervously posted a tweet tagging the ASBMB public affairs team. To my surprise, they responded and even offered to meet with me to discuss my science policy efforts and how they could help.

At the meeting, I networked with an array of interesting professionals (and made a new friend) at the career programming event for travel awardees, explored science both inside and outside my field, and reconnected with the public affairs department between sessions. As a result, the director at the time, Benjamin Corb, donated 75 advocacy toolkits for an event I was co-organizing to teach advocacy to scientists in my community.
(Author's note: If you're interested in science policy and attending #DiscoverBMB — please come find our team! We're hosting several events and would love to chat with you. Connect with us at our Advocacy Town Hall at 12:30 p.m. Monday, March 27, and our panel titled "How to engage in advocacy as a scientist" at 12:30 p.m. Tuesday, March 28.)
One foot in science, the other in policy
By the time I was setting a date to defend my Ph.D., I had the best of both worlds: a solid scientific CV and a strong track record of leadership and advocacy activities.
I wasn't sure whether I was ready to jump into science policy right after graduation. Most science policy professionals who start out as scientists participate in fellowship programs — a majority of which I was ineligible for until after graduation. I also had to navigate the decision while the COVID-19 pandemic was unfolding and we all were working remotely.
I landed at the National Institutes of Health's Eunice Kennedy Shriver National Institute of Child Health and Human Development as a postdoctoral fellow. I worked a shifted Thursday-through-Sunday schedule to comply with COVID-19 occupancy restrictions.
I didn't meet the other half of our lab until six months after I started the position, and I had no formal opportunities to meet other postdocs or people outside of my lab.
Not wanting to let up on advocacy, I contacted the ASBMB public affairs office. The director was excited to hear I was in the area and told me that the ASBMB staff was busy but still working from home.
I joined the NIH Science Policy Discussion Group (virtually), which led me to co-author a policy memo in the Journal of Science Policy and Governance. I also was elected to the NIH Fellows Committee, which connected me to the National Postdoctoral Association.
Next, I was appointed to the NPA's advocacy committee to help lead its national public policy efforts. This timing was fortuitous. The committee was being restructured for more action-oriented activities in support of well-defined goals in the NPA's strategic plan, and that gave me a crash course in grassroots advocacy on a national scale.
The NPA leaders, my committee co-leader and the committee members all work in different environments and in varying levels of academia, including postdocs, postdoc administrators and graduate deans. I saw the strength of bringing together a diverse community with common interests, the important role media plays in instigating change, and the value of a strategic plan in the ever-changing advocacy landscape.
I also learned how to balance my science and my advocacy. Most scientists do advocacy off the clock or squeeze it in between experiments. I realized I was burning the candle at both ends. I took stock of all the positions I held and efforts I contributed to, and then I started cutting roles that were not helping me learn, grow or move into science policy full time. I became more focused and productive, improved my mental health and, in general, was a better advocate and scientist.
Taking the policy plunge
In 2020, the ASBMB public affairs department had openings for new science policy managers. Ben Corb remembered me from our chats and interactions on Twitter and suggested I apply. I got the job.
After joining the team, I realized how the ASBMB had shaped my career by showing me the power of Capitol Hill, helping to build my confidence as an advocate, and now giving me a job to pursue science policy full time, supporting the community that helped shape me.
Become an advocate
Although the ASBMB currently is not bringing trainees to D.C. for Capitol Hill Day, they can get dedicated training and participation in a virtual Hill Day through the ASBMB Advocacy Training Program. Applications are being accepted until April 21.
Wonder what we do in the ASBMB public affairs department? We advocate to stakeholders (federal science agencies, lawmakers and other organizations); write position statements and comment letters to raise awareness and provide recommendations; organize events; communicate with our members and the public; and much more. I also advocate on issues affecting student and postdoctoral communities, which I'm particularly driven to address, and I manage the Advocacy Training Program.
The ASBMB ATP is a summer externship certificate program that provides science policy and advocacy training for ASBMB members. Participants learn the skills to become effective advocates, and each of them develops materials for an independent project addressing an issue in science policy or in their individual community. By providing the ATP delegates with tools to be independent advocates, I'm arming them with the knowledge and confidence to take action when they see injustice. I'm teaching them how to use their voices — something I wish I'd had back in 2017 to oppose the draft tax bill.
I was helpless to influence that 2017 bill, but it led me to my niche between science and policy, supporting the community that shaped me and fighting for better policies for our future.
Read our newsletter
To stay up to date with the ASBMB's advocacy efforts and find pertinent articles, funding announcements and other helpful trainings or resources, sign up for our monthly Advocacy Newsletter here.
Enjoy reading ASBMB Today?
Become a member to receive the print edition monthly and the digital edition weekly.
Learn more
Get the latest from ASBMB Today
Enter your email address, and we'll send you a weekly email with recent articles, interviews and more.
Latest in Careers
Careers highlights or most popular articles