Advocacy Training Program
Applications for the 2022 ATP have closed. Please check back for more information about the 2023 application cycle.
The ASBMB Advocacy Training program is a three-month externship (May–Aug) that provides hands-on science policy and advocacy training and experience. ATP delegates will learn how to advocate and about conducting science policy in the federal government and Congress. With support from ASBMB public affairs staff, delegates then develop and execute an advocacy activity focused on policies affecting their communities.
Participants in the program will gain skills that they need to create change in their region and to become a leader for those seeking to do the same. They will have a built-in cohort of other delegates around the country dedicated to doing the same type of work. ​They will also learn the importance of policy writing and how to communicate scientific issues to Congressional staff.
Goal of the ATP
While federal policies affecting life scientists are a focus for the ASBMB public affairs team, evidence-based state and local policies are also key to creating a productive, diverse and sustainable scientific enterprise.
The ASBMB public affairs team aims to educate and train interested ASBMB members in effective science advocacy. This program will arm participants with the ability to create sustainable advocacy efforts, improve policies at the institutional and local level and learn fundamental skills for science policy careers. The ATP is also designed in a cohort framework for further advocacy and networking opportunities beyond the duration of the program!
What to expect as an ATP delegate
The program will require about 8–10 hours a month between ATP coursework, discussions and activities.
The program involves weekly one-hour virtual lectures to learn about science policy, applied learning assignments and developing an independent advocacy activity to execute in your local or federal community. Assignments and/or prior reading must be completed before each call. The course syllabus will include the following sessions:
Section One: Science policy, advocacy and the federal government
Session 1 — What is science policy?
Session 2 — The executive branch and federal agencies
Session 3 — Congressional advocacy, agency authorization and the budget process.
Session 4 — State and local advocacy and engaging community stakeholders
Section Two: Science policy strategy
Session 5 — Diversity, equity, inclusion and accessibility in advocacy
Session 6 — Science policy writing & finalize advocacy activity plan (No meeting this week)
Session 7 — How to shape policy
Session 8 — Finalize Op-Ed writing piece (No meeting this week)
Session 9 — Constructing your advocacy message
Section Three: Advocating before, during and after
Session 10 — One-on-one prep for your meetings with policymakers
Session 11 — Complete meetings with policymakers (No meeting this week)
Session 12 — Meeting follow-ups Program summary and evaluation
Session 13 — Exploring science policy careers
ATP delegates that fulfill all assignments and activities of the program will receive a certificate validating their completion of the program.
Any questions can be directed to publicaffairs@asbmb.org.
Aria Byrd
Graduate student
University of Kentucky
"I started the program well aware of the numerous challenges scientists face, but the ATP gave me an opportunity to critically think about how to realistically address those challenges."
Kelly McAleer
Undergraduate
College of New Jersey
"Participating in the ATP took me to a new level in my involvement in science communication and advocacy."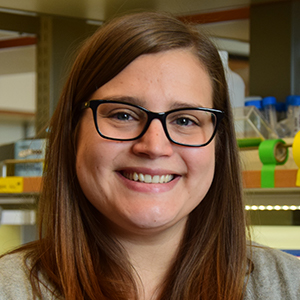 Christa Trexler
Postdoctoral fellow
University of California, San Diego
"Being a part of the ATP opened up the world of science policy to me... Through working with the ATP, I've had meaningful interactions with elected officials as well as campaigns."
FAQ
Do I have to be an ASBMB member to apply?
Yes. If you're not already a member,
join here
.
I'm a faculty member. Can I apply?
Yes, you can apply.
Can green card holders and non-citizens apply?
Yes, you can apply.
What kind and how much homework will there be?
Homework will vary depending on the week. During the first two months, you'll read articles and watch videos. You will develop advocacy materials, attend meetings, strategize about the best ways to craft your message and complete other assignments. Be prepared to dedicate 8–10 hours a month to the program. If you cannot make such a commitment, skip this application period and apply in the following cycle.
What if I miss a session?
Delegates are expected to attend each session to develop the tools needed to become an effective advocate. Because the sessions are virtual, you should be able to attend from any location. Sessions will be scheduled on Wednesday afternoons. If you foresee multiple date conflicts, we ask that you do not apply.
Do I have to tell my research adviser/principal investigator that I am applying?
We encourage you to discuss your application and participation in this program with your adviser. If you believe that there will be a conflict between you and your adviser (or other institutional officials), we ask that you not apply.
Do I get to participate in the ASBMB's Capitol Hill Day in Washington, D.C.?
We're not sure! Following the COVID-19 pandemic, the annual ASBMB Capitol Hill Day has been conducted virtually with our Public Affairs Committee. As the situation evolves and Congress becomes accessible in-person again, this may change.
What do I get out of becoming a delegate?
Our goal is to produce self-motivated, knowledgeable delegates dedicated to advocating for life science research. You will gain skills that you need to create change in your region and to become a leader for those seeking to do the same. You will have a built-in network of at least 10 other delegates around the country dedicated to doing the same type of work, meet and network with expert guest speakers, and learn about career opportunities in science policy.
What happens after it's over?
Alumni have the opportunity to become teaching assistants for the next cohort, participate in an ATP alumni working group and join ASBMB Public Affairs Advisory Committee working groups. The ASBMB policy team will use alumni feedback to improve the program for the next cohort of delegates. The policy team also will call upon alumni to mobilize their local networks to coordinate national advocacy campaign efforts.
If I don't become a delegate this year, can I apply the next year?
Yes. Applications are expected to cycle annually. Reach out to publicaffairs@asbmb.org for the latest information.
I'd like to participate in advocacy, but can't commit that much time to this program. What can I do?
The ASBMB provides a variety of advocacy activities throughout the year. Email publicaffairs@asbmb.org to learn what opportunities might be available, such as writing an article for the ASBMB Today magazine.