Who we are: Founded in 1906, the ASBMB has a storied history of advancing the mechanistic understanding of nature through promotion of the highest-quality research in biochemistry and molecular biology.
What we do: The society is committed to advancing scientific knowledge by publishing and reporting on significant and enduring research.
Why us?: ASBMB journals are committed to helping scientists disseminate their findings in the most efficient and effective way. We strive to keep review times short, provide useful feedback and promote contributions after publication. As always, our publications are free to any reader, increasing visibility and ensuring research equity.
Journal of Biological Chemistry
The Journal of Biological Chemistry focuses on science at the intersection of chemistry and biology, illuminating the mechanistic details of biological processes.
All accepted manuscripts are available to the public for free on the day of acceptance. The average time from submission to first decision is 17 days for regular articles and shorter for accelerated communications.
Explore JBC papers:
17
Average days to first decision
Molecular & Cellular Proteomics
Explore MCP papers:
Special Issues — themed issues on topics such as multi-omics data integration and reproductive proteomics.
Journal of Lipid Research
The Journal of Lipid Research is the most-cited journal devoted to lipids in the world, focusing on the science of lipids in health and disease.
Explore JLR papers:
8.79
Average days to first decision
ASBMB Today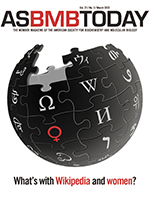 ASBMB Today is the society's news magazine, containing extensive coverage of awards, meetings, research highlights, job placements and human interest articles.
Recent articles from ASBMB Today
From the journals: MCP
A destructive disease can lurk in a citrus plant's vascular system. Misfolded proteins offer a key to inflammation in liver disease. And proteomic studies provide clues about signaling linked to neurological disorders.
Targeting two-faced nuclear receptors to fight cancer
For small-molecule cancer drugs, context is everything. Drugs that ameliorate cancer in some tissues may increase the cancer risk in others. Researcher Stephen Safe has turned this challenge into an opportunity.