Night Shift
Classroom days, emergency nights
For most of my life, I rarely stopped to think about what people did at night. As a kid with conservative parents, I was bound by nightly curfews. I assumed all families were at home together and everyone slept at night. Now I know that's not the case. While others are sleeping, I work as an emergency medical technician at a local Level IV* trauma center.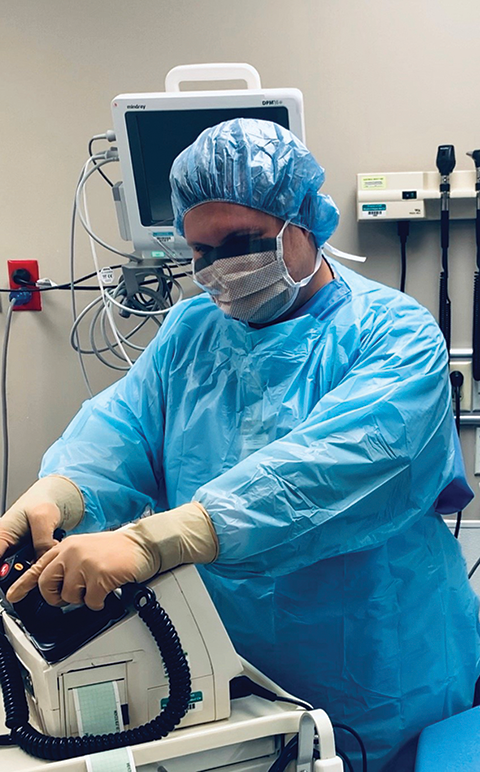 Courtesy of Justin Lovett
Justin Lovett preps for an incoming trauma in the emergency department at a hospital in Texas.
During the day, I go from class to class, a senior in the department of chemistry and biochemistry at Stephen F. Austin State University. After class, I go to the lab. I'm a full-time student in a difficult area of study, juggling the responsibilities of academics and research. I get notification after notification from my calendar. All my friends say, "That's a busy person."
Many people do not know that my day begins again at night. My days and nights endlessly run together. It's a ride that never stops going around and around, but I love it.
Before I landed my job in the emergency department, I was living in a large city attending graduate school for cellular and molecular biology. As I found my interests slowly veering away from biology and into chemistry, I decided to leave my program and return home to Nacogdoches. I was an undergraduate again, and I needed employment.
My two sisters work at the local hospital, and they were kind enough to drop my name to the director of the emergency department. When he called me for an interview, I reported to his office holding a CV of academics and research; my only related experience was as a medical scribe. After the interview, he called and said the job was mine, but I would need to earn some certifications and take a six-week orientation.
I've been doing the job for a year and a half now.
A shift for me begins at 1900 hours (7 p.m.). As the sun sinks and the day fades, I put on a clean pair of scrubs and my name badge and then head to the hospital. I walk through the ambulance bay doors, get a report from the day shift on what's left for me to pick up and begin my duties.
As a tech, I assist the nurses and physicians with patient care. This typically entails drawing blood for lab work, performing electrocardiograms, hooking up patients to the monitors and cleaning rooms. Other duties include transferring patients, paging doctors and getting patients admitted to the hospital.
Personally, I love doing orthopedic splints, and the ER crew gives me every opportunity to place splints on patients who have broken a bone or two. To me, it is an art form: the correct splint placement for particular fractures mixed in with wrapping elastic bandages so they lie completely flush with one another, producing a beautiful splint.
In a shift, we see anywhere from 18 to 40 patients. A regular shift lasts a full 12 hours, but on slower nights I might get to leave early, around 4 a.m. I started as a full-time employee working what's known as a 5:2 rotation. I'd work five days straight, have two days off, work two days, and then have five days off. I worked that rotation for a year, essentially getting a crash training. I soon realized that I could not sustain a full-time work schedule as well as school, staying awake sometimes for 30-plus hours. I now work a manageable three shifts a week.
Unlike most hospital departments, in the emergency room we never know what might roll through the doors. Most ERs have a red phone (we call it the bat phone) where we get reports from incoming ambulances. The piercing ring of the bat phone evokes simultaneous dread and curiosity. It could be a simple headache or a foreign body stuck in a sphincter. Once, it was someone who drank too much at the local bar. The individual's ethanol did not settle well, and upon arrival they reenacted a scene from "The Exorcist," painting the trauma bay with whiskey-soaked emesis.
Television medical dramas paint a fairly accurate portrait of the emergency department, though in rural areas, specialists and surgeons don't freely walk into the ER to see patients. It takes something akin to an act of Congress to get the specialist to call you back after certain hours. But the ignorance about specific medical procedures on TV is sometimes cringe-worthy. I recently watched a scene where a patient had a hemothorax (accumulation of blood in the chest cavity) requiring a chest tube, but instead they placed an endotracheal tube in the pleural space. Endotracheal tubes are used in intubations to secure airways.
We have some unspoken superstitions in the ER. The No.1 rule is to never speak the words "quiet" or "slow." These words are a hex, sending atmospheric signals out to people that they are sick enough to come to the emergency department. And full moons genuinely do bring out the crazies.
The work can be stressful. When the power doors slide open at the start of my shift, they sometimes reveal a scene like a New York City rush hour, with patients filling every bed and spilling out into the hall. The beeping and dinging of IV pumps and telemetry monitors tell me that Bed 2 has low blood pressure and that Bed 6 has finished their bolus of normal saline. As I see the numbers climb on the electronic board that tracks how many patients we're treating and how many are in the waiting room, my stress level rises.
This work can be both scary and heartbreaking — the scary cases more often than not have heartbreaking results. A person comes in with wrenching abdominal pain and vomiting only to learn they have metastatic disease. Or someone comes in complaining of feeling unwell and suddenly goes into cardiac arrest because they have developed irreversible sepsis.
The emergency department is unpredictable, and therefore so is my night. I might walk out laughing at the end of my shift, or I may leave defeated after losing a patient.
When the sun comes up, my work day is over. At home, I take a short nap before heading back to class. I try not to let the events of the night before show on my face. I fight to stay alert. I listen to lectures about symmetry and group theory in inorganic chemistry or the mechanisms of second order nucleophilic substitution reactions in organic chemistry, and the night shift fades into day.
* This designation, ranging from I to V, indicates that a hospital can provide advanced trauma life support. The level is based on the hospital's capabilities and specialties and how much of the time these doctors are available. As a level IV trauma center, our specialties include general surgery, orthopedic surgery and cardiothoracic surgery, but our more critical patients are transferred to a Level I or Level II trauma center with 24-hour coverage of all medical specialties.
Join the ASBMB Today mailing list
Sign up to get updates on articles, interviews and events.
Latest in Careers
Careers highlights or most popular articles