Wellness
On the intersectionality of race and mental health
For Batsirai Bvunzawabaya, several family experiences led her toward a career in psychology. When Bvunzawabaya was a teen in her native Zimbabwe, her older sister studied social work and pushed her to think about pursuing a helping field. She credits her older sister with sparking her interest in counseling others as a profession.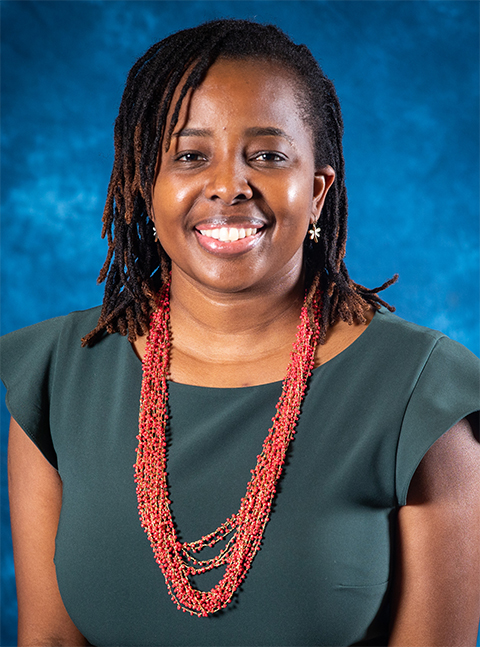 Batsirai Bvunzawabaya is the director of outreach and prevention at the University of Pennsylvania and one of the university's mental health consultants for the Steve Fund, which focuses on supporting the mental health and emotional well-being of young people of color.
But it was the death of her father from cancer when she was 16 that truly set Bvunzawabaya on the path to becoming a psychologist.
"I think, in some ways, that was a big sort of impetus to thinking about being in a helping role. I had such a great and supportive family," Bvunzawabaya said, "but I also just didn't want to burden them with my own thoughts and feelings about how I was impacted by my dad's death because I knew they were obviously impacted as well. … And yet I still felt like it would be nice to sort of just talk to somebody else about how I feel."
Shortly before her 18th birthday, Bvunzawabaya moved to the United States, where she was able to land a tennis scholarship at Alabama A&M University, a historically black institution. She majored in psychology.
She then earned a doctoral degree from Auburn University in counseling psychology, which she describes as "probably one of the best life decisions I could have ever made."
She finds it rewarding to focus on strengths and to think about not just the struggles people have had but also "The amazing ways that human beings can continue to evolve and change and persevere through a lot of difficult life challenges."
While finishing her doctorate, she did an internship at the University of Pennsylvania's Counseling and Psychological Services, now known as Student Health and Counseling. She became a postdoctoral fellow in 2012 and then a staff psychologist. In 2019, she was made the associate director for outreach and prevention, and today she is director. She also very proudly serves as one of their mental health consultants for the Steve Fund, the nation's leading organization focused on supporting the mental health and emotional well-being of young people of color. In her role, she supports the organization by helping them to accomplish their goals: developing a robust national dialogue, adoption of effective programs by colleges and universities, greater knowledge and utilization of campus mental health services, and increased competency of families and mental health organizations serving their demographic.
Bvunzawabaya talked to ASBMB Today about her own experiences providing mental health care to students and the intersectionality of race and mental health. This interview has been edited for clarity and length.
The Healthy Minds Study, which looked at trends in mental health diagnoses in college students between 2013 and 2021, found a 50% increase in mental health problems in college students. Does that match what you are seeing on your campus?
I think it does. Those numbers were steadily increasing before the pandemic. And then during the pandemic, we saw a slight decrease in students seeking help, but there were many reasons for that. Some students needed to care for a loved one, or they were living at home where it's harder for them make sure that they're engaging in therapy in a consistent way. Or maybe there is no privacy to engage in therapy at home. For example, some of our students may not be out (as LGBTQ) to their families, so for them to engage in therapy while at home may not have been something they could do.
But now that we're moving closer and closer to having some distance from the pandemic, we are continuing to see that students are in distress for a lot of different reasons and experiencing depression, anxiety and all of the things that the Healthy Minds Study highlighted.
Do you have a sense of what is driving these increases?
Well, I think it's a lot of different things. So one is, you know, is it really an increase or are we getting better at encouraging people to seek help? Has there been good stigma-reduction work being done? Are people hearing certain celebrities or people within their community say, "Hey, I seek mental health care"?
And then there's another piece, which is the change in the way that we get news and the impact of social media — students are exposed to so much more information. So you can wake up this morning and hear about the folks in Indonesia who were in a stampede and hear what's happening with the floods (caused by the hurricane) in Florida. And then you're also getting local news for things that are happening within your community.
You're getting bombarded with so much information, and that is something that's a little bit different in terms of just how much is out there and how much of it can be distressing. In conversations we end up having with students, our message is, "You need to regulate your use of social media and how you get the news," because that could also be increasing a sense of distress.
The other thing that we're hearing more and more students talk about is just the concern around climate change and anxiety. A lot of students talk about the impact that has on their mental health and well-being. Sometimes I'll hear students say, "How can I focus on my classes when we're ignoring this bigger issue that may actually impact me in the future?"
And then, of course, there is the pressure that comes with being students and some of the day-to-day grind of that. Some of our students maybe feel a lot of financial stress, really feeling the pressure to turn this degree into something that will be lucrative that will support them or contribute to their family's financial stability. And for some of our students of color or students who have minoritized identities, they may face daily discrimination and microaggressions that are also adding to that stress.
But the point is there are so many different factors and it's hard for us to isolate and say, "Oh, it's just this one thing."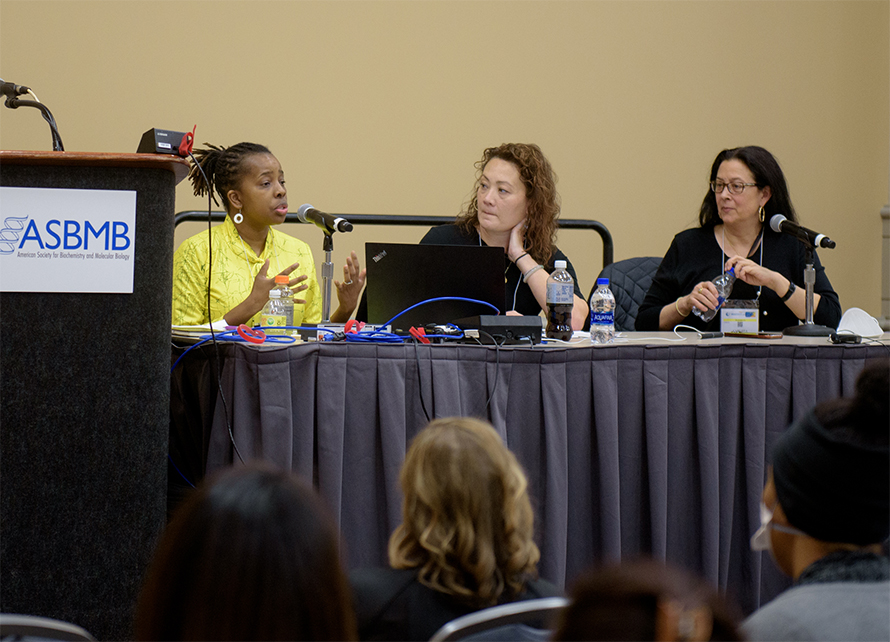 Batsirai Bvunzawabaya, left, speaks during a session on race and mental health at the 2022 ASBMB annual meeting in Philadelphia. Also on the panel were Cirleen DeBlaere (center), associate professor and coordinator of the counseling psychology doctoral program at Georgia State University, and Carlota Ocampo (right), provost, vice president of academic affairs and associate professor of psychology at Trinity Washington University.
One of the other striking findings of the Healthy Minds Study is that students of color were less likely to seek treatment. Can you talk about that a little bit?
I think some of it comes from the potential messages from family and friends around what it means to seek help. And how we define what strength is and what it isn't. I think sometimes there could be the pressure — that being vulnerable or being open with someone who's not in your family and who's not in your community — that maybe that person won't understand how you feel.
I think the other piece of it too is it can just be hard to be vulnerable. Especially when maybe you have experiences of discrimination and marginalization on a day-to-day basis. You can almost feel like, "OK, I just need to focus on what's in front of me. And just keep moving forward."
And then I also think that, as a psychologist, there's so much about what happens in therapy that can feel secretive because of the need for confidentiality and those things that provide a lot of safety. But I think for communities that may not have grown up hearing about therapy or knowing about therapy, it can just feel like it's too mysterious — like you don't know what you're signing up for.
You don't know what that person is going to ask you. Is your family going to get criticized, or are you going to be judged? There's so much for us, as a field, to do to make sure that students of color understand that this can be a helpful resource. We have to give them enough information to make that decision so that they know what they're getting into.
Lastly, I'll just say that access is an issue. Some students have difficulty with getting the care that they need, whether that's because they don't have the health insurance or there are other barriers. For students of color, sometimes seeing a therapist of color can also help in reducing stigma or concerns. But as we know, the number of therapists of color is small. And especially in smaller communities, they tend to be taxed because there's not that many of them. So that can be a barrier as well.
Do you find any particular impact on students of color in STEM fields, where they're often underrepresented?
Yes, absolutely. I think the fact that they are underrepresented adds a layer of pressure. And I think, to some degree, it's difficult for some students not having enough mentorship, because there are so few available, that they may not be able to see what it means to not only progress through their program successfully but to do that while also having mental health challenges.
Do they end up seeing only people who seem the perfect or the polished ones who have everything together? Or are they able to find mentors who say, "Hey, these are the ways I've struggled. And these are the ways that I figured out how to care for myself."
And I think, depending on what their area is within the STEM fields, there are certain thoughts that we have about folks in STEM. You know — very confident, highly talented, driven. And I think some of those things, obviously, are extremely true, but in a lot of ways, how do you also think about how vulnerability is a part of that? For example, if you are thinking about being a physician who cares for other people, what does it mean to care for yourself and what does it take to make sure you realize that you being well is an important piece of your success as a physician?
I also hear from students of color within STEM fields that sometimes even when people are well meaning and trying to be supportive, there can be a sense of feeling isolated. Maybe folks in their families may not have gone through this experience that they're going through. It can be harder to form a sense of community within the field because, again, maybe there are fewer people who they can connect with or relate to in the ways that they need.
And then, of course, even when people are well meaning, sometimes there can be microaggressions and other forms of discrimination. Impostor feelings and things like that can impact students' sense of belonging and sense of feeling validated within that environment.
Do you feel that anti-racism training on campus for faculty and students can make a difference?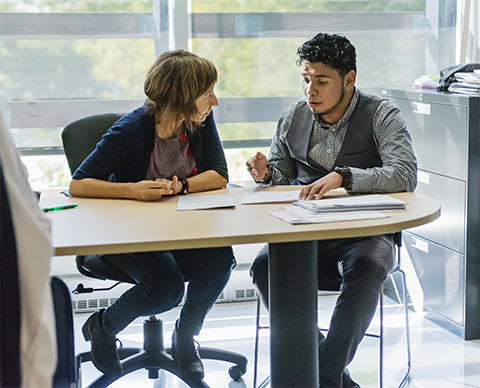 I do think it can make a difference. I think the trainings are helpful, but they need to be an ongoing discussion. It's all of our responsibilities, right? So even when you hire somebody that has a focus on diversity, equity and inclusion, it's not just like their thing that they're working on. It has to be something that we all understand is important. We can all make mistakes, but how do you address it? How do you recover from it? And how do you make sure that the person is not burdened with having to fix your mistake?
It's about taking accountability and recognizing that it's more about the culture change rather than seeing it as, "Oh, I took this one training, and that's it." It needs to be, "Oh, I took the training. And then I continued reading, and I went to this conference, and I had this conversation." You need to see it as the stepping stones to continuing to be more inclusive and creating a more inclusive environment.
Do you have anything to add about how you try to address stigma and the intersectionality between mental health and race in your work?
As a therapist, I talk very openly with my students about it — not just for my students of color but as a therapist who is Black and African. I try to make sure that there's no part of therapy that feels like a mystery to them, even though there's already an inherent power differential, that therapy is collaborative. But I want students to have a sense of autonomy and ensure that they don't feel that it's something being done to them.
And we're both going to decide what's going to happen next in terms of treatment. So even when I see students who are having thoughts of suicide, it's trying to just talk to them and say, "OK, these are the options of things that we can do to keep you safe. What do you think works best for you?"
In some cases, I may have to say, "You know what, I don't know if that's actually going to work for you. How about we do this, right?" I try to make it seem as though it's a process we're engaged in together as opposed to a punitive process — such that because they told me this thing, now I have to send them to the hospital. It's more about, "How do we keep you safe? And you let me know how to do that. Together."
Part of what we want to do is have a trauma-informed approach and make sure that we're engaging students in a way that is safe and supportive. Hopefully, therapy will be a positive experience and they'll want to do this again in the future.
Enjoy reading ASBMB Today?
Become a member to receive the print edition monthly and the digital edition weekly.
Learn more
Get the latest from ASBMB Today
Enter your email address, and we'll send you a weekly email with recent articles, interviews and more.
Latest in People
People highlights or most popular articles