Interview
Meet Martin Spiering
Technical editor helps authors finesse their titles and abstracts
Over the past year, Martin Spiering has worked on more than 1,300 papers submitted to the Journal of Biological Chemistry. As the journal's technical editor, he's tasked with evaluating the effectiveness of each paper's title and abstract and with advising authors on how to improve them when needed.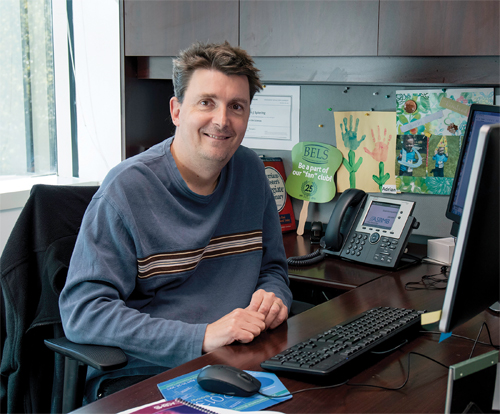 As technical editor of the Journal of Biological Chemistry, Martin Spiering says he helps authors "craft more compelling titles and abstracts."
Emily Huff/ASBMB
The workload is significant. The journal publishes several papers on any given day. His duties are intellectually challenging, because JBC covers a broad range of biological chemistry.
"It's a lot to get one's arms around, and it's actually a fun experience as well," Spiering said. "I wouldn't have started on this project if it would've meant just dredging along, (doing)repetitive work. I enjoy wordsmithing, digging into details and making something that is good even better."
Spiering earned his master's degree in biology from the Free University Berlin in 1995 and his Ph.D. in microbiology from Massey University in New Zealand in 2000. He did postdoctoral work at the University of Kentucky and Trinity College, Dublin, and was a senior scientist at the University of Maryland. He also worked as a freelance manuscript editor for a few years before formally embarking on his editorial career in 2013, first as a science editor and project manager for a federal contractor assigned to the National Institutes of Health. He joined JBC in the summer of 2016.
He spoke to ASBMB Today's executive editor, Angela Hopp, about his work at JBC. The interview has been edited for space and clarity.
Could you talk a little bit about the service that you provide to JBC authors?
In a nutshell, I'm helping authors craft better and more compelling titles and abstracts. So I'm dealing only with the most visible parts of their papers — the idea being that a clear and interesting title will draw readers in and an easy-to-read and well-structured abstract will prompt readers to delve more deeply into the work.
How do you think providing that service fits into the bigger picture for JBC? Yours is a relatively new position, and it's obviously something the JBC editors care about, but why?
There seems to be this productive confluence of ideas at the moment to find ways to make the journal better and to distinguish it from similar journals in the field. The scientific publishing arena has become very competitive, and one way to raise the bar is to improve presentation — to bring out the aspects of a paper that are likely of great interest to readers and put these pieces clearly in front of them.
Along with this effort, JBC is also rapidly expanding its social media reach, and we also have more outreach to JBC's audience, prospective authors and the scientific community at large through the associate editors, who deeply care about the journal. So this service fits into the larger picture of adding value to both authors and readers and maintaining and even expanding the wide reach of the journal.
You get to see, probably more even than the JBC editors, the breadth of the journal.
Oh, yeah — JBC has a big scientific footprint. I think one challenge of my job is that JBC is a generalist journal. Each paper is so vastly different. It may be about cell signaling, DNA replication or sophisticated structural analysis, and some papers even report on early-stage therapeutics for a variety of diseases. It's always concerned with the vast field of biology, including, obviously, biological chemistry and also molecular and structural biology and so forth.
What I bring to the table is that I often look from the vantage point of the naïve reader. If the work seems confusing or doesn't seem well presented in the title or abstract or if there are holes in the presentation or narrative, I can make suggestions for how to fill these holes and how to make the text flow better.
Do you find that authors are generally receptive to your advice?
They're mostly immensely grateful. From the feedback I get, they're really appreciating the journal for providing that service. And I think they really like the fact that someone engages with their thoughts and findings. Sensing that there's someone who cares about their work also brings home to them that they have to do their best to deliver a good take-home message to readers.
The editorial suggestions I provide are just that: suggestions. The authors are under no obligation to use all or even any of them. This injects an air of collaboration into the process that I think many authors value. And sometimes a suggested edit may just give them something to play with, to look for an even better expression that drives home or clarifies an important point.
I bet the authors that you work with put more care into it the next time they write a title or abstract.
I hope so. The goal also is that we are regressing to a mean that is a better mean than before. When prospective authors see better titles and abstracts in the recent issues, they realize that they have to take it up a notch. And I think that's the idea: It's lifting all the boats to make both papers and the journal better.
What are the most common mistakes you see?
The most common ones I come across are using arcane abbreviations and acronyms, especially in titles. They may be field-specific, and maybe that's appropriate, but it can get in the way of the broader audience reach that JBC aspires to.
Another pitfall for authors is not providing enough background: Why do we need to study this? One or two sentences in the beginning saying that this is a broad topic of interest and what's unknown about it and how the authors' work fits in can really help engage readers and ease them into the paper. So lack of a good structure that takes the reader by the hand is something I encounter a lot.
I should say that by and large, and as one would expect, many JBC authors are quite good at stringing words together. But sometimes the logical connections between sentences or sections are not there. Many authors are prone to present one result, another result, yet another result and then sometimes a conclusion. And then you think, "OK, that conclusion sounds great, but how do these other parts really lead to it? How do they connect with each other to form that bigger picture the authors seem to allude to?"
So these are the most common things that I'm seeing.
I think you're saying that often there's a lack of cohesion. You have to work, as a writer, to make the connections between pieces or information, between sentences.
Cohesion is one thing that's often missing in the abstract, and sometimes authors are surprisingly unforthcoming with the fact that they found something really interesting. I always look at a paper's referee reports, and sometimes a referee may mention some key result that I didn't see in the abstract, and I look in the paper, and sure enough it's there. And the referee got quite excited about it. So I have to point out to the authors, maybe you want to include this in the abstract or even title. It doesn't happen all too often, but it does happen. It's surprising because, again, the title and the abstract are the elements everybody sees, and so you have to make the best effort to bring out everything there.
Do you think that maybe that happens because the person writing the abstract is just so close to it?
Exactly. By providing another set of eyes, you avoid this writer's bias. People writing from their own, well-informed perspective think, "Because I know it, everybody else should know it." And that's, I think, one of the principal functions of an editor: to provide that perspective of the somewhat clueless reader. You say, "No, actually, I don't know this very well. Maybe I'm too dense for this. But I suspect others don't know either. So here is a possible idea for how to present this a little better."
Enjoy reading ASBMB Today?
Become a member to receive the print edition monthly and the digital edition weekly.
Learn more
Get the latest from ASBMB Today
Enter your email address, and we'll send you a weekly email with recent articles, interviews and more.
Latest in People
People highlights or most popular articles