Profile
Bioengineer is a MOSAIC scholar
Colin Hisey grew up in rural Ohio and has chased his interest in bioengineering and extracellular vesicles or EVs, to Spain, New Zealand and home again.
Now a postdoctoral scholar at the Ohio State University, where he studies the characterization and detection of EVs in cancer, Hisey is also an American Society for Biochemistry and Molecular Biology Maximizing Opportunities for Scientific and Academic Independent Careers, or MOSAIC, scholar.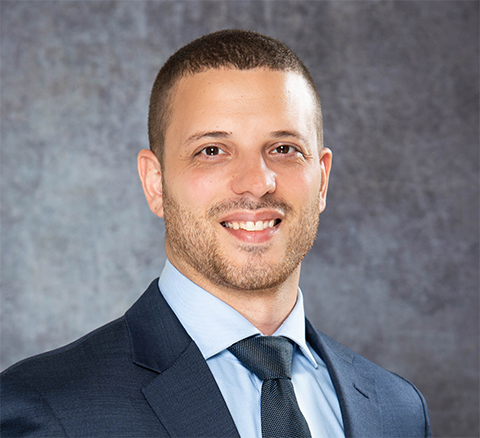 COLIN HISEY
Colin Hisey combines an interest in extracellular vesicles with a passion for diversity, equity and inclusion.
He earned bachelor's and master's degrees in chemical engineering from the University of Dayton where he was a part of the Multi-Ethnic Engineering Program, which helped place him in a lab doing materials research. After learning that he enjoyed working at the bench while also being interested in medicine, Hisey began a Ph.D. at Ohio State in biomedical engineering.
During his Ph.D., Hisey spent time at the Centre for Technical Research and Studies of Gipuzkoa in Spain. When he returned, he focused his research on creating microdevices with application in cancer engineering
"I had a materials background in clean room fabrication and knew enough about the biology," he said, "so I thought this was a cool way to combine these two very different fields."
Specifically, he worked on building a microfluidics device to capture and release extracellular vesicles. "I became obsessed with these biological particles," Hisey said. "So much so that I thought, 'I don't want to stop doing this research even though I'm finishing my Ph.D.'"
Combining his desire to travel with a continued interest in EVs, he did a postdoc at the University of Auckland in New Zealand where he helped initiate and run the Hub for Extracellular Vesicle Investigations. He helped maintain the organization for three years and gained research and publishing experience beyond his Ph.D.
When Hisey returned to the U.S., he joined the Leading Engineering as Agents of Change and Equity Postdoctoral Scholars Program at Ohio State. LEGACY, as it's known, aims to help underrepresented scientists transition into faculty positions through personal mentorship. Hisey said the support of this program led to his successful application to the ASBMB's Maximizing Opportunities for Scientific and Academic Independent Careers, or MOSAIC, program.
MOSAIC, in an agreement between the ASBMB and the National Institutes of Health's National Institute of General Medical Sciences, supports postdoctoral fellows and new investigators from diverse backgrounds embarking on careers at research-intensive institutions.
Hisey has been involved in diversity, equity, and inclusion work since he was in the Multi-Ethnic Engineering Program at Dayton, which engaged students in peer-to-peer mentoring. Throughout his Ph.D. he mentored historically marginalized students and volunteered at engineering camps.
Hisey's MOSAIC project is titled "Machine learning–enabled classification of extracellular vesicles using nanoplasmonic microfluidics."
"I feel like I have permission from the NIH to do the DEI work that I think needs to be done and do science in a way that is more inclusive," he said. "I feel like I can put people first and be kind to people first, and let the research come second."
Hisey has accepted a faculty position as part of the Northwestern University Recruitment to Transform Underrepresentation and Achieve Equity, or NUTURE, Program. He's excited to transition into his own lab in late 2024.
"I'm a MOSAIC scholar, and now I'm a part of the FIRST, Faculty Institutional Recruitment for Sustainable Transformation, program at Northwestern," he said. "I can produce excellent innovative research while having the mentorship and financial support to focus on DEI work."
Enjoy reading ASBMB Today?
Become a member to receive the print edition monthly and the digital edition weekly.
Learn more
Get the latest from ASBMB Today
Enter your email address, and we'll send you a weekly email with recent articles, interviews and more.
Latest in People
People highlights or most popular articles