Diversity
Exemplifying Sewer's commitment to diversity
Minority Affairs Committee announces scholarship winners
This year's recipients of the Marion B. Sewer Distinguished Scholarship for Undergraduates exemplify the late Sewer's unwavering commitment to biomedical research and workforce diversity and inclusion. The highly accomplished Sewer was a professor of pharmacology at the University of California, San Diego, and former deputy chair of the American Society for Biochemistry and Molecular Biology Minority Affairs Committee. Sewer died in January.
Sewer believed in doing community service for the biomedical research enterprise and played a key role in organizing the ASBMB's grant-writing workshop. This workshop is now a central component of the MAC's Interactive Mentoring Activities for Grantsmanship Enhancement, or IMAGE, mentorship program for senior postdoctoral scholars and junior faculty.
In recognition of Sewer's untiring commitment to the support of underserved populations in the biomedical research community, the ASBMB established the Marion B. Sewer Distinguished Scholarship for Undergraduates in March.
The scholarship provides tuition support for ASBMB undergraduate members who excel academically and are committed to enhancing diversity in science. To apply, students have to explain how they foster diversity on their campus or in the scientific community, outline how a scholarship will help them reach their career goals, and describe the challenges they have conquered while pursuing their education.
Applications for the 2016 scholarship were evaluated by members of the MAC and Student Chapters Steering Committee. There were a number of exceptional applications from which it was evident that many of the society's undergraduate members are both actively engaged with their local communities and enthusiastic about building an inclusive scientific environment. After extensive discussion, the reviewers identified five students whose scientific and service accomplishments best align with the goals of the scholarship.
The following are the 2016 recipients of the Marion B. Sewer Distinguished Scholarship for Undergraduates.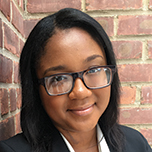 Samantha Brown
Yale University
For the past three years, Samantha Brown has acted as a tutor and mentor for juvenile inmates at correctional facilities throughout the state of Connecticut via the Yale Undergraduate Prison Project. Brown works one-on-one with inmates to build their writing and math skills. In addition, she coordinates the project's post-GED program, a weekly roundtable discussion for inmates who already have either a high-school diploma or a GED.
In addition to working with inmates, Brown established a partnership between Yale students and A Better Chance House, a residential program for academically talented young people of color. ABC House brings ABC scholars together to attend high school and helps them to prepare for leading four-year colleges and universities. Through the partnership, Yale tutors help the scholars with homework, exam preparation, and other academic and personal challenges.
Besides her community service, Brown has undertaken two neuroscience research internships at the pharmaceutical company Pfizer. For the past year, she has been working in a research lab at Yale to understand better the neuroscience of nicotine addiction. Once she graduates, Brown aims to continue to explore the molecular mechanisms of brain disorders by obtaining an M.D.–Ph.D. degree.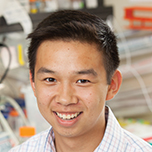 Matthew Cheung
Saint Louis University
Matthew Cheung previously received an ASBMB distinguished undergraduate scholarship when he was a rising junior at Saint Louis University. After receiving the scholarship, he spent a summer performing research at Washington University through the Amgen Scholars program. Now a senior undergraduate, Cheung continues to serve as a resident adviser for the Health Sciences Learning Community at Saint Louis and recently won the Excellence in Community Building Award from the department of housing and resident life.
After graduating, Cheung intends to undertake postbaccalaureate training at the National Institutes of Health and become a physician-scientist. After completing an M.D.–Ph.D. degree, he says, he intends to "run my own disease-specific outpatient clinic while simultaneously running a laboratory that aims to elucidate the underlying mechanisms of that disease."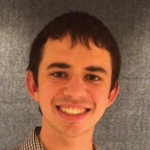 Wesley Godfrey
University of Texas at Austin
Wesley Godfrey is studying biology at the University of Texas at Austin, where he also is performing research on T-cell acute lymphoblastic leukemia. Once he graduates, he intends to combine his research and clinical interests by obtaining an M.D.–Ph.D. degree.
Godfrey was raised largely by his Mexican-American grandparents in El Paso, Texas, a few miles from the U.S.–Mexico border. He speaks both English and Spanish. Godfrey volunteers with UTeach Outreach, a program in which college students teach weekly science lessons to students living in disadvantaged neighborhoods around Austin. While the lessons are taught in English, the students often come from Spanish-speaking homes. "I would often explain concepts in Spanish to students who couldn't understand," wrote Godfrey in his application for a scholarship. "Because I spoke Spanish, I was able to connect better with the students and made a bigger impact than if I only spoke English."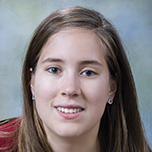 Sofia Gonzalez
Truman State University
Sofia Gonzalez has worked on research projects at Purdue University, A.T. Still University and the Scripps Research Institute. "Research is more complex than a test" in class, wrote Gonzalez in her application. "I find that (it) favors how I look at science and the world."
Currently in her final year at Truman State University in Missouri, Gonzalez intends to obtain a Ph.D. and pursue her passion for research. "I find immense satisfaction in knowing that I am contributing a small drop to the sea of knowledge that is required for improving science," she said with enthusiasm.
For the past two years, Gonzalez has led United Speakers, an on-campus organization that works with the local immigrant community to break down barriers by providing ACT prep and classes in English. Gonzalez herself is an immigrant from Mexico, and she aims to continue her outreach and tutoring work when she goes to graduate school. Indeed, in her scholarship application, Gonzalez noted that "it is a privilege to have the trust of people who have experienced the world in such a different manner."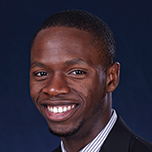 Austin Maduka
University of Maryland, Baltimore County
Despite growing up in an environment where science was not emphasized as a career path for young black men, Austin Maduka pursued his interest in chemistry and biology throughout high school. He was accepted into the prestigious Meyerhoff Scholarship Program at the University of Maryland, Baltimore County, and he now serves as a peer adviser to junior participants in the program. "I can accredit much of my success to the support I found within the Meyerhoff program," wrote Maduka in his application. "It is important for every student who faces barriers to education to develop a network of support, academically, socially and emotionally."
Maduka has helped found a number of programs to mentor and support students interested in pursuing careers in science and medicine. He is a founding member of the first professional fraternity at the UMBC, the Phi Delta Epsilon Medical Fraternity. He is also vice president and co-founder of Achievement and Inspiration through Mentorship, which is an initiative to provide long-term mentoring to underserved adolescents in the city of Baltimore. AIM has more than 30 mentors, many of whom are working with black and Hispanic students interested in math and science.
Alongside his outreach activities, Maduka has worked in research labs at the Johns Hopkins University School of Medicine and the Massachusetts Institute of Technology. He presented his work from Johns Hopkins at the 2015 ASBMB annual meeting in Boston. After graduating, Maduka said he intends to earn an M.D.–Ph.D. degree, practice cardiology, and "teach and inspire the next generation of leaders in health care."
Enjoy reading ASBMB Today?
Become a member to receive the print edition monthly and the digital edition weekly.
Learn more
Get the latest from ASBMB Today
Enter your email address, and we'll send you a weekly email with recent articles, interviews and more.
Latest in People
People highlights or most popular articles