Retrospective
Wolfgang Karl Joklik (1926 – 2019)
Wolfgang Karl "Bill" Joklik, a molecular virologist who pioneered numerous contributions to science and our understanding of Poxviridae and Reoviridae, died July 7.
Bill Joklik's research addressed fundamental problems of virus replication by investigating mechanisms of expression of viral genetic information, the function of virus-encoded proteins, host responses to infection and the actions of anti-virals. Bill was a superb mentor, a generous contributor and an outstanding leader both within his profession and in the wider community.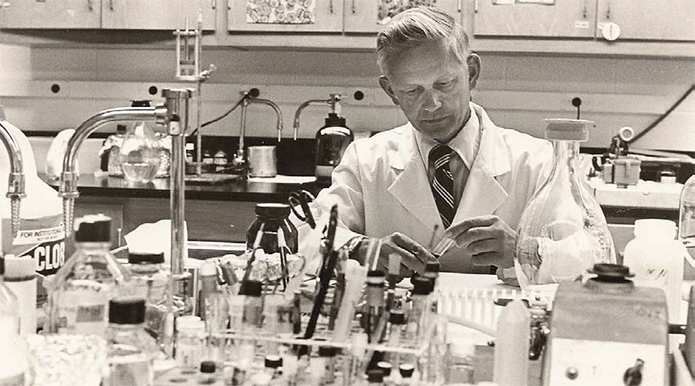 Bill Joklik was recruited in 1968 to the Duke University School of Medicine as professor and chairman of the department of microbiology and immunology.
Duke University
Early years and education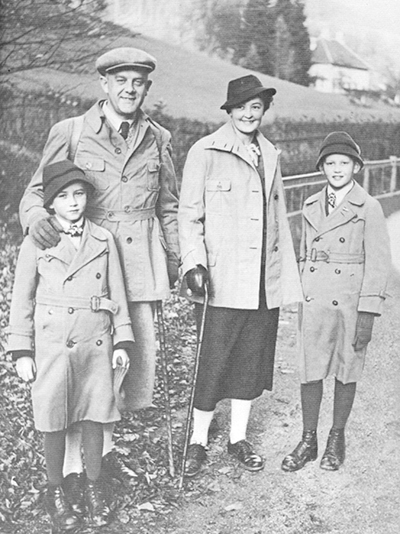 Bill and Frank Joklik, pictured with their parents, Karl and Helene, in 1937. Both boys were born in Austria. The family moved to Australia in 1938.CRANBROOK SCHOOLWolfgang Joklik was born Nov. 16, 1926, in Vienna, Austria, where he received his initial schooling. When he was 11, his family moved to Sydney, Australia. There, he and his younger brother Günther assumed the English nicknames Bill and Frank, and the two attended Cranbrook School. Bill earned his Bachelor of Science with first class honors in 1947 and his Master of Science in biochemistry in 1948, both from the University of Sydney. His initial research training was in enzymology, studying the hydrogenase from Escherichia coli. He then attended the Sir William Dunn School of Pathology at Oxford, U.K., as an Australian National University scholar to study virology using the T1 and T2 bacteriophages under the mentoring of Sir Paul Fildes. While working toward his Doctor of Philosophy from Oxford, he published several seminal papers, among them "The Influence of Cortisone on Cell Division," co-authored with Howard W. Florey, who won a Nobel Prize for the development of penicillin.
Bill did postdoctoral work in Herman Kalckar's laboratory at the University of Copenhagen. He and Paul Berg, later a Nobel laureate, discovered and characterized nucleoside diphosphokinase. Bill returned to Australia in 1953 as a member of the department of microbiology at the John Curtin School for Medical Research in Canberra, where he remained until 1962. There he initiated studies of animal viruses with Frank Fenner and others, focusing on laboratory models of smallpox virus, myxoma virus and vaccinia virus, and making novel discoveries on the reactivation of heat-inactivated poxviruses.
Research in the U.S.
During a sabbatical with Harry Eagle, a leader in the development of defined cell culture media at the National Institutes of Health, Bill developed the Joklik modification of Eagle's minimum essential medium, which permitted the growth of cells in suspension culture and purification of viruses. Upon returning to Australia in 1962, he devised methodologies for the purification of poxviruses that set the stage for his subsequent molecular studies. Within a year, Eagle recruited Bill back to the U.S. to work at the Albert Einstein College of Medicine, so Bill and his family moved to New York, where he joined the department of cell biology at Einstein as an associate professor. In 1965, he became the Siegfried Ullman professor of cell biology.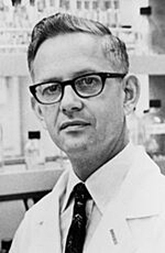 While at Duke, Bill Joklik's research increasingly focused on reovirus.Duke UniversityBill's laboratory carried out innovative studies on poxvirus multiplication that led to landmark discoveries, largely using vaccinia and rabbitpox virus. These studies included work on the temporal regulation of poxvirus mRNA expression, early and late; the formation of polyribosomes containing viral RNA; the characterization of the replication and coating of poxvirus DNA; and the characterization of poxvirus enzymes and proteins synthesized during infection. Using vaccinia virus, Bill also studied the biochemical mechanism of the anti-viral action of interferon.
Bill was recruited in 1968 to the Duke University School of Medicine as professor and chairman of the department of microbiology and immunology. He became James B. Duke professor of microbiology in 1972, a position he held until becoming professor emeritus in 1996.
While Bill's interest in poxviruses continued at Duke, he increasingly focused on reovirus research initiated at Einstein. Among his lab's innovative findings in both locations were characterization of the reovirus segmented double-stranded RNA genome and its transcripts, identification and characterization of reovirion proteins and viral nonstructural proteins produced in infected cells, and elucidation of the functions of reovirus proteins during virus replication. Bill applied new technologies to his studies of reoviruses, including the molecular cloning of viral RNAs, the sequencing of viral RNAs and cDNA clones, and the isolation and characterization of hybridomas producing monoclonal antibodies against viral proteins.
Service and leadership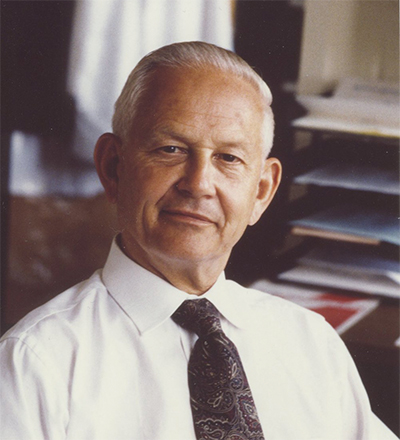 Bill Joklik was a longtime member of the American Society for Biochemistry and Molecular Biology and an associate editor of the Journal of Biological Chemistry from 1978 to 1988.Duke UniversityBill was an extraordinary leader. He built a nationally recognized department at Duke with strength across microbiology and immunology, increasing the faculty from 6 to 33. He also was a co-founder of the Duke Comprehensive Cancer Center in 1971 and founder and first president of the American Society for Virology in 1982. He served on numerous administrative and advisory committees in academic institutions and governmental agencies both nationally and internationally.
Bill was a leader at the journal Virology for 30 years as an associate editor, editor and finally as editor-in-chief from 1976 to 1994. He was an associate editor of the Journal of Biological Chemistry from 1978 to 1988 and editor-in-chief of Microbiological Reviews from 1991 to 1995.
Highly regarded as a dedicated teacher and mentor, Bill was a popular lecturer in both graduate and medical student courses at Duke. He trained nearly 100 graduate students and postdoctoral fellows in his research laboratory, many of whom went on to successful independent careers. He was the editor of multiple editions of "Zinsser's Microbiology," for several years a leading textbook for medical students.
Bill was elected to the National Academy of Sciences in 1981 and the Institute of Medicine of the NAS in 1982. He received the Senior U.S. Investigator Humboldt Prize in 1986, the International Chemical and Nuclear Pharmaceutical Corporation International Prize in Virology in 1991 and a Lifetime Achievement Award from Duke University in 2013.
Sports and lebensfreude
Bill was equally adept with a tennis racket in either his left or right hand. He enjoyed a round of golf and was a dedicated fan of Duke basketball but also followed cricket on the radio and television. He greatly enjoyed travel throughout his life both for science and for pleasure. He said he was "equally at home in two cultures," Austrian/German and British/American, and he maintained an interest in global politics.
The impact of Bill Joklik as a scholar and as a leader is immense. He had a wonderful career and life that the three of us and many others are honored to have observed and shared.
Reflections article
Bill Joklik described his research career in a 2005 Reflections article titled " Adventures of a biochemist in virology" commissioned to celebrate the centenary of the Journal of Biological Chemistry.
Video
The Duke University Medical Alumni Association produced a video about Bill Joklik in 2013 when they honored him with the William G. Anlyan Lifetime Achievement Award.
Retrospectives
We invite you to honor a recently deceased ASBMB member with a personal retrospective article in ASBMB Today. For details, email ASBMB Today.
Enjoy reading ASBMB Today?
Become a member to receive the print edition monthly and the digital edition weekly.
Learn more
Get the latest from ASBMB Today
Enter your email address, and we'll send you a weekly email with recent articles, interviews and more.
Latest in People
People highlights or most popular articles