Defying Stereotypes
Against the grain
Whether fronting the punk-rock band Bad Religion or delivering a lecture on evolution, Greg Graffin constantly challenges his audiences to question convention
If you're hoping to get a punk-rock performance in his evolutionary biology class, Greg Graffin is quick to dash your hopes. "You can't slam dance when you're listening to me lecture," says the Cornell University lecturer and lead singer for the legendary punk band Bad Religion.
For more than 30 years, Graffin has been researching and teaching evolutionary biology while simultaneously fronting one of the most influential bands to come out of the hardcore punk scene. Moving back and forth between these two identities, Graffin seeks to inspire his audiences to question orthodoxy and search for truth, whether in a lecture hall or in a music club.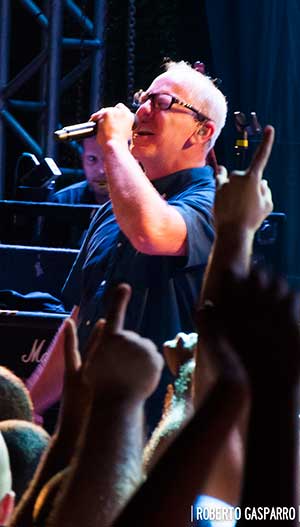 Greg Graffin performs with Bad Religion.
Image courtesy of Roberto Gasparro
Graffin's dual lifestyles trace back to his high-school days in the late 1970s in California's San Fernando Valley. A Midwestern transplant with a fondness for progressive rock bands like Utopia and King Crimson, Graffin became fascinated by evolution in his biology class. "My parents never raised me with any religion," he says. Evolution "gave me a mythology of where I came from that wasn't based on any stories in the Bible."
His decidedly unpopular interests drew him to punk rock, which at that time was a refuge for all types of outcasts. "These unpredictable things came together [at] that time in my life," he remembers. Inspired by the poetic lyricism of punk rock peers like The Germs as well as the intellectual freedom he found in the theory of evolution, Graffin teamed up with fellow misfits Jay Bentley, Brett Gurewitz and Jay Ziskrout to form Bad Religion, a punk band that has deliberately defied and offended convention but in a decidedly philosophical way. "My personal discovery of evolution and starting a punk band called Bad Religion – they were nicely harmonious," states Graffin.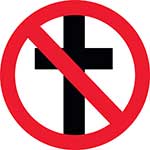 The Bad Religion "Crossbuster" logo.
Image courtesy of Epitaph Records
One of the first songs Graffin wrote for Bad Religion, titled "We're Only Gonna Die," was directly inspired by the final sentences of Charles Darwin's "Origin of Species." Since then, his interests in music and science have continued to grow in parallel. "They became the two threads of my life," says Graffin, who first began his instructional duties in 1987 as a graduate teaching assistant for a comparative anatomy course at University of California, Los Angeles, around the same time Bad Religion began to achieve a degree of prominence within the punk-rock community.
As the band's fortunes continued to improve, science got temporarily pushed to the side, with Graffin putting his academic pursuits on hiatus for several years before finally obtaining his Ph.D. in zoology from Cornell in 2003.
In the interim, Bad Religion's growing popularity resulted in an ever-expanding audience becoming aware of the sophisticated brand of intellectualism that the band was promoting. Graffin says Bad Religion's mantra has been to "liberate the closed-mindedness of punk rock" by rejecting the vacant anarchism and brutal nihilism often associated with the genre. "Part of the beauty of punk tradition is not giving into stereotypes," he says.
Jumping back into academics as a full-time lecturer at UCLA in 2007 was therefore a relatively smooth transition for Graffin. "I think there's a tremendous similarity in creativity in science and in music," he says.
"Early man walked away as
modern man took control /
Their minds weren't all the
same, to conquer was his
goal / So he built his great
empire, and he slaughtered
his own kind / Then he died a
confused man, killed himself
with his own mind / We're
only gonna die from our own
arrogance."
– Bad Religion
"We are One People,
and we can all strive for
one aim: the peaceful
and equitable survival of
humanity. To have arrived
on this earth as the product
of a biological accident,
only to depart it through
arrogance, would be the
ultimate irony."
– Charles Darwin,
On the Origin of Species
As an instructor, Graffin readily admits that "my reputation precedes me sometimes," leading to potential confusion and disappointment for his students who sign up for his class in hopes of seeing an exhilarating punk-rock performance. "It's nowhere near as exciting," says Graffin. "I'm not a loud, boisterous lecturer."
Yet keeping his audience members on their toes is something Graffin excels at. "I know people look at me as some kind of schizophrenic person who's doing these two things but not focusing on any one," claims Graffin. But as he sees it, the process of constructing and then delivering a lecture on evolutionary biology relies on a similar approach to songwriting, one that is based primarily on storytelling. "How you approach a subject like extinction or the fossil record, there's really a story to be told there," Graffin says. Similarly, the "songs that I've written are stories in themselves."
The nature of those songs is what sets Graffin and his band apart. Johnny Ramone supposedly once described The Ramones' songs as being "fairly long songs played very, very quickly." In much the same vein, listening to Bad Religion songs is like listening to a lecture given very, very quickly.
The wide-ranging subject matter and extensive vocabulary in Bad Religion lyrics demand concentration, attentiveness and even research, something that Graffin says is consciously part of his songwriting and lecturing processes. "Certainly one of my interests in songwriting is to challenge people to think," he states. "Similar to my goals in lecture."
Graffin uses his songs to inspire his audience to question and analyze the validity of conventional institutions. Topics drawing Graffin's discerning ire include pop culture, religion, government, and even science and technology.
Targeting science may seem to conflict with Graffin's proclamation to be a naturalist, but he sees it as a healthy part of the scientific process. "You can't just have blind faith in something," he cautions. "You need to temper it with evidence." Sticking with his nonconformist approach, Graffin even prefers Charles Darwin's "Voyage of the Beagle" to the canonical "Origin of Species," which he considers "pretty dry reading."
Currently, Graffin co-teaches an introductory course on evolution at Cornell during the fall semester, leaving him plenty of time, as he puts it, to "take care of band business." Graffin acknowledges that his musical forays outstrip his efforts in the classroom, at least for now. "I've performed far more concerts than I have given lectures," he says.
While he looks forward to continuing with both his passions, what matters to Graffin, ultimately, is the impact his work is having on his audience. For Graffin, "the astonishing phenomena that come from the connection you can make with an audience member is something that I want to tap into and try and find."
Graffin says he strives to improve his own performances. "I've written something like 300 songs in my life," he says. "I think I've gotten better and better as I've done more of them." Likewise, Graffin continues to improve his teaching skills. "My [class] reviews have all been good," he says, but "I'm trying to get more experienced at lecturing."
Here, finally, Graffin notes a small disconnect between his two passions. "I'm not going to clubs every night, because I'm preparing for lecture," he says. Though it may be blasphemy to his punk-rock peers, this is a statement with which most professors can empathize.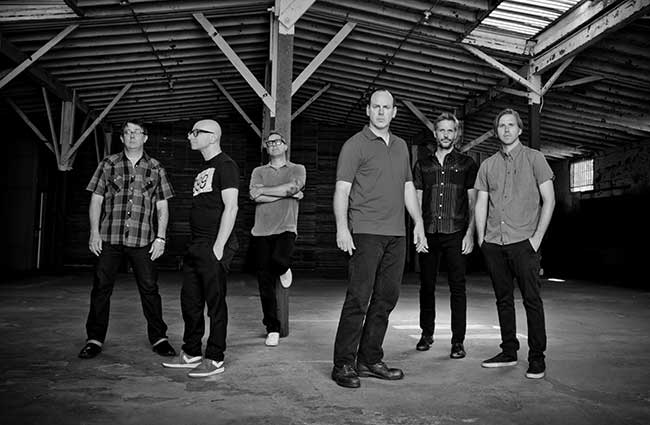 Bad Religion band members, from left, Brian Baker, Greg Hetson, Brett Gurewitz, Greg Graffin, Jay Bentley, Brooks Wackerman.
Image courtesy of Myriam Santos
Enjoy reading ASBMB Today?
Become a member to receive the print edition monthly and the digital edition weekly.
Learn more
Get the latest from ASBMB Today
Enter your email address, and we'll send you a weekly email with recent articles, interviews and more.
Latest in People
People highlights or most popular articles