In Memoriam
In memoriam: Henry A. Harbury
Henry Harbury, a biochemist, renowned educator and member of the American Society for Biochemistry and Molecular Biology since 1958, died Sept.18, 2021. He was 93.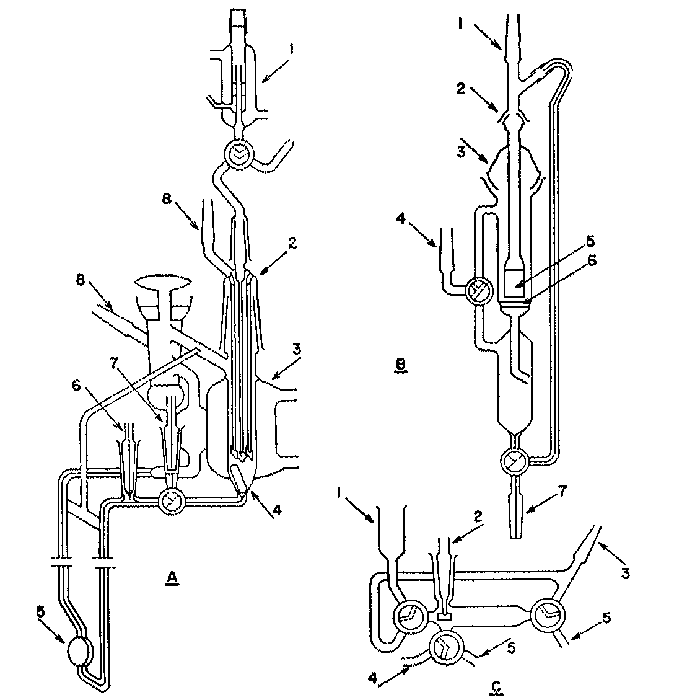 JBC
This illustration from Henry Harbury's 1956 single-author paper in the Journal of Biological Chemistry on the oxidation-reduction potentials of horseradish peroxidase shows the apparatus he used for oxidation-reduction titrations (A), an accessory for reduction of solutions with hydrogen in the presence of a platinized asbestos catalyst (B) and a hydrogen electrode vessel (C).
Harbury was born Dec. 11, 1927, in the Netherlands. He conducted his graduate studies under Mansfield Clark at Johns Hopkins University, where he researched the oxidation-reduction potentials of horseradish peroxidase. This enzyme is now used in a variety of biochemistry applications, including immunohistochemistry.
Harbury was recruited by Joseph Fruton to the biochemistry department at Yale University. There, he and the graduate students he recruited, including Paul Loach, researched the structure–function relationships of heme proteins, which provided the foundation for many future studies in this field. After Fruton retired, Harbury moved to the University of California, Santa Barbara in the mid-1960s to join the biological sciences department, where he continued his research on the structure and function relationships of proteins and oxidative enzymes.
Harbury next moved to Dartmouth University, where he served as professor and chair of the biochemistry department from 1972 to 1981 and as president of the medical center starting in 1980. While president, he advocated for the equal admission of women into the student body and into administrative positions, a testament to his lifelong commitment to supporting women in science. He retired from Dartmouth in 1996.
Outside of the lab, Harbury was an esteemed teacher and educator. G.P. Corradin and Alfred Esser, former members of his lab, recall Harbury using light bulbs and other props to describe the mitochondrial electron transport chain to a captive audience. The late Alfred Gilman, who won the 1994 Nobel Prize in physiology and medicine, wrote that Harbury made "protein chemistry and thermodynamics come to life," and that's what set Gilman down the path of biochemistry.
Harbury is survived by his daughters, Jennifer and Kathy, and his sons, Olin and Alexander.
Enjoy reading ASBMB Today?
Become a member to receive the print edition monthly and the digital edition weekly.
Learn more
Get the latest from ASBMB Today
Enter your email address, and we'll send you a weekly email with recent articles, interviews and more.
Latest in People
People highlights or most popular articles