Interview
Meet Karin Musier–Forsyth
At Ohio State, the JBC associate editor and tRNA trailblazer uses ASBMB resources as teaching tools for grad students
The pseudolife of a retrovirus is complicated.
Once it has infiltrated a host cell, the virus — here, HIV — must make use of a reverse transcriptase primer, lysine tRNA, to help transcribe its viral RNA into DNA that can be sent to a host cell's nucleus. There, the new viral DNA will be integrated into host DNA and hijack the mechanisms of DNA transcription to pump out fresh copies of viral mRNA. These will either be used as new genomes for viral cells or translated at host ribosomes to create viral proteins — the collective raw ingredients, plus some stolen shielding from the host cell's surface, for new viral particles.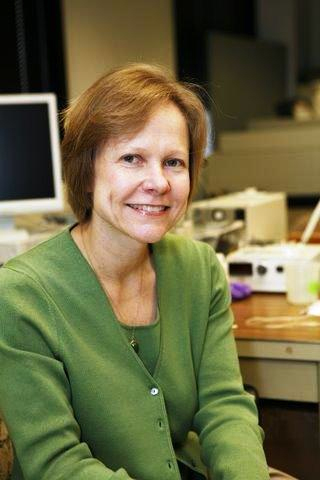 A proud alumna of Eckerd College,
Musier–Forsyth is a member of the liberal arts school's National Advisory Council, and visits the St. Petersburg, Florida campus at least once a year.
COURTESY OF KARIN MUSIER–FORSYTH
In her lab at Ohio State University, Karin Musier–Forsyth probes the editing mechanisms of aminoacyl-tRNA synthetases, enzymes that attach amino acids onto transfer RNAs during synthesis of HIV proteins at ribosomes.
Originally a Floridian, Musier–Forsyth grew up in St. Petersburg, where she attended Eckerd College and received a bachelor's degree in chemistry in 1984. She did her graduate work at Cornell University, earning a Ph.D. in 1989. After an American Cancer Society postdoctoral fellowship at the Massachusetts Institute of Technology from 1989 to 1992, she started as an assistant professor at the University of Minnesota, where she was named Merck professor of chemistry in 2003 and distinguished McKnight university professor in 2006 and received the Camille-Dreyfus Teacher Scholar Award in 1996.
Musier–Forsyth joined Ohio State University as an Ohio Eminent Scholar in 2007. She has been a member of the editorial board of the Journal of Biological Chemistry since 2012 and became an associate editor in January 2018. She spoke with John Arnst, ASBMB Today's science writer, about her work. The interview has been edited for clarity and length.
What is your group focused on?
We're interested in two broad areas, one being fidelity mechanisms in protein translation. Specifically, we're focused there on quality control (or editing) mechanisms by aminoacyl-tRNA synthetases. We're also interested in single-domain trans-editing proteins.
A long time ago, my interest in tRNA got me interested in retroviruses, because retroviruses use tRNAs to prime reverse transcription. For example, HIV-1 specifically packages a host cell tRNA group, that's lysine-specific tRNAs, into the virus particle for that purpose. We're interested in the mechanisms of how the tRNAs are selectively packaged and also how the genomic RNA is selectively packaged into the virus particle.
A big question in the field is how and why exactly two copies of the genomic RNA are packaged into every retroviral particle, when Gag assembly of an immature virus particle can happen even in the absence of genomic RNA. (Author's note: The Gag polyprotein coordinates the assembly, budding and maturation of HIV virions.) But if genomic RNA is expressed in the cell, it gets packaged, and exactly two copies get packaged.So how does that selective packaging work?
We've recently probed the conformational dynamics of the 5' untranslated region of the genome, which is a critical region for packaging of the RNA. We can see different factors, both cellular and viral factors, that shift the conformational dynamics, and we think these conformational shifts are important for the packaging process. I should mention our collaboration with James Munro at Tufts University. We're using single-molecule methods to look at the dynamics of these conformational changes. We've been collaborating for about two years, and we're just about to publish our first paper on this.
All these interactions and packaging processes involve protein-RNA interactions, so that's another way I sometimes describe my lab: we're interested in protein-RNA interactions.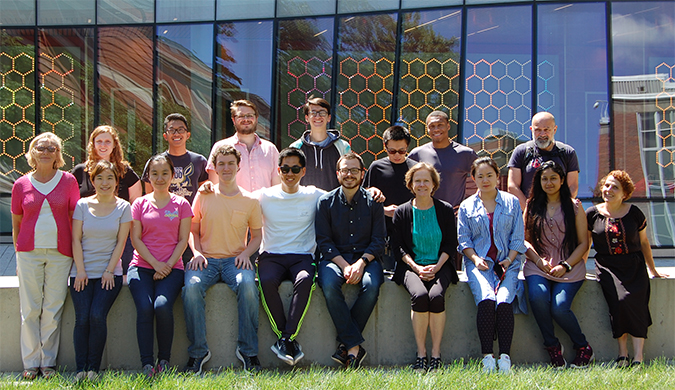 Musier–Forsyth's lab, currently more than 20 members strong, boasts research associates, postdoctoral fellows, lab technicians and undergraduate and graduate students from a variety of backgrounds. This group photo of the lab was taken in 2017.COURTESY OF KARIN MUSIER–FORSYTH
What was your academic background and training?
When I was an undergraduate studying chemistry, I became really interested in biochemistry, so I did my Ph.D. at Cornell in biophysical chemistry, and then I did a postdoc at MIT with Paul Schimmel studying aminoacyl-tRNA synthetases and tRNA recognition. That's where I really got interested in this family of enzymes that specifically charge tRNAS, and I've been working in that area ever since.
We also have a link between aminoacyl-tRNA synthetases and HIV — they're much more than just housekeeping proteins, and their other activities are a big, emerging area. I just edited a thematic series in JBC that covers some of these noncanonical functions of aminoacyl-tRNA synthetases and their role in human disease.
Did anything occur in a milestone sort of way that made you choose science as a career?
I was interested in math and science and was deciding between medical school and graduate school — I think that's a common decision that students that are interested in those areas make. Some of my undergraduate research experiences pushed me in the direction of graduate school and a career in research. Specifically, one summer I was in a Research Experience for Undergraduates program at Georgia Tech and got a real flavor for what graduate school was like. I had two co-authored papers as a result of that, and I realized at that point that I was much more excited about research than medical school.
As a postdoc, you have to decide if you're going to go into industry or academics or some alternative career. I thought I'd give academics a shot, because I really like working with students and teaching and training students in the lab.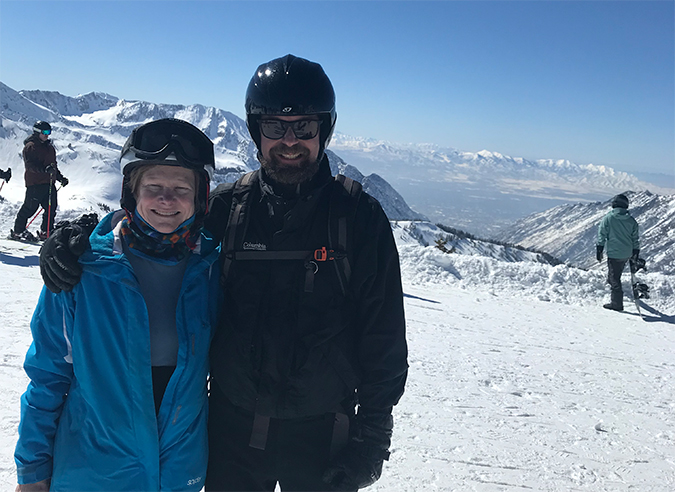 Musier–Forsyth and her husband, Craig Forsyth, also a biochemist at Ohio State University, have been skiing together for 34 years. Their son took this photo.NICHOLAS FORSYTH
How have your students responded to using ASBMB resources and JBC reviews in the classroom?
For the first time, together with two colleagues at OSU, I'm teaching a writing class for graduate students. It's a small class, and I found the ASBMB and JBC resources really useful, especially Kaoru Sakabe's Due Diligence columns. My class is a mix of first-year through fifth-year graduate students, so they have different levels of what they know and what they've experienced, but I found that these resources are very useful, especially for the early students, if they haven't published yet.
I teach my students how to write a review, because faculty often ask their students to help them write one, and also I think it's useful to have them experience that process. The JBC minireviews were perfect for that, because they're short, and the students could pick one that interests them. They've done a great job with that.
I also picked some JBC reviews; we went through parts of them and talked about how to write a good introduction. We looked at the figures, because now we have a wonderful figure consultant/artist at JBC. The reviews are perfect for second-year students, because they've had a little experience but they're just getting into the research.
How is your new role with JBC so far?
I really like being an associate editor of a society-based journal that's run by scientists from the editor-in-chief down to the AEs and the editorial board members. Because it's run by scientists, I think the review process is really fair; the people that are reviewing the papers are also going to be wanting to publish someday.
I've had a great experience both as a JBC author and as a reviewer over the years, so now I'm excited to serve as an AE and help shape the future of scientific publishing at a journal that's so well-respected and has been around for so long.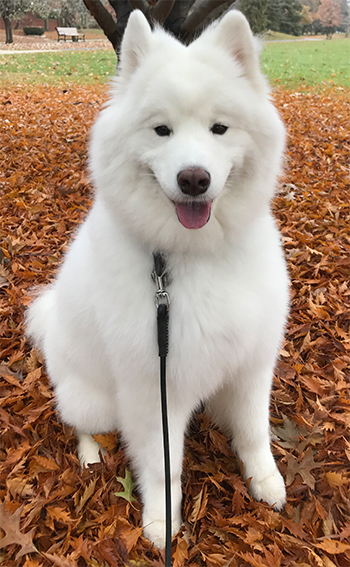 Musier–Forsyth's dog is a four-year-old Samoyed named Lola.KARIN MUSIER–FORSYTH
What do you do outside the lab? Any advice for balancing life in the lab with life outside of it?
I think it's really important to have life outside of work. I enjoy jogging and swimming in the summer. I have a 15-year-old son; and my husband, my son and I go on vacations a few times a year. We like hiking, camping, skiing, things that get us outdoors and active. We just came back from spring break skiing in Utah. It was great — while we were there, it snowed three feet.
We also have a Siberian sled dog, a Samoyed named Lola. We didn't take her skiing, but she would have loved it. She definitely loves when it's cold outside here. I also walk/jog her every day, so that also keeps me active.
Do you have any advice for young scientists?
You should make sure that your work is something you're really passionate about. Then you'll never be bored or unhappy. It's important to have hobbies and do things with family and friends, but a significant portion of your day is going to be spent at work. So if you love and are passionate about what you do, then you're going to be happier overall.
I find the work that I do at the university and at JBC to be really satisfying. It's great to be able to teach and train graduate students and then see my graduate students go on and get postdocs and jobs and start training students of their own.
Enjoy reading ASBMB Today?
Become a member to receive the print edition monthly and the digital edition weekly.
Learn more
Get the latest from ASBMB Today
Enter your email address, and we'll send you a weekly email with recent articles, interviews and more.
Latest in People
People highlights or most popular articles