Interview
Meet Christopher Whitfield
A new associate editor at the JBC interrogates bacterial polysaccharides and sustains football fandom
As the medical landscape rapidly runs out of effective antibiotics, novel treatments for pathogenic bacteria will need to pick up the slack. At the University of Guelph in Ontario, Canada, Christopher Whitfield and colleagues are investigating therapeutic approaches that focus on the myriad polysaccharides that can cover the surfaces of bacteria.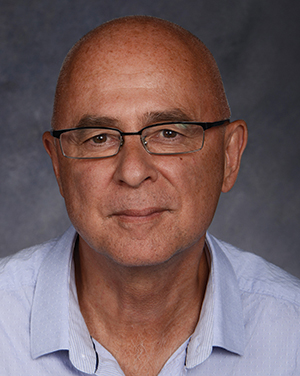 Christopher Whitfield
A professor in the university's department of molecular and cellular biology, Whitfield was born and educated in the United Kingdom, where he earned his bachelor of science in bacteriology from the University of Newcastle upon Tyne in 1976 and his Ph.D. in microbiology from the University of Edinburgh in 1979. After completing postdoctoral fellowships at the University of California, Davis and the University of Calgary, Whitfield started his lab at the University of Guelph, where his group works on the structure and assembly of bacterial cell surfaces.
Whitfield joined the ranks of associate editors at the Journal of Biological Chemistry in January 2017. He spoke with John Arnst, ASBMB Today's science writer, about his work. The interview has been edited for clarity and length.
What is your group focused on?
We are interested in how bacteria assemble complex carbohydrates on their surfaces. Carbohydrate structures play pivotal roles in host-pathogen interactions, so they are potential points for therapeutic intervention, but these kinds of applications have to start with a fundamental understanding of bacterial physiology and cell biology.
One strategy would be to use small-molecule inhibitors to turn off production and render the bacteria susceptible to our normal immune defenses. We are investigating compounds coming from high-throughput screens we performed as part of a collaborative team within GlycoNet, a cross-Canada National Centre of Excellence focusing on glycomics. The cellular targets are found in a range of important pathogens including extraintestinal Escherichia coli and were identified and prioritized through discovery-based research.
An equally important approach is through vaccines. Surface carbohydrate-based vaccines have had a huge influence on global health — the pneumococcal vaccine is a great example. One of the challenges with vaccine approaches is knowing how many structural variations exist in nature. If you're going to make a vaccine, how many components does it have to have in order for it to offer protection against a bacterial species that's a bit more variable?
Take pneumococcus as an example: There are 90-odd capsular polysaccharide types, potentially more due to recombination. If you wanted to protect against everything, you'd need so many different elements in the vaccine cocktail that it wouldn't be feasible. So researchers end up looking at what is the least number of capsular polysaccharide types that will give you the best possible coverage. But to do that, you need information about the structures that exist and what's represented in large clinical collections; asking those kinds of questions starts with good carbohydrate chemistry, knowledge of assembly pathways and access to high-throughput sequencing approaches.
One organism we're quite interested in at the moment is Klebsiella pneumoniae, which causes a variety of different infections, including lung infections, urinary tract infections and bloodstream infections.
Klebsiella infections have been treated with broad-spectrum antibiotics, but because of the spread of antibiotic resistance, new approaches are needed. Immunotherapies become much more important under these circumstances. One possibility being pursued in the field is giving people antibodies to protect them (known as passive immunization). We are looking at candidate polysaccharides and mechanisms by which they might vary.
Another one of the organisms we're doing a lot of work with at the moment is a Salmonella serovar that causes typhoid fever. We're looking at it from a different perspective; there already are vaccines available, and a surface polysaccharide is an important component, but the way in which the cells produce that polysaccharide is quite different from what we would have anticipated. We're trying to unravel the details of how those polysaccharides are made.
What was your academic background and research training?
My undergraduate program at the University of Newcastle gave me my first exposure to microbiology and led me to change degrees. On graduation, I was considering a job opportunity as a government scientist, but a Ph.D. offered me a chance to follow my scientific interests. I studied the production of xanthan gum, a bacterial polysaccharide used as a food additive, among other things. During that program, I had become interested in biochemical approaches to investigate such systems and was really impressed by a paper published by Rick Troy and colleagues — in JBC — and that led me to apply to Rick's lab at the University of California, Davis, as a postdoc. It didn't hurt that, after so long in the north of England and Scotland, I was looking for something in a better climate.
I followed that with a postdoc at the University of Calgary, where I was able to start building some genetic tools. The first cloning and heterologous expression of a gene cluster for bacterial polysaccharide synthesis had just been reported, and it was clear this would transform the field. From there, I moved to a faculty position at Guelph.
Did anything occur in a milestone sort of way that made you choose science as a career?
A lot of it was following my interests. And great opportunities seemed to come along at the right time. I was lucky in that respect. The climate is now so much more demanding, and the level of planning needs to be much higher to have success. Certainly, the excitement of seeing the first results from my own work led me to being hooked on scientific research. Even if it is now more of a vicarious experience, through the work of my group, the opportunity to work with bright young scientists is, without doubt, an aspect that keeps me motivated.
When did you first become involved with JBC?
I published in JBC as a postdoc and first became an editorial board member in 2001. After one term, I took a break for a while, rejoining in 2013, and Lila (Gierasch, JBC editor-in-chief) persuaded me to become an associate editor. Last year, my son published his first JBC paper. His research focuses on exercise physiology and mitochondrial function. He's now a postdoc at Australian Catholic University.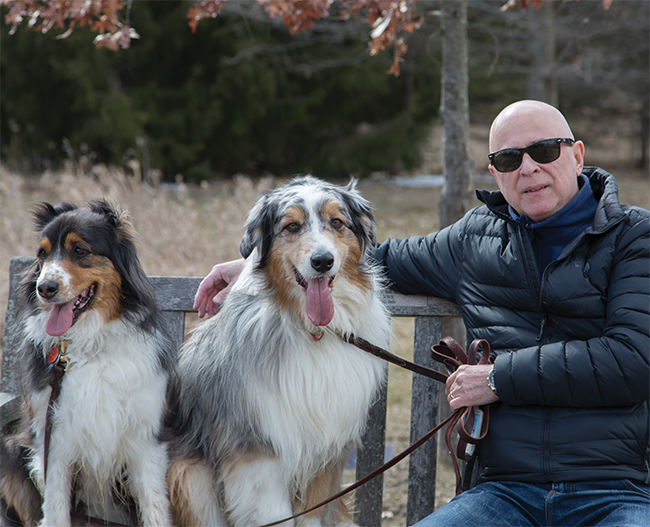 Chris Whitfield enjoys time outdoors with his Australian shepherds Callie (left, 6 years old) and Jake (right, 5 years old).
COURTESY OF CHRIS WHITFIELD
What does it mean to you on a personal level to be an associate editor of JBC?
It's rewarding to be so closely associated with a journal that has the history of JBC. My goal is to see JBC become home for more of the excellent microbial biochemistry and cell biology research that is going on. As a bonus, I get to see a broad range of fascinating work in areas I might not read otherwise and interact with a great bunch of people on the board and among the staff of JBC.
There is a feeling of responsibility with this position. People are trusting you with their work, and I think you feel the responsibility to make sure you do the job fairly and rigorously. You'd like to believe you got the decisions right every time, but that is occasionally not the case. In any kind of area where you're judging things, you certainly don't want to be in a position where you made the wrong decision because you didn't put the work in.
What do you do outside of the lab? Do you have advice for balancing life in the lab with life outside?
My wife would laugh at that question. Balance? We are both devoted fans of football — the real one. My wife is a Chelsea fan, and I support Newcastle. We have very different positions in league standing at the moment, and unfortunately I don't hold bragging rights. I still play somewhat competitively, depending who you ask, and we are season ticket holders for Toronto FC. We also have a couple of energetic dogs that demand our attention.
One of the unanticipated benefits of this career has been the opportunity to travel. With our kids now out on their own and doing well, we have had more opportunity to travel together. We like Australia a lot and are planning another trip, and we've always had a really good time there. Italy we liked a lot, and we go to the U.K. at least once a year or so.
For scientists in training, do you have any words of wisdom?
First of all, pursue a scientific field because you are passionate about it and not because of a perception of what is trendy. It's hard to predict where the next great breakthrough will come from. Who would have predicted the impact of CRISPR-Cas9? More importantly, if you aren't happy and motivated, success will be hard to achieve.
Recognize that the communication, problem solving, critical thinking and perseverance skills you learn as a researcher all have value beyond being an academic scientist. Former members of my group are pursuing a lot of different avenues leading to satisfying careers.
Enjoy reading ASBMB Today?
Become a member to receive the print edition monthly and the digital edition weekly.
Learn more
Get the latest from ASBMB Today
Enter your email address, and we'll send you a weekly email with recent articles, interviews and more.
Latest in People
People highlights or most popular articles