Award
Haucke's work has 'high impact'
in membrane biology
He received the ASBMB's Avanti Award in Lipids
Volker Haucke, professor of molecular pharmacology and director at the Leibniz Institute for Molecular Pharmacology in Germany, has won the Avanti Award in Lipids from the American Society for Biochemistry and Molecular Biology. Haucke is being recognized for defining the roles of membrane lipid homeostasis in cellular transport.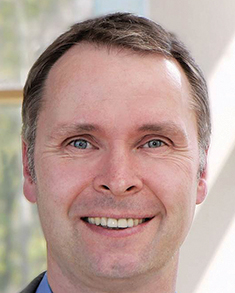 "I feel truly honored to receive the Avanti Award in Lipids from the ASBMB for our work on phosphoinositides in membrane traffic and organelle identity. This is also an honor for the entire lab and its members, past and present. I am extremely grateful to a terrific group of people with whom I have had and have the privilege to work."
— VOLKER HAUCKE
Haucke's "findings are of key importance for cell physiology and pathophysiology," said Britta Brügger and Thomas Söllner at the Heidelberg University Biochemistry Center, who nominated Haucke for the award.
Haucke has made several contributions to defining lipid functions. Much of his research has focused on the role of lipids in exocytic and endocytic trafficking, specifically in neurotransmission. He has characterized specific lipid-binding endocytic adapters that recycle membrane proteins found in synaptic vesicles. These vesicles serve as stores for neurotransmitters until their release into nerve synapses. He further has defined the synaptic-vesicle membrane proteins as having roles in the coordinated processes of neurotransmitter release and synaptic vesicle regeneration.
Haucke's team also has investigated a group of phospholipids called phosphoinositides. The researchers described the cellular function of the phosphoinositide phosphatidylinositol-(3,4)-bisphosphate as a key player in clathrin-mediated endocytosis. Their work provided the first defined function for this lipid in cellular processes. It was an unexpected result that forced the lipid community to rethink what it knows about phosphoinositide involvement in this type of endocytosis.
In their nomination letter, Brügger and Söllner said Haucke "has contributed tremendously to our understanding of biological processes that are based on endocytosis, including the regulation of neurotransmission, demonstrating essential roles of lipids in organelle homeostasis."
Haucke's recent work focuses on how phosphoinositide metabolism affects endosomal processes. His research shows that spatial and temporal restrictions of phosphoinositide metabolism help to maintain membrane identities during exocytic and endocytic trafficking. Furthermore, he and his colleagues found that regulation of this metabolism is critical for cargo delivery to the cellular surface. This finding and subsequent research have led to a new model for intracellular membrane transport in which phosphoinositides play a key role in determining organelle identities.
Haucke's findings have therapeutic potential. "Targeting phosphoinositide-metabolizing enzymes might open new therapeutic avenues for the treatment of diseases such as cancer and a disorders," said Brügger and Söllner.
In her letter of support for Haucke's nomination, Lois Weisman at the University of Michigan described Haucke as "an outstanding researcher who has had a tremendous impact on current understanding of the roles of phosphoinositide lipids in membrane traffic."
Haucke, an elected member of the European Molecular Biology Organization, earned his Ph.D. in biochemistry from the University of Basel and did postdoctoral work at Yale University and the Howard Hughes Medical Institute. He was recruited as an independent group leader at the University of Göttingen, and then he moved to the Freie Universität Berlin to serve as full professor of biochemistry. In 2012, he was recruited to his current position. He is also a faculty member of the Freie Universität Berlin, where he holds a professorship for molecular pharmacology.
Haucke will receive his award during the 2017 ASBMB Annual Meeting in Chicago, where he will deliver an award lecture. The lecture will take place at 8:45 a.m. April 25 in room W183ab in McCormick Place.
Enjoy reading ASBMB Today?
Become a member to receive the print edition monthly and the digital edition weekly.
Learn more
Get the latest from ASBMB Today
Enter your email address, and we'll send you a weekly email with recent articles, interviews and more.
Latest in People
People highlights or most popular articles