Feature
The researcher and the roaches
Case Western undergrad will present his work at #DiscoverBMB
"Cockroaches are more advantageous than you would think."
So said Jingwei Li, an undergraduate student at Case Western Reserve University, who has been studying cockroaches to learn about Parkinson's disease.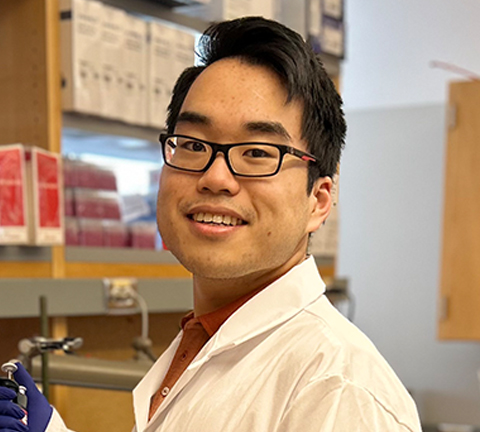 Courtesy of Jingwei Li
Case Western Reserve University undergraduate researcher Jingwei Li has measured how cockroaches with genetically induced Parkinson's disease walk. He is scheduled to present his research (Poster No. 128) at Discover BMB, the annual meeting of the American Society for Biochemistry and Molecular Biology, at 4:30 p.m. Pacific time on Monday, March 27, at the Seattle Convention Center.
"So many of my friends were in labs that use mice," he said. After plenty of pipetting in his past lab rotations, a hands-on project with the American cockroach, or Periplaneta americana, sounded appealing. "Sure, I'll try," he said.
Roaches have a few genes in the brain that are similar to humans', including genes for Parkin and D2-like dopamine receptors. And because they have a longer lifespan than fruit flies — staples of scientific study — scientists can study longitudinal changes more easily.
With fruit flies, you only have 40 days. With cockroaches, you can have a year or two.
Model student, model organism
Ryan Arvidson, Li's supervisor and an assistant professor of biochemistry at Case Western, said Li began with only "some pilot data and a few replicates," and yet, "he seemed to succeed almost immediately." (That never happens.)
"He wasn't there to check a box," Arvidson said of his student.
Li was tenacious, documenting the molecular shopping list of a huge bunch of nerves called the cephalic ganglia. This shopping list is called a transcriptome, and it will give insight into a roach's brain on Parkinson's.
Li's research also involved measuring how cockroaches with genetically induced Parkinson's disease walked. "Cockroach locomotion," it's called.
The cockroaches with Parkinson's moved spontaneously: Instead of making laps around a container's perimeter, their movement was jerky and unpredictable — think Michael Jackson's "Thriller." They also had less grip strength. To determine this, Li tied one end of a string around a cockroach's thorax. He lifted the cockroach slowly and noted how high the tension gauge reading got before the cockroach let go.
And the cockroaches' movements became smaller and fewer over time. "Hypokinesia," it's called, and it's from diminished dopamine, not diminished muscle. The body begins to move with less oomph.
From pest to Parkinson's
Cockroaches have played a role in scientific research for over a century, including for what robotics researchers describe as the "elegant" transition they can make from horizontal walking to vertical climbing, but neuroscience tools rarely have been applied to them until now.
One day, scientists hope to use the lifespan of cockroaches, and new genetic tools, to test FDA-approved drugs and the impact of diet on Parkinson's symptoms.
After a long day of studying cockroach locomotion, Li likes to impair his own with the environmental stimuli of a good gym session. "To destroy my muscles," he said.
In Arvidson's lab, Li said, "I felt like a bigger part of the picture. I wasn't just there to grow some cells and that was it."
Li will graduate this semester and, heading for medical school, hopes to keep returning to research.
And the cockroaches? The cockroaches were lifted from their status as pests. Li said they became a lot more like pets.
Enjoy reading ASBMB Today?
Become a member to receive the print edition monthly and the digital edition weekly.
Learn more
Get the latest from ASBMB Today
Enter your email address, and we'll send you a weekly email with recent articles, interviews and more.
Latest in People
People highlights or most popular articles