Retrospective
Charles C. 'Chuck' Hancock (1935 – 2021)
The histories of the American Society of Biological Chemists (which became the American Society for Biochemistry and Molecular Biology in 1987) and the Journal of Biological Chemistry are deeply interwoven. Managing this relationship was a prime reason that in 1961 the society created the position of executive officer to coincide with the establishment of its first permanent home in Beaumont House, a residential estate in Bethesda, Maryland, that the Federation of American Societies of Experimental Biology had purchased to house its offices and those of its six member societies.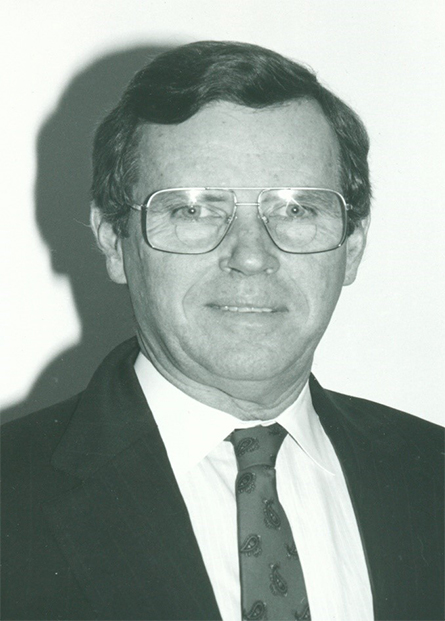 Courtesy of Ralph Bradshaw
Chuck Hancock already had two decades of leadership experience in the Air
Force when he took over as the ASBMB's executive director
in 1979.
Heretofore, elected officials had managed the affairs of the society from their (usually academic) offices, while the fiscal activities of the journal had been handled by the editor (who enjoyed the title of managing editor to signify this financial responsibility). Managing both JBC and the ASBC became too large a task to be done part time, and when John Edsall became the editor of JBC in 1958, he was quite happy to turn over the fiscal side of journal operations to an executive officer.
Robert Harte was hired in 1961 as the first ASBC executive officer and held the post until he retired in 1974. Harte was a trained scientist but with considerable executive experience in the pharmaceutical industry and facilely managed both entities during his 13-year tenure. His replacement was Russ Hilmoe, who held the post from 1975 to 1979.
Hilmoe also was trained as a scientist, with a doctorate in biochemistry and administrative experience at the National Institutes of Health, but this background proved to be less effective in managing the society and the journal. This precipitated a debate within the society leadership as to whether the search for the next executive officer should emphasize scientific training or business and management skills. Fred Richards, the president-elect and chair of the search committee, clearly favored the latter, and the advertisements for the post reflected this bias.
The right assets
The successful candidate of this search was Charles C. Hancock, known to everyone as Chuck, a 21-year veteran of the Air Force, where he had commanded a missile launch crew, been an advisor to the Korean air force, served as a satellite systems engineer and held several posts at the Pentagon. At his retirement, he was a lieutenant colonel and had been awarded the Distinguished Service Medal. He was a graduate of Stanford and held a master's degree in electrical engineering from Texas Tech that he earned while in the service. His engineering and management skills along with his organizational and administrative abilities struck just the right chord with the committee, and they proved to be the right assets for overseeing the affairs of the two entities.
In his application and during his first interview, Chuck successfully obscured his military background; it only came to light during his second meeting with the committee. When a committee member asked him why he hadn't included this information in his application, he replied, "If I had told you, would you have even interviewed me?" She admitted that they probably would not have, given the generally distrustful attitude of academics to the military, which was exacerbated at the time by the Vietnam War.
Chuck began with the ASBC in 1979 and became the society's longest serving executive officer, retiring in 2003. The 1980s and 1990s, the principal period of his tenure, were challenging times for the society and the journal, and Chuck proved to be the ideal person for managing both entities. Both showed significant growth during this period and underwent changes in their financial structures.
When Chuck first came on board, the society's major income came from the national meeting, but over time, attendance dropped as splinter societies formed and began running meetings of their own. Dedicated meeting organizers such as Gordon Research Conferences and Keystone Symposia offered increased competition. JBC took up the slack and by the 1990s became the society's principal financial engine. Chuck superbly managed this transition, working closely with the Finance Committee to introduce more fiscally sound budgeting and set up reserve funds that protected the solvency of both entities. His financial acumen during this period was one of his most important contributions to the society.
Going online
Chuck also was deeply involved in creating the online version of JBC through a collaboration between the society and the Stanford University Libraries. Other key players in this development were Mike Keller, John Sack, Bob Simoni, Herb Tabor and Barbara Gordon.
As treasurer of the society during this time, I was privileged to sit in on all the germane meetings. Chuck was pivotal in this pioneering activity. HighWire was created as the electronic imprint of the Stanford University Libraries, and, working with Cadmus, the society mounted a five-month frenzied effort to produce the first online version in May 1995, in time for the national meeting in San Francisco. JBC was a large entity at the time, making the online experiment a real challenge; had it failed, it would have damaged severely, even ruined, the society.
Chuck was convinced that digital journals were the way of the future and saw that being the first major biology journal to go online would reflect well on the society for years to come. He was entirely right. The flood of journals that immediately followed suit was testimony to that. Chuck played a central role in subsequent related developments, such as the electronic submission system, placing the entire back content (starting with 1905) online and developing a pricing structure for the online version.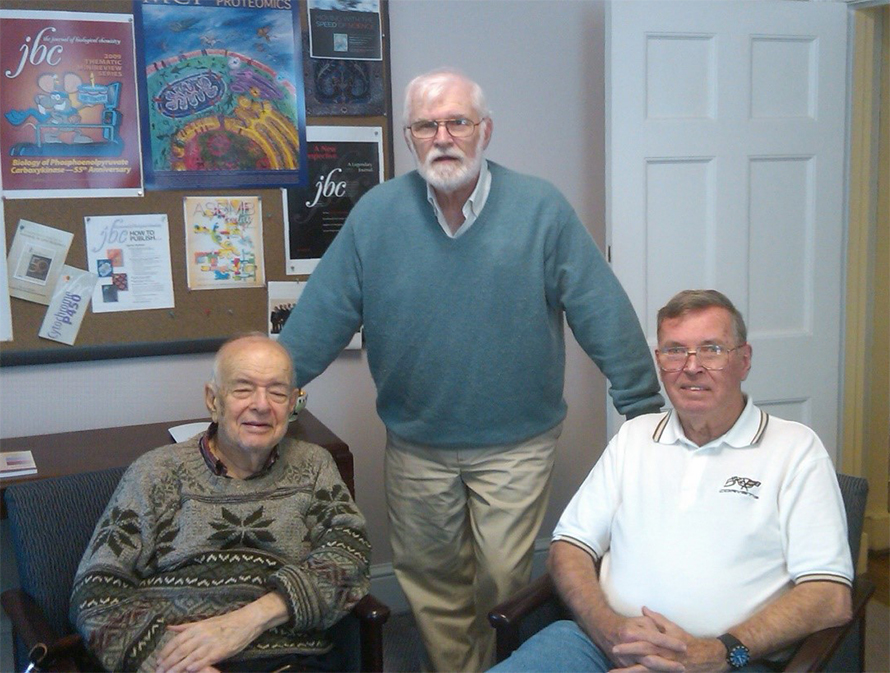 Courtesy of Ralph Bradshaw
Herb Tabor, editor of the Journal of Biological Chemistry; Ralph Bradshaw, editor of Molecular & Cellular Proteomics; and Chuck Hancock, executive director of the American Society for Biochemistry and Molecular Biology, at Beaumont House, where the ASBMB had its offices from the early 1960s to 2011.
More journals and a history
Chuck also played a major role in extending the publishing activities of the society by catalyzing the creation of Molecular & Cellular Proteomics. The concept of starting a new journal came from a society leadership retreat in May 2000. The ASBMB never had created a journal de novo; both JBC and the Journal of Lipid Research (which the society was then in the process of acquiring from its nonprofit owner) were started outside the society. This proved to be a significant challenge, in part because two other proteomics journals began at about the same time. As the editor-designate, I worked with Chuck to develop a plan that took advantage of our experiences with JBC to create an online journal that rapidly became a highly rated publication. Chuck passed the baton to Barbara Gordon after a couple of years, but his early input was essential.
Another of Chuck's important contributions to the society was the writing and publishing of the ASBMB centennial history "100 Years of the Chemistry of Life." He joined with Nicole Kresge, then a staff member at the ASBMB, and me to produce a 522-page volume documenting the first 100 years of the society's history. His extensive knowledge and experiences with the society were invaluable in this project.
Taking the train north
Charles Cavanaugh Hancock Jr. was born in Riverside, California, on October 19, 1935, and grew up in Imperial, California, close to the Mexican border. His parents were both in public education (principal and teacher), and he excelled in high school in both classwork and sports. He was very proud of his roots in this agricultural community and spoke fondly about working for a local crop duster during the summer. At his father's urging, he applied to Stanford, a campus he never had seen, and was accepted with a full academic scholarship. He enrolled as a chemical engineering student.
Knowing (and sharing) my interest in California history, he enthusiastically recalled the train ride to Palo Alto, in part on the defunct San Diego & Arizona Eastern (the SD&AE — known locally as the "salt, dust and alkali eastern") railroad, traversing a spectacular stretch of Southern California desert and the mountains of the coastal range from Calexico to San Diego, including the famous (to railroad buffs) Goat Canyon trestle bridge in Carrizo Gorge. At a length of 597 to 750 feet and a height of 186 to 200 feet, it is the world's largest curved all-wood trestle.
Chuck made the transition to the Bay Area easily and became an excellent student, a lifetime Stanford supporter and eventually an enthusiastic alum. He graduated in 1959 with a bachelor's degree in engineering and a commission in the Air Force, in which he served for the next 21 years.
Courtesy of Ralph Bradshaw
Chuck Hancock, Ralph Bradshaw and Nicole Kresge, authors of "100 Years of the Chemistry of Life," a history of the American Society for Biochemistry and Molecular Biology, at Beaumont House in 2009.
A commonsense approach
In both halves of his career (USAF and ASBMB), Chuck demonstrated unique abilities as a leader. His managerial success, particularly at the society, stemmed not only from excellent organization and administrative skills but also from his easy association with a wide variety of personalities. Societies such as the ASBMB are run by elected members, usually academics, who present a broad array of attitudes and opinions in an ever-changing rotation. Chuck treated all with deference (even though sometimes I know he was seething inside) and always carried out the wishes of the officers whether he personally agreed with their decisions or not. The more astute of these learned quickly to ask Chuck his opinion, as over the years he became an invaluable source of knowledge on essentially every aspect of the society, its programs and its operations. He passed this knowledge to his successor, Barbara Gordon, who retired this year, ensuring the continued well-being of the organization.
Chuck had a commonsense approach to problems, characterized by clear thinking and decisive action. Michael Jackson, who served as the FASEB executive director for nearly 10 years in the 1980s and '90s, told me he often wandered across the campus from his office in the Lee Building to Beaumont House to schmooze with Chuck — sometimes to get his opinion and sometimes to garner his support — as the federation was growing into a much larger group of societies. He greatly valued Chuck's sage input and advice.
Chuck and I shared many experiences in our activities for the ASBC/ASBMB, and we became quite close friends as a result. We spent many hours together above and beyond society obligations, such as a long weekend with our wives in Cabo San Lucas (following a biochemistry department chairs meeting) or when he spent a week in England with us (right after he retired) while we were on sabbatical at Cambridge. I enjoyed innumerable dinners with him and spent many relaxed nights at his place in Virginia (which beat the Marriott in Bethesda by a mile).
After his retirement, Chuck became involved in the Kyle Petty Charity Ride, taking long-distance motorcycle rides across various parts of the country, and he was a proud supporter of Kyle Petty's Victory Junction camp for children with serious medical conditions. I was sad for him when he injured his hip and had to give up motorcycle riding. Whenever he talked about one of his cross-country rides, he just glowed with enthusiasm. He spent his last years in Florida, close to his sons and grandchildren.
Chuck enjoyed two highly successful careers and amassed an impressive number of accomplishments; his legacy will continue to serve the ASBMB long into the future. I will miss him as both a friend and a colleague.
Enjoy reading ASBMB Today?
Become a member to receive the print edition monthly and the digital edition weekly.
Learn more
Get the latest from ASBMB Today
Enter your email address, and we'll send you a weekly email with recent articles, interviews and more.
Latest in People
People highlights or most popular articles