Annual Meeting
Discover BMB 2023: History reinvents itself
Attending a society conference to share research results is a rite of passage and a cornerstone of the scientific process. For many of us, the American Society for Biochemistry and Molecular Biology is our go-to community, and the ASBMB conference is a yearly pilgrimage.
Discover BMB, our 2023 meeting, is the first in many years where the ASBMB will convene as an independent society. This return to our roots is an inflection point in our history and an opportunity to innovate and reimagine.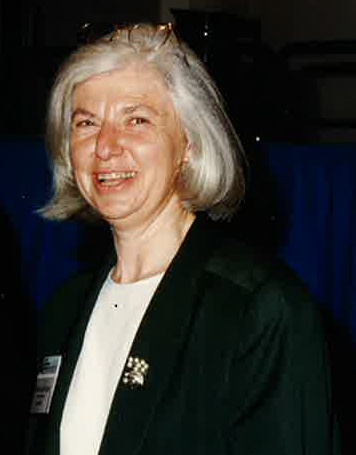 ASBMB
At his first ASBMB conference, Vahe Bandarian met with his future
postdoctoral adviser, Rowena Matthews.
As chair of the ASBMB Meeting Committee, my goal is to make sure everyone who attends the 2023 meeting comes away inspired to do their best work and to catalyze the lifelong personal connections that are the bedrock of science.
A personal watershed
The only national conference I attended as a graduate student was the 17th International Congress on Biochemistry and Molecular Biology held in conjunction with the 1997 ASBMB annual meeting. I remember my excitement arriving in San Francisco for the conference, the talks and the poster sessions. I remember the nervous thrill of presenting my work to luminaries in the field and receiving their comments.
I still can feel the handset of the payphone that I used to call my advisor, George Reed, at the University of Wisconsin–Madison to tell him about all the feedback I'd received and relay his friends' well wishes. At the conference, I met with my future postdoctoral advisor, Rowena Matthews, and we talked about potential projects.
That conference was both a personal and professional watershed for me, and I've looked back on it with utmost fondness over the past 25 years. Through my many moves and spring cleanings, I have not parted with the bag from that conference, because it evokes so many fond memories.
A society gathers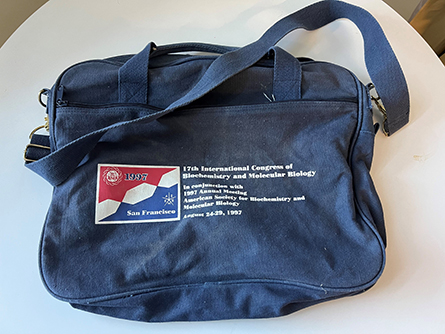 Vahe Bandarian
Vahe Bandarian saved this bag from his first ASBMB meeting in 1997.
The ASBMB was founded as the American Society for Biological Chemists on Dec. 26, 1906, during a meeting on the second floor of the Belmont Hotel in New York — which had opened for business earlier that year. The Belmont, by all accounts, was an amazing 1,006-room property located across the street from Grand Central Station.
Documents from the first meeting show that the society's inaugural chair was Professor R.H. Chittenden and that 29 members were in attendance. The ASBC was established to provide practitioners of the new field of biological chemistry with an independent forum to discuss science that was interdependent with the American Chemical and American Physiological societies — as far as we know, many of the inaugural members were also members of one or both.
In the 116 years since its founding, the society has grown from 81 members, who were nominated and voted in, to the inclusive 10,000-member strong ASBMB. The founders could not have imagined that their society would grow to one that nurtures biological chemists from around the world at every stage of their careers. Attendees at our meeting now include high school students.
The primary goal of the first ASBMB annual meeting, held May 8–9, 1907, was to provide a platform for dissemination of research. Forty-three papers were presented, mostly by charter members.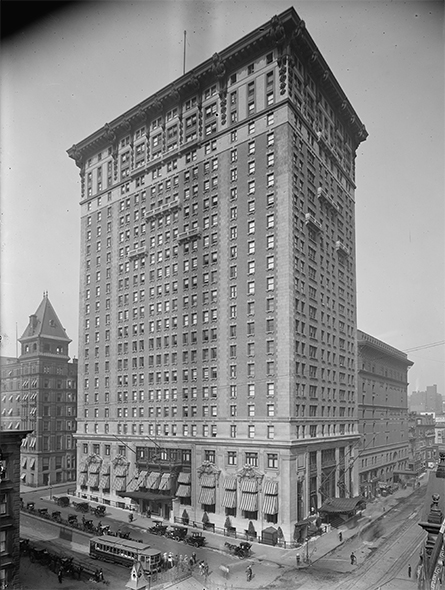 Library of Congress
The American Society for Biological Chemists held its first meeting in 1906
at the Belmont Hotel.
Since then, the ASBMB meeting has been canceled only a handful of times, most recently in 2020 as COVID-19 surged globally. It has taken many forms, often held in conjunction with other societies like the conference I attended in 1997, but it always has been true to its origin as a forum for discussing science and for conducing the business of the society.
#DiscoverBMB
The guiding principles for programming the 2023 meeting are inclusion and community building.
Posters: Introduced to ASBMB meetings in 1975, poster sessions are being reimagined as the social and exhibition hub of the conference. Rather than holding these sessions midday, we're moving all posters to the end of the day. We will provide refreshments to help keep energy and enthusiasm levels in the stratosphere and to drive traffic to both the posters and exhibitors.
Interest groups: We will designate spaces within the exhibit hall as meetup zones for interest groups. We are imagining these as gathering places for scientific discussion and social interaction. No more trolling the hall on your phone trying to locate your collaborator — just tell them to find you in meetup zone 1, 2 or 3.
Receptions: We're planning a societywide opening reception to welcome everyone and a closing reception to bid everyone farewell. These bookending events will provide amazing opportunities for folks to discuss science and establish new friendships and collaborations.
Scheduling: We are mindful of start and stop times each day, with no formal session starting earlier than 9 a.m., so late-night scientific discussions can flow. Award lectures will be interspersed with other programming throughout the day — and as part of reimagining the conference, we are building in time for Q&A after each award talk.
Of course, we plan to continue interest groups and the spotlight sessions, which provide valuable opportunities for subdisciplines to get together and speaking slots for early and midcareer investigators. This is just an early glimpse of our plans — stay tuned for more information.
The Meeting Committee will collaborate with ASBMB staff over the coming months on many details. In fact, we already met in Philadelphia during the 2022 meeting. We all hope the move to a stand-alone conference will be a hit with our members. We're going into this with open minds and with the goal of making 2023 memorable. Whether this is your first ASBMB meeting or one of many, we want you to come away feeling invigorated as you return to the bench and anticipate 2024 with excitement.
As I tell my students, any experiment worth doing is worth repeating. Consider 2023 as an experiment, the first of many over the next few years as we work toward a stand-alone ASBMB meeting that serves and strengthens our community.
Come to Seattle for Discover BMB and celebrate the new meeting with us!
Enjoy reading ASBMB Today?
Become a member to receive the print edition monthly and the digital edition weekly.
Learn more
Get the latest from ASBMB Today
Enter your email address, and we'll send you a weekly email with recent articles, interviews and more.
Latest in Opinions
Opinions highlights or most popular articles