Journal News
The best of two worlds
Cecil Pickett's work melds cellular oxidative stress with drug discovery
Many chemicals and cellular processes cause oxidative stress that can damage lipids, proteins or DNA. To sense and respond to this threat quickly, organisms have evolved enzymes that neutralize harmful oxidants such as reactive oxygen species and xenobiotics in cells.
Courtesy of Cecil Pickett
Cecil Pickett's work during his more than 40-year career has spanned both basic research and drug discovery.
These antioxidant enzymes include glutathione S-transferase, or GST, NADPH:quinone oxidoreductase 1, thioredoxin and hemeoxygenase-1. Many of these proteins are commonly expressed in cells exposed to oxidative stress. The antioxidant response element, or ARE, present in the promoters of many antioxidant protein genes is a major regulatory lynchpin in this cellular response.
Cecil Pickett's lab at the Merck Frosst Centre for Therapeutic Research in Quebec discovered ARE as reported in the early 1990s in two Journal of Biological Chemistry papers now recognized as Classics.
Charting a dual career path
After completing a Ph.D. in biology and a two-year postdoc at the University of California, Los Angeles, in the mid-1970s, Pickett pursued a career in the pharmaceutical industry. He was recruited to Merck in 1978 by its then head of research and development (and later CEO), Roy Vagelos.
"I became interested in how drug-metabolizing enzymes were induced by various xenobiotics," Pickett said.
When he started at Merck, Pickett said, Vagelos encouraged the company's researchers "to really start a research program where we could build our research careers. But he also said, 'Keep in mind the long-term mission of Merck — and that is to discover novel medicines that could help people.'"
Inspired by Vagelos' vision and advice, Pickett launched a vigorous research program that attracted many talented scientists.
Pickett and his team treated rats with various chemicals to induce genes involved in xenobiotic metabolism and breakdown. To isolate these genes, the team used a method for translation of the mRNAs isolated from the livers of these animals.
This approach yielded promising results. "I noticed that the profile of the translated proteins from induced animals was very different from that of noninduced animals," Pickett said. "And there tended to be a low–molecular-weight protein that was always induced."
At first, it was unclear what this small protein might be. But a colleague at Merck, Anthony Lu, suggested that it might be GST, Pickett said.
To test Lu's hunch, Pickett and his laboratory applied a technique called polysomal immunoprecipitation. The researchers used GST-specific antibodies from Barbara Hales' laboratory at McGill University in Montreal to detect and isolate mRNA–ribosome complexes called polysomes that contained GST-encoding mRNA sequences.
"That allowed us to synthesize cDNAs and isolate the structural genes for the GSTs," Pickett said.
Discovering ARE
With the GST gene sequences in hand, the researchers could home in on surrounding DNA regions that regulate the expression of the genes and identify the regulatory motifs in their promoters.
Pickett's team reported that ARE is one of the motifs required for xenobiotics-induced activation of transcription of the GST Ya gene and also defined the ARE consensus sequence.
The team's discovery of ARE caused a major shift in thinking about how xenobiotic-metabolizing genes are regulated. Their work made it clear that antioxidant genes such as GST have multiple regulatory elements in their promoters that are responsive to specific cellular stressors.
Subsequent work by Pickett's lab and others helped identify the transcription factors that recognize the ARE and activate the transcription of GST and other oxidative stress response genes.
One of these transcriptional regulators is nuclear factor erythroid 2–related factor 2, or NRF2, identified in 1994 by another research group. Because NRF2 binds ARE, suggesting it helps regulate oxidative stress responses, Pickett and his team focused on it next and helped uncover key aspects of how NRF2 itself is regulated.
"The discovery of the ARE really laid the groundwork for much of the work that has been done in the field on NRF2," Pickett said.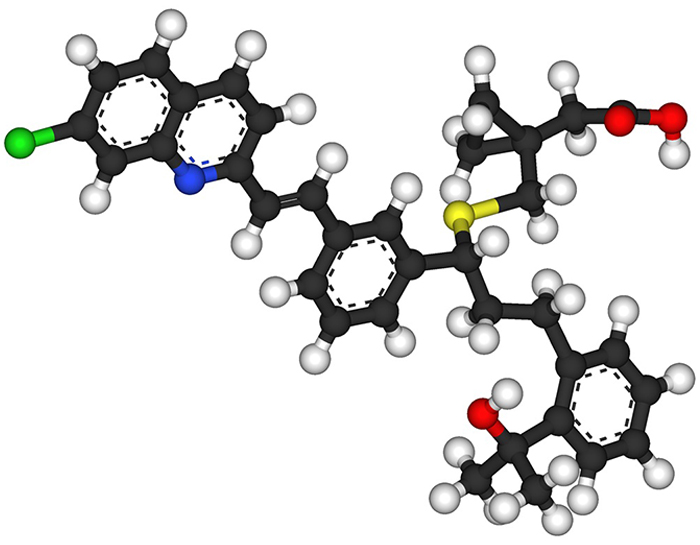 Ben Webber/Wikimedia Commons
Pickett not only led foundational research efforts that uncovered the molecular bases of how cells respond to oxidative stress
but also directed the discovery and development of anti-inflammatory drugs such as the asthma medication montelukast
(brand name Singulair), whose chemical structure is shown here.
A successful balance
So many fundamental discoveries came out of his lab that it might seem Pickett's main focus was on fundamental research. However, Pickett was also interested in drug discovery, and his talent in this area led him to direct major drug development efforts at Merck.
This meant working with multidisciplinary research teams. "It was a large group of people — chemists, pharmacologists, molecular biologists and biochemists," Pickett said. "I oversaw an integrated approach to how drugs need to be discovered and developed."
Pickett served on an internal committee that directed all of Merck's business in Canada; this unique vantage point further shaped his approach to drug discovery.
His scientific background in the molecular bases of inflammatory diseases was key for the discovery and development of the anti-inflammatory medicine montelukast, known by the brand name Singulair, used chiefly to prevent asthma attacks and other inflammatory lung conditions.
In 1993, Pickett joined Schering–Plough in New Jersey as executive vice president of discovery research, eventually becoming president of the institute where, he said, "I had a very good balance between the more fundamental work and also the drug discovery work."
At Schering–Plough, he drove the development of several drugs for managing metabolic disorders and diseases, including cancer, fungal and viral infections, and hypercholesterolemia.
He also continued basic research such as further deciphering the role of the ARE-binding transcriptional regulator NRF2 in oxidative stress responses. This effort helped advance drug development at Biogen Idec after Pickett joined the company as head of R&D in 2006.
"The work on NRF2 at Biogen began with some ideas that I had," he said.
Biogen's small-molecule compound dimethyl fumarate, sold as Tecfidera, which is used to treat multiple sclerosis, activates the NRF2 pathway.
Pickett is now formally retired, but he remains involved in R&D as a member of advisory boards and committees of such organizations and companies as the American Association for Cancer Research and Zimmer Biomet.
Reflecting on the many challenges of directing both fundamental research and drug discovery efforts, Pickett emphasizes the synergy these diverse pursuits offered.
"I think having my own lab, being engaged in that research and reading the scientific literature helped me in making sure that the scientific thoughts in the (drug discovery) programs were solid."
Read more Journal of Biological Chemistry Classics at jbc.org
Enjoy reading ASBMB Today?
Become a member to receive the print edition monthly and the digital edition weekly.
Learn more
Get the latest from ASBMB Today
Enter your email address, and we'll send you a weekly email with recent articles, interviews and more.
Latest in People
People highlights or most popular articles