In Memoriam
In memoriam: Renato Baserga
Renato Baserga, a former distinguished professor at Thomas Jefferson University and a cancer researcher who authored more than 500 scientific studies, died March 5 in Philadelphia. He was 97.
Baserga joined the American Society of Biological Chemists, forerunner of the American Society for Biochemistry and Molecular Biology, in 1968. In the 1980s, he served on the editorial board of the Journal of Biological Chemistry.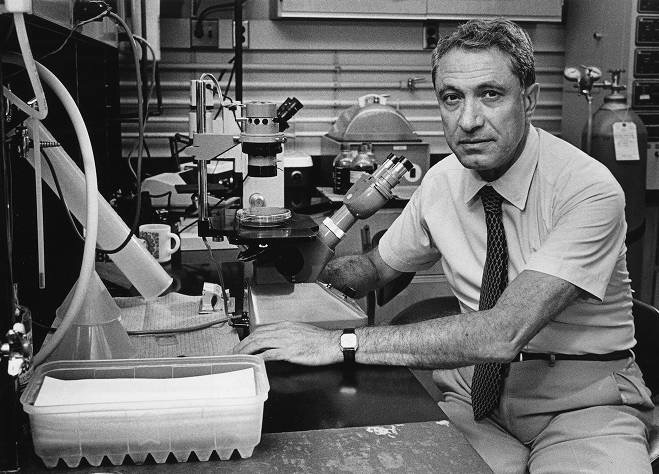 Courtesy of Susan Baserga
Renato Baserga in 1983, in his lab at Temple University where he was a senior investigator and professor of pathology for 26 years.
Born April 11, 1925, in Meda, Italy, Baserga joined the anti-fascist movement during World War II, serving in the voluntary forces in the Val d'Ossola. At the age of 18, he led a group of some 80 partisans. He earned his medical degree at the University of Milan, completing his residency in pathology in 1951. He then immigrated to the United States, where he joined the staff of Columbus Hospital in Chicago as a medical intern and did a second pathology residency at St. Luke's Hospital nearby.
Baserga was a practicing pathologist at Northwestern University Medical School where he taught that subject for seven years. In 1965, he moved east to serve as a professor of pathology at Temple University School of Medicine, where he twice served as chair of the department, for a total of 16 years. In 1991, he became a professor of microbiology and immunology at Thomas Jefferson University, where he was deputy director of the Kimmel Cancer Center from 1991 to 2004 and later its interim director. He retired in 2012 at age 88.
Andrea Morrione, a researcher at Temple University, worked with Baserga on his later studies exploring the role of growth factors and growth factors receptors in cancer. Baserga and others confirmed the role of insulin-like growth factor receptor, or IGF-IR, in transformation and pioneered the use of antisense oligonucleotides to target oncogenes, Morrione said. His work on IGF-IR and its downstream signaling pathway led to later clinical studies validating the receptor as a target in cancer treatment.
Earlier in his career, Baserga carried out groundbreaking research on the use of radioisotopes for the study of life processes, Morrione said. He also contributed to knowledge about the basic mechanisms behind cell proliferation.
Beyond science, Baserga had a passion for opera and classical music. With his wife, Beverly Lange, he was a long-time supporter of Opera Philadelphia and New York's Metropolitan Opera. In a letter published in the journal Nature in February 2011, he contrasted the art of "borrowing" from earlier work in music and scientific research.
"Composers are much more relaxed about self-plagiarism than scientists," he wrote, noting how Bach, Handel and Mozart routinely recycled melodies. "Some scientists might also defend self-plagiarism on the grounds that the data are the same but the conclusions are not."
Baserga cited a former biochemistry professor who gave the same exam for 20 years, defending the practice by saying though the questions stayed the same, the answers changed with time.
Baserga's daughter Janice Baserga, a veterinarian, died in 2016. He is survived by Lange, a pediatric oncologist; his daughter Susan Baserga, also a biochemist, and her husband, Peter Glazer, both ASBMB members; son-in-law Jeffrey Milburn; and grandsons, Samuel Glazer and Andrew and Forrest Milburn.
Enjoy reading ASBMB Today?
Become a member to receive the print edition monthly and the digital edition weekly.
Learn more
Get the latest from ASBMB Today
Enter your email address, and we'll send you a weekly email with recent articles, interviews and more.
Latest in People
People highlights or most popular articles