Award
Ejsing's mass spec work
considered 'essential
for further progress in the field'
He won the ASBMB's Walter A. Shaw Young Investigator Award in Lipid Research
Christer Ejsing, associate professor at the University of Southern Denmark, is the recipient of the 2016 Walter A. Shaw Young Investigator Award in Lipid Research from the American Society for Biochemistry and Molecular Biology. The award recognizes outstanding research contributions in the area of lipids by a young investigator who is an assistant professor (or equivalent) and has had no more than 10 years of experience since receiving a Ph.D. or MD.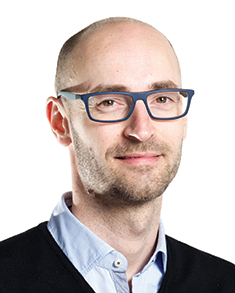 "I am truly honored and humbled to receive this year's Walter Shaw Young Investigator Award. I am very grateful to my colleagues for the nomination. This award would not have been possible without the support of great mentors and contributions from colleagues, students and our funding agencies." — Christer S. Ejsing
Ejsing's research focuses on the development and application of lipidomics technology that provide molecular insights into how lipid metabolism is regulated on a global scale. He successfully has applied shotgun mass spectrometry methods to extensively characterize the yeast lipidome — the first such analysis in a eukaryotic cell. Using this technique, Ejsing and collaborators also were able to describe lipid sorting during vesicle biogenesis in living cells. This is a feat that previously had been impossible with existing technologies.
On the experimental side, Ejsing has developed a new surface sampling method that streamlines lipid extraction for tissue imaging by mass spectrometry. On the computational front, he has created an open-source software platform, ALEX, to streamline data processing to extract quantitative lipid data from mass spectrometry data. In his letter supporting Ejsing's nomination for the award, Kai Simons at the Max Planck Institute talks about Ejsing's latest quantitative proteolipidomics work on regulation of lipid homeostasis during physiological adaptations. Simons describes the work as "a truly impressive advance (that) will be essential for further progress in the field."
After an early education in Denmark, Ejsing went on to do his Ph.D. and postdoctoral training at the Max Planck Institute in Dresden, Germany. There he developed innovative experimental and computational tools to harness the analytic power of a new generation of high resolution mass spectrometers for lipidomics. Since 2009, Ejsing has continued his pioneering work in lipidomics at his own independent laboratory in Denmark. He is also the founding member of the Danish Lipid Research Society and serves on the editorial board of the journal Scientific Data.
In his nomination letter, Vytas Bankaitis at the Texas A&M Health Science Center said, "Christer Ejsing is simply a winner — he is driven, he has exactingly high standards, and he is a 'hard-core' analytical biochemist. In my view, he is at the very top of the young investigator cohort involved in studying lipidomics and is already a pioneer in that field." Tobias Walther of the Howard Hughes Medical Institute and Harvard University is a former Shaw award recipient who also supported Ejsing's nomination and describes him as "a humble and friendly colleague … always helpful," who has "the highest standard for his work."
Watch Ejsing's award lecture, "Functional lipidomics: from lipid timelines to regulation of metabolic networks," below.
Join the ASBMB Today mailing list
Sign up to get updates on articles, interviews and events.
Latest in People
People highlights or most popular articles