Award
Reue recognized as a 'leader in the field of lipid and energy metabolism'
She won the ASBMb's 2015 Avanti Award In Lipids
Karen Reue, professor and interim chair of human genetics and professor of medicine at the University of California, Los Angeles, won the Avanti Award in Lipids from the American Society for Biochemistry and Molecular Biology. The award recognizes Reue's novel contributions to our understanding of lipid metabolism and homeostasis.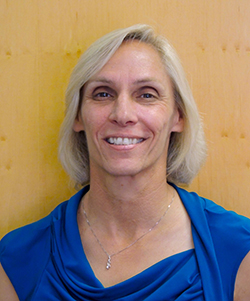 "I am truly honored and excited to receive the Avanti award, which previously has been presented to some of my personal heroes in the field of lipid research. I acknowledge the many wonderful mentors, colleagues and trainees who have influenced my work over the years."
— KAREN REUE
Reue's scientific success is, in part, due to "her expertise in both mouse genetics, especially as applied to lipid metabolism, and molecular biology," said Peter Edwards at the University of California, Los Angeles, who nominated Reue for the award.
Using naturally occurring mutations in mice and positional cloning, Reue identified the lipin gene family (lipin-1, lipin-2 and lipin-3). The three lipin proteins are phosphatidate phosphatases required for the conversion of phosphatidic acid to diacylglycerol. Reue's work has demonstrated that lipin proteins play critical roles in adipogenesis and triacylglycerol storage, energy metabolism and insulin sensitivity in skeletal muscle, and lipid homeostasis in the aging brain. Recently, Reue's laboratory identified a role for lipin-1 in autophagy, which may relate to the disease symptoms of lipin-1-deficient individuals.
"The lipin proteins are now studied in numerous laboratories in several countries, an indicator of the important biological role of the lipin proteins," says Rudolf Zechner of the Institute of Molecular Biosciences in Graz, Austria.
Reue's lab also identified an additional novel gene, Diet1, isolated from a mouse strain resistant to high blood-cholesterol levels. Inactivating mutations in Diet1 impair signaling from the intestine to the liver, resulting in excess cholesterol being converted to bile acids. These bile acids are secreted into the intestine and subsequently are excreted from the body. These metabolic changes prevent the accumulation of excess cholesterol in the blood.
Future work will explore the role of Diet1 genetic variants in human cholesterol homeostasis. It is hoped that such studies may explain why certain people are resistant to hypercholesterolemia. "The significance of Diet1 in physiology and its potential as a therapeutic target have been widely recognized," says Stephen Young at the University of California, Los Angeles.
Alan Attie from the University of Wisconsin-Madison said Reue "thinks deeply about important questions in biology and finds elegant ways to study them." Zechner added that "a hallmark of her research is the comprehensive nature of the studies."
Reue earned her Ph.D. from the University of California, Los Angeles, after which she began her postdoctoral training at The Rockefeller University in New York. Reue returned to UCLA and rose through the ranks to professor. Reue's work has been funded continuously by the National Institutes of Health.
Join the ASBMB Today mailing list
Sign up to get updates on articles, interviews and events.
Latest in People
People highlights or most popular articles