Award
Chen recognized for protein ubiquitination and innate immune signaling work
The UT Southwestern scientist won the 2015 ASBMB–Merck Award
Zhijian "James" Chen, professor of molecular biology and a Howard Hughes Medical Institute investigator at the University of Texas Southwestern Medical Center at Dallas, won the 2015 American Society for Biochemistry and Molecular Biology-Merck Award, which recognizes outstanding contributions to research in biochemistry and molecular biology.
Chen received this award for his work on the mechanisms of cell signaling, inflammation and innate immunity. In the mid-1990s, his group unraveled an unanticipated function of ubiquitin as an activator of protein kinases in cytokine signaling. Until that point, conventional thinking dictated that ubiquitin only had one molecular function – to tag other proteins for destruction by the cell's proteasome.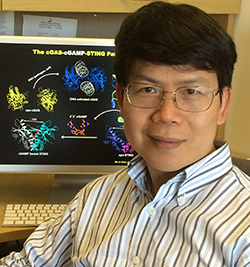 "I am thrilled and humbled to see my name next to my scientific idols who received the ASBMB-Merck award before me. It is a great honor to receive this award on behalf of a wonderful team of dedicated and talented students and postdoctoral fellows at UT Southwestern who made the discoveries that are recognized by the award."
— ZHIJIAN "JAMES" CHEN
Chen also found that mitochondria contribute to the body's immune response. For example, his group identified MAVS, a mitochondrial protein critical for immune defense against many RNA viruses, including influenza, West Nile and hepatitis C. Chen and colleagues recently discovered a new pathway, called the cGAS pathway, that activates the immune system in response to microbial and host DNA.
"By establishing in vitro assays to purify, clone and characterize new components of the NF-kB signaling pathway, Chen was the first to demonstrate that protein ubiquitination could have a regulatory role in signal transduction through protein kinase activation, distinct from the traditional role of ubiquitin in targeting protein degradation by the proteasome," said Eric Olson of UT-Southwestern in his nomination letter about Chen. Olson added, "Chen's most recent discovery of the cGAS pathway is especially thrilling and has important implications for numerous diseases."
Steven McKnight, a professor at UT–Southwestern and the ASBMB's president, said: "The Merck Award from the American Society for Biochemistry and Molecular Biology is one of its most coveted prizes. Past winners constitute a 'who's who' in the field of biomedical research."
Chen earned his undergraduate degree in biology from Fujian Normal University in China. He earned a Ph.D. from the State University of New York at Buffalo. After spending the early years of his career in industry, he joined UT-Southwestern in 1997.
Chen previously won the Robert A. Welch Foundation Norman Hackerman Award in Chemical Research in 2005, the National Academy of Sciences Award in Molecular Biology in 2012 and election to the National Academy of Sciences in 2014.
Umesh D. Wankhade
is a postdoctoral fellow at the National Institute of Health's diabetes, endocrinology and obesity branch.
Join the ASBMB Today mailing list
Sign up to get updates on articles, interviews and events.
Latest in People
People highlights or most popular articles