Observance
Black history in the making
Michelle Lee started at Los Alamos National Laboratory as an intern. Today she runs the internship program.
Michelle Lee was raised with a strong work ethic. When she was little, her parents took out a savings bond in her name to help her pay for college. While pursuing her undergraduate degree in physics, Lee worked at a fast-food restaurant, had a newspaper delivery route and was an airport wheelchair agent.
She had planned to work the summer of 1991, but one of her professors at Grambling State University in Louisiana told her it was better to get an internship. That's how she ended up at the Los Alamos National Laboratory, one of the largest and most well-respected nuclear science facilities in the world.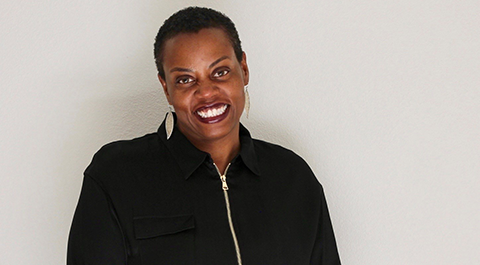 Courtesy of Michelle Lee
Michelle Lee attended Grambling State University, a historically black institution in Louisiana. Today she runs an internship program at Los Alamos National Laboratory that recruits interns from HBCUs and other minority-serving institutions.
Today Lee works as a health physicist at LANL, performing research and shaping policies that help staff and scientists work safely with radioactive materials such as plutonium.
She also manages the Research on the Science & Engineering of Signatures, or ROSES, program, which recruits future scientists from historically black colleges and universities and other minority-serving institutions for internships and entry-level positions at LANL.
Lee is not the first Black woman to serve both scientific and outreach roles at LANL.
"Thirty years ago, Julia brought me into the Laboratory," Lee said.
Laying the groundwork
She was talking about Julia Hardin, a woman she never met but who had changed the trajectory of many Black and female scientists' lives.
When Hardin joined LANL as a biochemist in 1964, she was one in a very small group of women staff members.
She studied the metabolism of histones using radiolabeled carbon and ultimately discovered the functional relationship between histones and DNA.
In an interview in 1974 in the LANL newsletter, The Atom, Hardin talked about the role she played in increasing women's representation and status at LANL. Only a few years into her tenure at LANL, she began advocating for higher positions and more pay for women scientists.
"A few years back, I was a research assistant here, and a lot of other women were, too," Hardin told writer Barb Mulkin. "I raised the question of whether my qualifications were appropriate for a staff member position. I thought they were. I was made a staff member, and many of the other women were, too."
Hardin's interview was published in a special distaff, or women's branch of staff, article. Then known as the Los Alamos Scientific Laboratory, LANL boasted 67 women staff members at the time. Many hundreds of other women worked there as nonscientific staff members.
Hardin did not stop at increasing the standing of her colleagues at the laboratory. Later in her career, she became the director of the HBCU Education Program, which recruited Black science and engineering students to participate in internships.
Lee was one of them.
Opening doors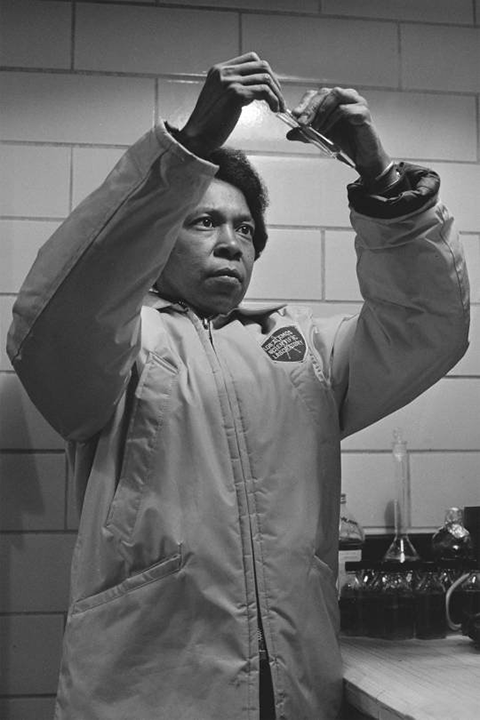 Biochemist Julia Hardin of Los Alamos National Laboratory studies what radiation does to DNA in 1974. She would later recruit interns to the lab from historically black colleges and universities.
In 1991, Lee completed an internship application that Hardin had left at the physics department office after one of her rounds recruiting students at HBCUs.
Lee said she later received a card in the mail from Hardin confirming that her application had been filed.
"The rest is history," Lee said.
Lee got the internship, but she never got to meet Hardin in person, because Hardin died that summer.
At LANL, Lee's mentor was a materials science and engineering professor named Michael Nastasi.
Lee said she once heard him talking about the pool of intern applicants. A lot of those students had 4.0 GPAs, but Nastasi had chosen Lee — with a 3.4 GPA.
"He said, 'Anybody that had a newspaper route for six years has stickability. That tells me you're a hard worker. I didn't choose someone with a 4.0 because maybe things come to them easily, but if things become a challenge they might quit,'" Lee recalled.
Lee went on to earn a master's degree from Colorado State University in health physics. She then earned a Ph.D. in public health education and promotion from the University of New Mexico.
Her doctoral thesis, defended while she worked at LANL, was titled "Retaining radiation safety personnel in mission-critical positions."
Civil rights legislation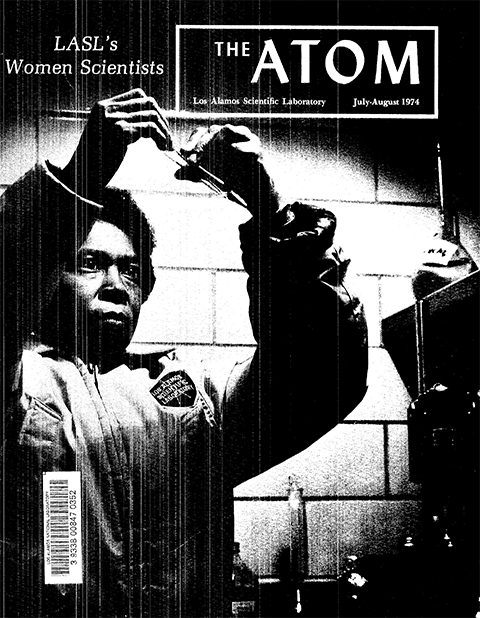 Los Alamos National Laboratory
Julia Hardin was on the cover of The Atom newsletter in 1974.
Hardin entered the workforce during the Civil Rights Movement.
In 1963, Congress passed the Equal Pay Act, which prohibited sex-based wage discrimination. The next year, Congress passed the Federal Civil Rights Act, which prohibited racial segregation in public facilities and prohibited discrimination based on sex and race in hiring, promoting and firing workers.
Before joining LANL in 1964, Hardin briefly worked as a technical administrator for the now-defunct Atomic Energy Commission in Richland, Washington. The site was established in 1943 as part of the Manhattan Project, producing plutonium via beta decay of uranium-239.
"There was a big effort then to recruit Blacks, and, for the first time in my life, it became obvious to me that I was a statistic," Hardin recalled in a 1984 interview. "I've probably been a statistic here in Los Alamos, but I've never felt like one. With a personality and attitude like mine, you overcome color and people become people."
The Atom once asked Hardin if she thought sometimes women don't get what they should because they simply do not ask for it.
Hardin said she supposed it was true, but she also blamed parents for not educating their daughters properly to give them the opportunity to pursue science.
"I'm single and so maybe I shouldn't be making judgements, but I've seen so many families where the girls were automatically not considered for college, or else they were sent only so that they would be sure of exposure to catch a husband!" she joked.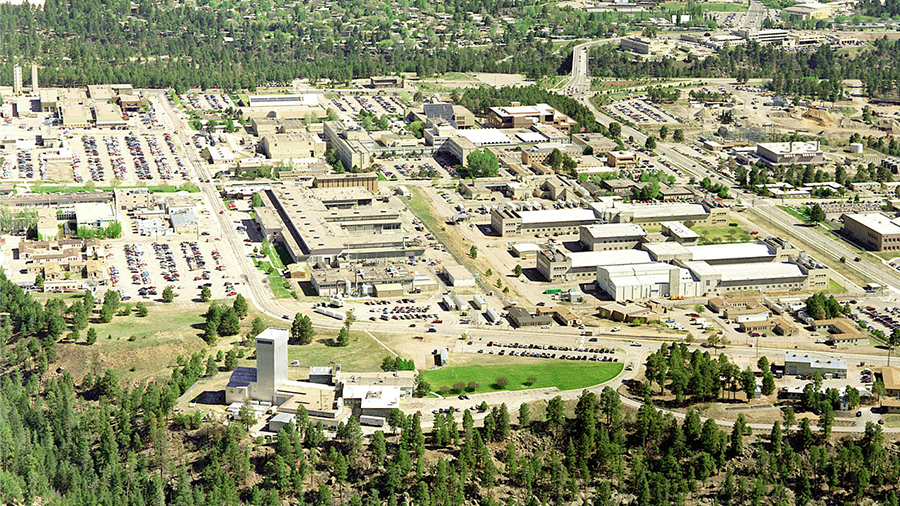 Barriers to recruiting Black employees
Today, 35% of the LANL workforce is made up of women, and women hold a third of management positions and 20% of the professional research and development positions.
But retaining Black workers has been a problem.
In 2006, Lee led a study to determine why the retention rate of Black workers at LANL was so low.
One reason, she found, had to do with New Mexico itself. The state has a majority white (82%) population; only 2.6% is Black.
Lee advocated for and helped secure more childcare options and support to improve the work–life balance of all employees.
Lee stressed that the key to recruitment and retention of Black workers is one-on-one mentorship. Anyone can be a mentor to a student or entry-level staff member, and it may help people feel less alone if they are from an underrepresented group.
"Speak about your experiences. Be transparent, because believe it or not, it helps you as well as the other person. If it wasn't for my mentors, I don't know where I would be," said Lee.
She also encourages scientists to explain what they do at a lab, as the typical picture of a scientist is a very narrow one.
"When (people) think of a laboratory, they think of a room with some test tubes. The Laboratory is 42 square miles, and we have many different facilities. I've worked different places: seven years in policy, seven years managing radiation generating devices and accountable steel sources for the Laboratory, seven years at the plutonium facility. When I switch to another facility, it's like starting another job."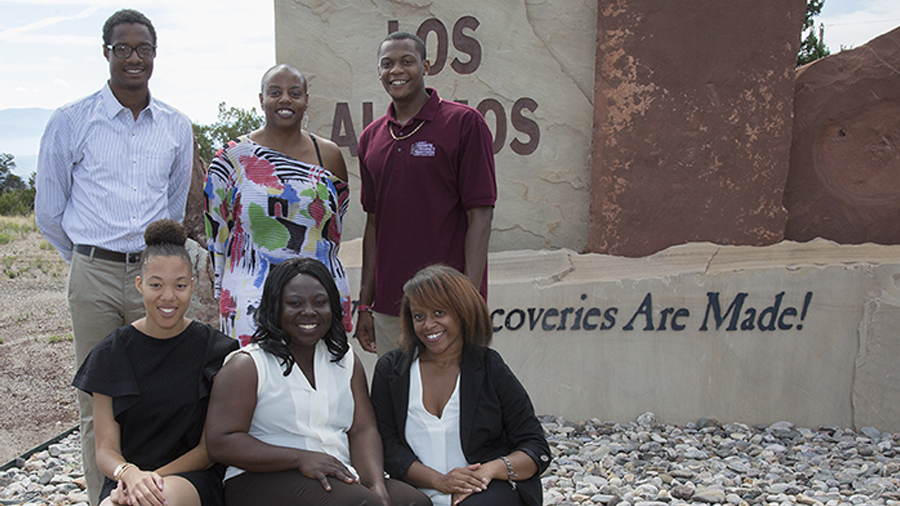 Michelle Lee (back row, center), program manager for ROSES, gathers at the entry to Los Alamos with some of the program's 2016 interns.
Starting when they're young
Given that she was the product of an internship program targeting HBCU students, Lee jumped at the opportunity to head the ROSES program in 2015.
"I was so grateful that a program like the HBCU program brought me in," Lee said. "I wouldn't have access to the Laboratory if it wasn't for a program like that."
In 2016, Lee began the ROSES–Power with STEAM (science, technology, engineering, arts and math) program to reach out to Black students in grades 5 through 12 in New Mexico. This program supports the effort to retain a Black scientist population in New Mexico and at LANL.
ROSES also facilitates a radiological control technician training program for undergraduate students. The internship pays students to train so that they can enter the laboratory in an entry-level position.
Last summer, ROSES completed its fourth RCT training program by hiring 14 students who had completed the internship.
"It's very fulfilling for me — to see a student getting hired, to see I made an impact. And you know, Julia planted the seed 30 years ago. And I'm thinking I'm the fruits of her labor."
Being a health physicist was rewarding, she said, but leading a minority-serving institution recruitment program has become "the cherry on top."
Science and stickability
Lee is a "soft skills" evangelist.
As her mentor Nastasi did before her, Lee says hard work and "stickability" are soft skills that she looks for in her interns at the ROSES program.
While the technical ins and outs of research are important, she said, they can be taught to almost any student with a scientific background.
Lee said she believes interpersonal skills are just as important when it comes to communicating with the public and fitting into an organization.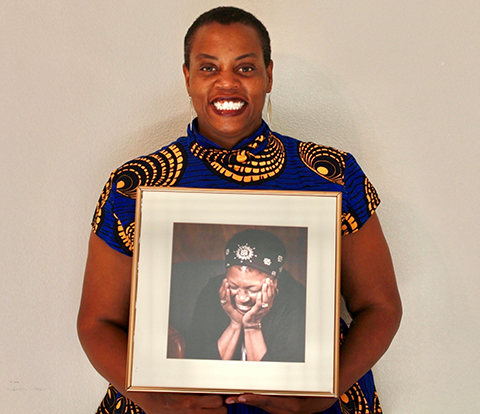 Courtesy of Michelle Lee
Michelle Lee has a picture of Julia Hardin in her office.
She notes that her Ph.D. is a combination of communication and hard science and that has aided her in her work to this day.
"That degree has really assisted me when I talk to colleagues and craft workers about radiation protection," Lee said. "I'm able to explain it to them in terms that they can understand."
Following in her footsteps
Just like Hardin, Lee serves as an important role model for Black women scientists because of her position within a prestigious institution such as LANL. And, also like Hardin, Lee uses her position to raise the next generation of Black students up with her.
At this point, most of the students that Hardin recruited to LANL have retired or died. "I might actually be the last one standing for Julia," Lee said.
But Lee continues the work Hardin started.
"Yes, and so I'm carrying on for Julia," said Lee. "When I go in my office, I look at her picture every day."
Histone biochemistry then and now
The study of histones was less than 100 years old in the 1960s when Julia Hardin began her research.
In 1964, the inaugural World Congress on Histone Chemistry and Biology, called together by Paul Ts'o and James Bonner, found no consensus on how many kinds of histones there were, how their functions differed or how they looked in different organisms.
Hardin co-authored a paper titled "The metabolism of histone fractions" published in 1968 in the Archives of Biochemistry and Biophysics outlining the experimental procedures and conclusions of her early work. The histone experiments involved biochemical techniques such as cell homogenization, protein purification and polyacrylamide gel electrophoresis.
"We use Chinese hamster cells because they only have 22 chromosomes instead of 46 in man and 40 in mice. There's less to mess with," Hardin told The Atom in 1974.
She and her research partner, Lawrence R. Gurley, found that the synthesis of histones in the cultured cells occurred mainly in the S phase of mitosis. Histones still were synthesized when DNA synthesis was inhibited in the cells. They hypothesized that histone biosynthesis kinetics may involve the limiting turnover rate of histones in chromatin.
Since then, histone bioscience has advanced exponentially.
Processes such as methylation and acylation of histones to induce nucleosome formation or unwinding have been interrogated deeply. Now histones are grouped into five families, designated H1 and H5 — the linker histones — and H2, H3, and H4.
In 2022, researchers were able to observe the binding of LHP1, a transcriptional repressor, to H3K9, a methylated lysine on histone tails, through X-ray crystallography at 1.6 angstrom resolution.
Epilogue: Black women as role models
When I was growing up, I was lucky to have my own mother as a role model for a woman in science.
She studied biology when I was a child. I remember her bringing me, when she could not get a babysitter, to university courses where she learned about physics and into the lab where she did her graduate research.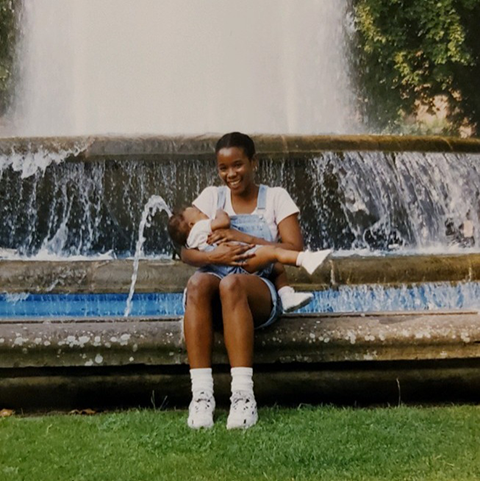 Courtesy of Inayah Entzminger
The author and her mother, Yolanda Entzminger, in Germany in 1996.
Despite the struggles my mother went through at that time, I grew up knowing that I could study science and be successful at it, because I witnessed her doing it.
I am not sure how many of the women who originally were promoted at the Los Alamos National Laboratory with Julia Hardin had children, but I hope that they saw their mothers as role models as well.
My passion for science is probably familiar for every reader of ASBMB Today, no matter your ethnic, racial or cultural background. I love the discovery and research aspect of science. Planning and performing experiments is an art that is more difficult than I expected, but the triumph of a successful procedure makes everything worthwhile. I am glad that I can contribute to a fast-paced, ever-growing field with no shortage of new avenues to explore.
I was able to pursue my dream of becoming a graduate student (and, in time, a full-time researcher) because of the people who believed in me. My amazing mother made sure that I was supported financially and emotionally in college. I was and still am encouraged by a series of phenomenal professors who saw my potential and never gave up on me, even when I wanted to give up on myself.
Unfortunately, my story differs from the stories of many of my peers. Black people (and others from marginalized groups) often have the passion and drive to become scientists but are not given the opportunity to follow that passion.
Discriminatory college acceptance practices prevent Black students in particular from enrolling in top four-year universities. Systemic wealth gaps keep Black students from accessing K-12 education and test preparation at the same level as their white counterparts. Microaggressions and interpersonal racism make Black students feel unwelcome in STEM classes and departments.
A lot has changed since Hardin's day, but the popular conception of a scientist is still white, male and middle-aged.
It is only with representation in scientific fields that we can change the public perception of science and scientists. And increased representation means a wider breadth of role models for underrepresented children to look up to.
Organizations within and outside of scientific industry and academia need to focus on recruiting and retaining historically excluded people to remain competitive.
Potential for scientific innovation always is being lost when the recruitment pool is too small or too shallow.
Like Michelle Lee said, anyone can help a student they believe in reach new heights in their scientific career by mentorship. Be honest about the work that you do, and advocate for the student when opportunities come up that you think would fit them.
I encourage every scientist to take time this year to support a student who has all the potential but is maybe missing the access, opportunity and mentorship for a great future in science.
Enjoy reading ASBMB Today?
Become a member to receive the print edition monthly and the digital edition weekly.
Learn more
Get the latest from ASBMB Today
Enter your email address, and we'll send you a weekly email with recent articles, interviews and more.
Latest in People
People highlights or most popular articles