Student Chapters
Establishing connections — from people to synapses
When José Zepeda was in his early teens, his mother was deported, and his family moved from Cambridge, Massachusetts, to San Luis Río Colorado in Sonora, Mexico. There he witnessed the poisoning access of drugs in a border town. "I saw friends who went through that and struggled," he said. "I always wondered what I could do to help."
As a youngster, Zepeda was an avid reader of science and nonfiction books. By high school, he had turned his attention to books on philosophy and neuroscience, wanting to know more about the brain's involvement in addiction.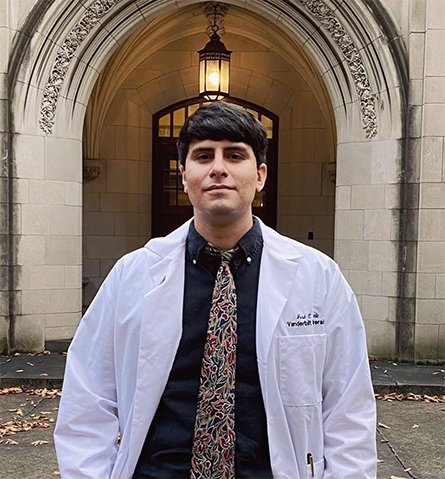 Courtesy of José Zepeda
José Zepeda, former president of the UMass Boston ASBMB Student Chapter,
is now a Ph.D. student in neuropharmacology at Vanderbilt University.
Looking to satisfy his curiosity about brain signals, rationality and the function of biological organisms at their core, Zepeda returned to his home state for college, pursuing a degree in biochemistry at the University of Massachusetts Boston. He had the opportunity to work in neuroscience labs at Harvard Medical School and MIT, where he was exposed to studies of molecular neuroscience and synaptic plasticity.
He also joined the UMass ASBMB Student Chapter, first as a general member, then becoming vice president and, in his final year, president. He initially was attracted to being around like-minded individuals and receiving mentorship about working in a lab. However, Zepeda said the outreach component of the club was what he loved the most.
The ASBMB-UMB chapter provides resources to those interested in biochemistry and molecular biology — both within and outside the university. As chapter president in 2019, Zepeda started biweekly journal clubs to discuss articles in the ASBMB's Journal of Biological Chemistry and triweekly professional development events including CV, resume and interviewing workshops. He also led the chapter's partnership with the local — and underfunded — McCormick Middle School, where members teach a class of eighth graders general science topics through lectures and labs, everything from thermodynamics to the structure and function of small molecules.
"Working with eighth graders was extremely rewarding," Zepeda said. "Their energy and curiosity for science are enviable. I was deeply impressed with their questions and ability to pick up the material so quickly."
He also continued to be fascinated by the human brain. Now a first-year Ph.D. student pursuing neuropharmacology at Vanderbilt University, Zepeda seeks to help develop cures and treatments for neurological disorders and diseases. He specifically focuses his scientific attention on neuroplasticity, studying the brain's ability to reorganize itself through the formation of new neural connections.
Zepeda's interest in connections goes beyond scientific inquiry. From his desire to help his teenage friends to engaging with eighth graders in the study of science, leading a strong executive board and organizing professional development events, Zepeda has a passion for forging connections. And he urges others to do the same. If more scientists would go out of their way to engage with the public, Zepeda believes they could improve the credibility of science and overcome its politicization.
"Since the COVID-19 outbreak, there has been a lot of distrust between the outside community and the scientific community," he said, "and as scientists, we have an obligation to build that trust with the communities we serve."
Enjoy reading ASBMB Today?
Become a member to receive the print edition monthly and the digital edition weekly.
Learn more
Get the latest from ASBMB Today
Enter your email address, and we'll send you a weekly email with recent articles, interviews and more.
Latest in People
People highlights or most popular articles