The Do-Over
Rooted in my sanctuary city
The morning of September 11, 2001, transpired before many eyes across the U.S. and crashed into the daily agendas of multitudes. In one brief, catastrophic moment in the life of this nation, our culturally, economically and ethnically diverse population became a unified mass whose attention centered on the events unfolding on the East Coast. That morning more than any other morning is seared into the minds of numerous Americans who remember precisely where and with whom they were during that morning of terror.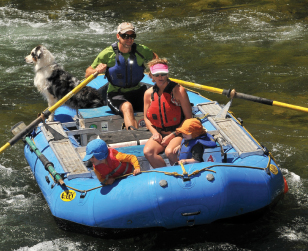 The author and her husband in Montana whitewater
Images courtesy of Mary Cloud B. Ammons
For me, that morning began with a sapphire-sky sunrise, a fresh layer of cold dew on my sleeping bag, the smell of the soil warming with the day and the piercing gaze of a great gray owl in the stately aspen trees beneath which I had slept the night before. My college sweetheart and I were headed south from Montana back to our families in Colorado. We had stopped about halfway through Wyoming to camp on some Forest Service land outside Rock Springs. Having met each other as undergraduates at the University of Colorado in Boulder, my college sweetheart and I both recently had graduated and were in Montana trying to decide on the next stage of our lives. I knew I wanted to go back to school and get an advanced degree, so I had been looking at graduate programs at the University of Montana in Missoula and at Montana State University in Bozeman. Born to a family firmly entrenched in the Rocky Mountain West for generations and raised with the wild freedom of a rancher's daughter, my heart was firmly rooted in this region, but I still was considering programs on the more populous east and west coasts. Until that day.
Having packed up our simple sleeping kit and fed our loyal canines, we directed our rig south to Rock Springs with visions of greasy eggs, thick-sliced bacon and coffee the consistency of Texas crude. Instead, when we walked through the grimy doors of the local truck stop, past the empty casino machines, past the "Please wait for hostess" sign and empty hostess podium, we were greeted by that now-all-too-familiar vision of malevolent black smoke pouring from the twin towers, charring the crisp, blue-sky morning over Manhattan. Like millions of Americans, that moment was decisive for me. I knew that I needed to live where my roots were planted deep. Four months later, I was enrolled in the molecular biology doctoral program at Montana State University. Fifteen years later, I am still here. And here, in Bozeman, I have married my college sweetheart and buried his father. I have given birth to two beautiful and talented boys, referred to as "the mathematician" and "the linebacker" by their aunt. In due course, I completed my doctorate in one department and my postdoctoral stint in another department and landed a faculty position in yet another department.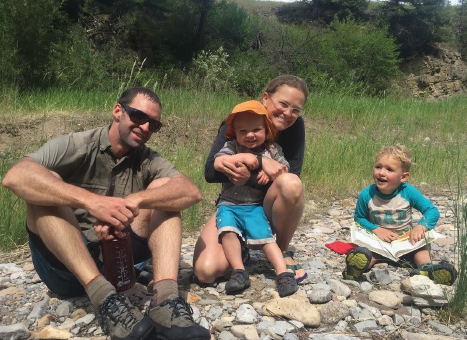 The author, her husband and children in their "outdoor laboratory"
The decisive commitment I made on that haunting day to dig in, to hole up, to find sanctuary in my austere mountains beneath the taciturn blue sky of Montana, went against the advice of every mentor along the way: "Get out. Move on. Establish a reputation with one of the big-name institutions. Go East Coast. Go West Coast. Go." Despite their cajoling, I remain. And despite my atypical career inertia, I have carved out my own niche of research potential, successfully competed as a principal investigator for federal funding and been rewarded with exceptional mentees. However, resources are limited at a state university in a rural part of the country, and survival depends on intense strategic planning, leverage of every asset and dumb luck. Despite (or perhaps because of) my 15 years of commitment to Montana State University, I remain a research-track professor, and as such, I am employed at the whim of the university, dependent on obtaining federal funding for my salary and benefits as well as the technician salaries I have to pay and the student stipends I need to support. I am guaranteed no space within which to work or security that my job will be here tomorrow and, as a non-tenure-track faculty member, have no clear promotional path forward to attain such guarantees. I have been fortunate to have the support of senior, tenured professors, but I yearn for the opportunity to have true research independence.
Since 9/11, the world out there has not gotten more rational or saner. This morning, the news was full of another tragedy, another killing of innocent bystanders just trying to live through one more day while I remain here in my sanctuary city. But what if I had not entrenched that day as we watched the towers burn and bodies fall from the sky? What if I had not stuck to my commitment to live, work and raise my children in my home region? What if I had struck out to the populous cities? Chosen career opportunity over quality of life? Joined the faculty at a prestigious university in a city with high rent? High-rises? Traffic? If I could, would I do over my decision to stay here?
There are days I am almost completely unnerved by the anxiety of trying to survive. But not a day passes in which I lose faith that what I do, as a mother and as a scientist, matters. And in the face of such irrational horror as we all witnessed on 9/11, being one of the millions of citizens out there contributing to a world that matters is an honor, whether I do it from Bozeman, Montana, or Boston, Massachusetts.
Join the ASBMB Today mailing list
Sign up to get updates on articles, interviews and events.
Latest in Opinions
Opinions highlights or most popular articles