The Do-Over
If I could turn back time
The rock icon Cher sang her hit of the 1980s "If I Could Turn Back Time." However, we all know that nobody can do this, and the Nobel laureate Bob Dylan confirmed it with his song "The Times They Are A-Changin."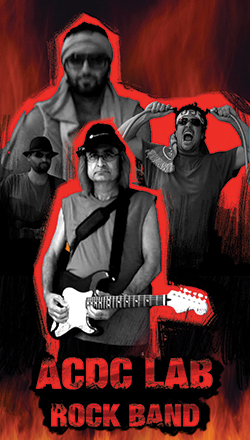 The poster for Diamandis' laboratory band
PHOTOS COURTESY OF ELEFTHERIOS DIAMANDIS
At the 2016 Annual Conference of the American Association for Clinical Chemistry, I attended a session honoring three very successful clinical chemists. I asked each of them of what alternative career they would pursue if given a second chance. One kindly declined to answer. The second emphatically declared that he was completely satisfied with his current career and would follow the exact same path if he were to start over. The third one, who enjoys athletics, revealed that he would have pursued professional golf.
I believe that I have had a successful career in science and academia. I published often, made some discoveries, mentored more than 60 graduate students and collaborated with an army of other scientists during the course of my career. The beauty of our profession is that we have the freedom to investigate unanswered questions of our choice and be at the forefront of curiosity-driven research. At the same time, we have the privilege of working with brilliant young people whom we coach to develop their own paths to success. It is a very rewarding and well-paid profession. With all this in mind, I have no complaints.
However, we are all born with other passions that we do not necessarily explore when building a professional career. Over the years, I have been devoting time and energy in areas outside my profession. I suspect that these natural and spontaneous tendencies could have been used to build an alternate career. From very early on, I showed a keen interest in many sports, including soccer, boxing, basketball, athletics and so on, but it wasn't until my medical-school years that I fell in love with tennis. I was introduced to the sport in the early 1980s when I traveled for the first time to the U.S. and bought a cheap wooden racket from K-Mart before returning to Greece. It so happened that near my apartment in Athens there were two university tennis courts where I could play tennis for free. As the tennis courts were in high demand, we usually had to wait two or three hours to play for 30 minutes, as court booking was not a thing in Greece during that time. The balls we were using were beaten to death and barely bounced. If the strings of my racket broke, I would mend them myself, since I had no money to replace them. I would try to hit tennis balls anywhere, including walls, inside my apartment or even in the lab where I worked! I followed all the international tournaments and scores in newspapers (no internet then) and fell in love with the champions of the time, such as Bjorn Borg, John McEnroe and Jimmy Connors. When my children were born, I so desperately wanted them to become Wimbledon champions that I even wrote a fiction piece on this subject (1). To my disappointment, my children never really showed any interest in playing professional tennis (they play for recreation) and I was never really good at the sport either. Yet each of the two properties I own includes a tennis court, both built before the houses were erected! (Important things first.) Aside from my backhand weakness, I know the game very well.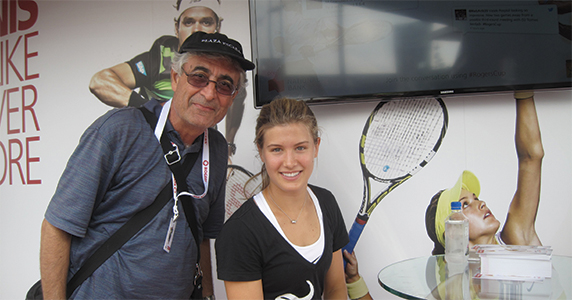 Diamandis with Canadian tennis player Eugenie Bouchard
But even before I came across tennis, as a 15-year-old from Cyprus (a former British colony), I began discovering in 1967 the Beatles, the Rolling Stones and the other rock groups by listening to English radio stations. I religiously followed "Top 20," a radio show based in England, and meticulously took notes on the ranking of the songs and the bands. Despite having no musical background in my family, I was obsessed with listening to music with my transistor radio on every occasion and became proficient at knowing every single song of that era. I was the human Shazam of my time (Shazam is the mobile app that identifies music). By 1970, my heroes included Neil Diamond, Neil Young, Led Zeppelin, AC/DC and The Who, among many others. When I was serving in the Cyprus Army as a soldier, I was punished and put in prison many times for breaking the rules and listening to music while on guard service.
My passion for music grew immensely over the years. My electronic library now has more than 300,000 songs, split equally between Greek and English. Everywhere I go, I carry my iPod as well as my iPhone, which are loaded with music. When I find five or more minutes of spare time, I listen to music. During my wife's shopping expeditions, I pass the time with music, secretly wishing she would do more shopping so I could extend my enjoyment! While I can spend 70 minutes daily on a treadmill exercising with music, I am not able to do a single minute of exercise without music. In short, music is an absolute necessity in my life. Unfortunately, I do not seem to have any talent in creating new music. My talent is only in listening.
I still am highly fascinated with the discovery process and the mentoring of young individuals, such that I could not imagine that I would leave this activity if presented a second chance. Consequently, I would prefer a composite of professions: From Monday to Friday I would operate my research laboratory, aiming toward discovering and publishing new knowledge and mentoring young students. On Saturday, I would work for a television station as a commentator for sporting events, particularly tennis. On Sunday, I would host my own radio show, during which I would play the music I like and tell the stories behind the hits!
Realistic? Probably not. Crazy? Definitely yes. From here, I suppose my only hope for a second profession (and proclaim, like Britney Spears, "Oops! … I Did It Again") is to find the "Stairway to Heaven."
---
References
1. Diamandis, E.P., Clin. Chem. 55,1253 – 1254 (2009).
Enjoy reading ASBMB Today?
Become a member to receive the print edition monthly and the digital edition weekly.
Learn more
Get the latest from ASBMB Today
Enter your email address, and we'll send you a weekly email with recent articles, interviews and more.
Latest in Opinions
Opinions highlights or most popular articles