Essay
How a research tech can work
from home in the time of COVID-19
Kara, my research technician, asked what she should be working on from home during the coronavirus outbreak, and I didn't know how to respond.
I just started my research lab last August, and she was my first hire, a recent college graduate with two years' work experience in biotech. I have big plans for Kara. In two years, I will encourage her to apply for graduate programs in biochemistry. It will be a challenging next step, but with her intelligence and diligent work ethic, I know she will do well. I don't know what she'll do with her degree, but I not-so-secretly hope that she comes back to Indiana to be near family and improve the community she loves.
This is all whimsical daydreaming. Right now, I need to figure out what a research technician should be doing while physically away from the job she was hired to do. Graduate students and postdocs have their to-do list built into the job. They can start work on a grant, catch up on reading or finish writing that thesis, manuscript or review. We typically hire lab technicians to do tasks at the bench. What can they do if they no longer have access to a laboratory bench? Kara and I came up with these three general categories.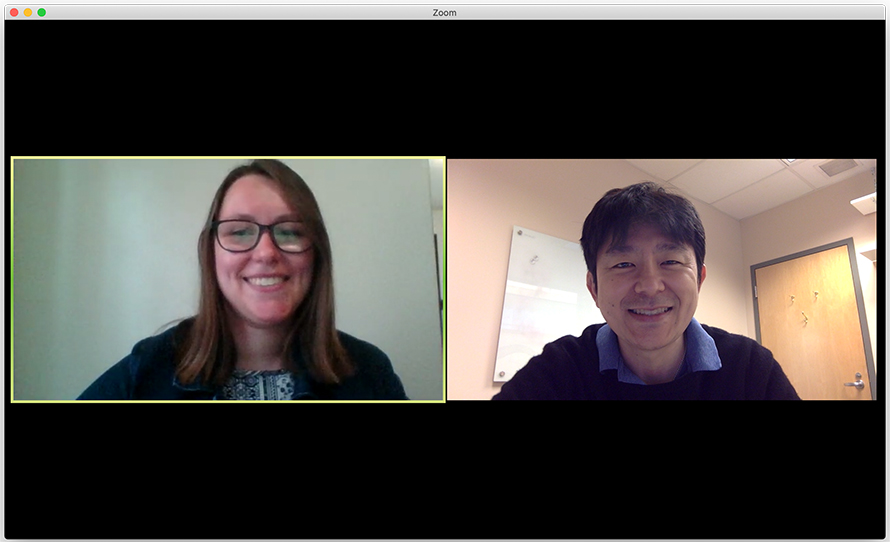 Courtesy of Scott Aoki
Lab technician Kara Osburn and researcher Scott Aoki keep in touch with Zoom calls while Aoki's lab at Indiana University is closed due to the COVID-19 pandemic.
1. Personal and professional development
This category includes tasks that improve a research technician's knowledge base. Graduate students are not the only people who need to catch up on their reading. We all benefit from reading further into laboratory projects, and this time away from the lab allows techs to study the origins of their work. Kara now is investigating the expression profile of a Caenorhabditis elegans gut-specific promoter and when it turns on during larval development.
This category also includes deeper investigation into the methods, equipment and programs we use in the lab. We are still novices using the departmental confocal microscope, and part of Kara's work from home is to become acquainted with the microscope software. The knowledge she gains about using the imaging software for quantitation and generation of publication-quality images will be a great help to the lab once we get back up and running.
2. Lab organization
Working from home provides time to catch up on lab organizational projects. Kara has helped me update our lab inventory in an electronic database, including primer and plasmid lists that were months behind. Organization also can mean developing new protocols for the lab. As Kara learns the microscope software, she will draft new cheat sheets to help novice users.
3. Creative opportunities
Creative tasks often go on the back burner when we have work that needs to be done right away. Working remotely forces us to slow down and provides time to work on creative lab-related endeavors. Much to the chagrin of my friends and mentors, I've been dragging my feet on developing a lab website. Kara now has time to help me with this project; she's looking into user-friendly software and helping to plan and develop content. With this work, she is developing new skills in website design and programming. I've also asked her for help with my writing, such as editing the essay you are currently reading.
When I became a professor, the first thing other professors told me was that nothing I'd done previously in science would prepare me for the position's demands. I'm certain no one was referring to the challenge of starting a lab in the face of a pandemic. It was hard enough trying to figure out the correct next steps to recruit talent, develop a laboratory culture and obtain extramural funding. What is my role as a supervisor during a catastrophic event that is completely out of my hands?
My conclusion is to strive for normalcy. I may not have the training to work in a hospital emergency room or develop a potent virus vaccine, but I can adjust our work to make my team feel needed and productive. By continuing to contribute as a lab member, Kara will, I hope, return to the bench feeling that she never left her position.
Join the ASBMB Today mailing list
Sign up to get updates on articles, interviews and events.
Latest in Opinions
Opinions highlights or most popular articles