Jobs
Ups and downs of the adjunct faculty position
"You want to know about adjuncting? It's the grandfather of the gig economy."
That's what my friend (let's call him Mark) said when I told him I was writing this column.
Mark has been an adjunct for seven years. He teaches one course each semester, spending about three hours in the classroom and three to four hours prepping and grading each week — though that can shoot up around finals time — and about an hour driving. The pay has varied over the years but has stayed between $3,000 and $4,000, which works out to between $20 to $30 an hour. For adjuncts, this pay is about average.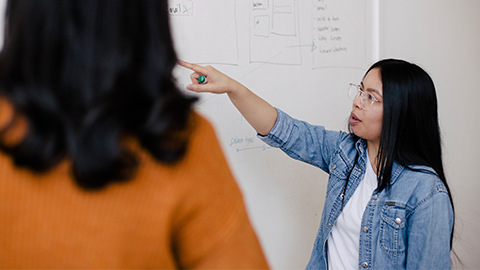 When people imagine a professor, they might think about a tenured professor toiling away in their ivory tower office full of papers that have accumulated over 40 years, but, in reality, about 75% of faculty positions are nontenure-track, according to Inside Higher Ed. If you look specifically at who is teaching college-level courses, according the American Association of University Professors, about 60% are not full-time employees; in fact 40% are adjuncts like Mark and the other people you will meet in this article, while the other 20% are graduate students.
These numbers mean that many people applying for academic teaching jobs are applying to be adjuncts. In this week's column, I'll be examining the pros and cons of the adjunct job: At times it can be a great choice, and at times it ends up being a bad deal
"The phenomenon of adjuncting is a complex one, and there isn't going to be a simple view of it or statement about it," says another friend of mine (I'll call him Rich), who is now a full-time professor but who was an adjunct in the past. "In some circumstances, adjuncting is an ideal solution for institutions, and an adjunct position is ideal for the professional taking it. In other circumstances, it's a trap for both institution and professional … Into that mix, throw the problems of access to healthcare and the oddly seasonal cycles of academic hiring, and you can see why there's no easy way to think about it."
Positive and negative experiences
Perhaps the most ideal adjunct situation, for both students and professor, is when an adjunct is what I'll call an external expert. These adjuncts bring to the classroom knowledge, experience, connections and access to resources that full-time professors can't offer.
Mark is one of these external expert adjuncts. He works full time researching and leading educational programs and teaches as an adjunct at a nearby college. His full-time work complements his courses at the college, making him a unique resource for students.
He began working as an adjunct after being asked by the college if he would be willing to share his expertise. The college environment also gives Mark resources that his job lacks, such as access to scholarly libraries, and allows him to stay current in his field in a broader way than if he worked only full-time job.
People who aspire to become full-time professors but who have little to no teaching experience also can benefit from adjuncting.
Ryo Higuchi–Sanabria taught as an adjunct while earning his Ph.D. and looks at his time as an adjunct positively.
"It's generally quite hard for grad students and postdocs to get full-on teaching experience," he said. They're usually teaching assistants but don't run their own courses, he explained.
"I think there is a major difference between being a TA or co-teaching a class versus running the entire program on your own," he said.
Higuchi–Sanabria wants to secure a tenure-track position and said the six courses he taught as an adjunct helped him prepare for that move.
"When you're first a tenure-track professor, you are juggling so many new responsibilities at once that most people get very stressed out. Having experience in teaching a class full-on will take away one of those new things you're doing and make the transition much gentler," he said. "I have confidence in the coursework, so I think the extremely difficult transition to junior faculty will be a lot easier for me."
Being an adjunct can also help those who are thinking of a career change into teaching.
My friend Sarah (not her real name), who taught as an adjunct for two semesters, adjuncted when she was "toying with the idea of a career change and wanted to try something new."
Sarah, who kept her full-time day job during her time as an adjunct, told me: "I taught intro statistics for two semesters (one section each semester). Overall, it was a great experience, and if I weren't so busy these days I'd love to continue teaching. I really enjoyed working directly with students, and there is a special kind of pleasure in watching students get something for the first time."
On the flip-side, there's my friend Kate (not her real name).
Despite holding a terminal degree in her field and having much practical and teaching experience, Kate couldn't find a full-time professorship and ended up adjuncting to make ends meet. The schools sometimes provided benefits if she taught more than two courses per semester, but a course could be canceled at the last minute if it didn't enroll enough students. According to NewFacultyMajority.com, only between 10% and 20% of adjuncts are compensated for canceled courses.
The very low pay for the amount of work and time it takes to plan and teach a course and the unpredictability of the work cause stress and leave adjuncts feeling exploited and devalued, not to mention often lacking health insurance.
You can find plenty of horror stories online of the exploitative situations adjuncts often end up in. (See " The Death of an Adjunct" in The Atlantic earlier this year for a particularly heartbreaking example.)
Some things to consider follow.
Support and oversight
Many people I spoke to for this column brought up lack of oversight when describing their time adjuncting. This seems to be both positive and negative.
On the positive side, lack of oversight can provide freedom to make the course what you want. Tom O'Dowd, who taught as an adjunct for two semesters, enjoyed being able to make the class whatever he liked and chose to make an environmental education class a more outdoor-based, hands-on class. However, he says received little support or critiques from the school administration or other professors there, which would have helped him to improve the course.
Pay
As I mentioned above, adjunct pay is usually between $2,000 and $4,000 per class.
Some adjuncts cobble together assignments at multiple institutions year-round. But, at $3,000 a pop, even those who teach, say, three classes in the fall, spring and summer bring home only $27,000 a year. Keep in mind these are folks with terminal degrees (and in many cases student loan debt).
Higuchi–Sanabria, who taught as an adjunct while earning his Ph.D., felt that his compensation was fair.
"I was getting paid $4,000 to teach a four-credit course per semester. That works out to a little over $250 per week for each course," he said. "I agree that this is quite abysmal for a trained lecturer, but, for someone at my skill level who was getting more training out of this experience, it is fair."
Sarah, who held a full-time job while adjuncting, said, "The pay was not very good, and, if I were relying on it as my primary source of income, it would have been stressful. It was more work than you would expect given the level of pay! Thankfully, I approached it more like a hobby and still had my day job as a primary source of financial support."
Example job postings
If you are interested in trying to make adjuncting work for you, here are some current postings for the coming spring semester.
Mohawk Valley Community College in Utica, New York, is looking for an adjunct biology instructor. They require a master's degree in biology.
Stonehill College in Easton, Massachusetts, is looking for an adjunct instructor to teach the biology lab courses. They require a master's in biology.
West Virginia Northern Community College is looking for adjunct faculty to teach any of six courses, which include biology, physiology and ecology. They require a master's in a related field.
Enjoy reading ASBMB Today?
Become a member to receive the print edition monthly and the digital edition weekly.
Learn more
Get the latest from ASBMB Today
Enter your email address, and we'll send you a weekly email with recent articles, interviews and more.
Latest in Careers
Careers highlights or most popular articles