Annual Meeting
How mentoring moments are made
The ASBMB annual meeting offers opportunities for young scientists to connect with professionals
Natasha Brooks' mentor didn't hire her — but he did everything he could to help her land the right job.
While employed at a hospital in Texas, Brooks worked with the U.S. Food and Drug Administration to remove a clinical hold from an ongoing clinical trial. That led her to thinking about a career at the FDA, so at the 2015 Experimental Biology conference, she connected with Marcus Delatte, a pharmacology/toxicology reviewer at the FDA.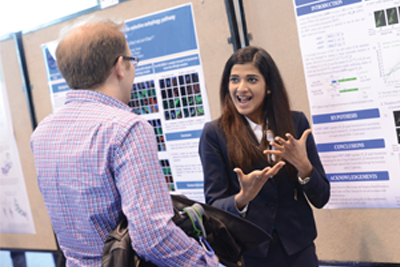 Parnika Kadam, a Ph.D. candidate at Georgetown University, presents her and her colleagues' poster on the exhibit floor of McCormick Place in Chicago during the 2017 ASBMB Annual Meeting. Their research, Regulation of Angiotensin Receptor Trafficking by an Upstream Short Open Reading Frame in the mRNA 5' Leader Sequence, was published in The FASEB Journal. Meet-the-speaker events at the poster presentation are an informal way to make mentor connections at the annual meeting.
ASBMB
Brooks sought out Delatte and asked him about his work. He responded by taking an interest in her future. "He helped me with writing down my career goals for where I wanted to be in five years, in 10 years, in 15 years," Brooks said, "and strategies for those goals."
Delatte put Brooks in touch with medical writers and regulatory affairs specialists to get a feel for what they do. "Those talks helped me tailor my resume and get a sense of what kind of questions I'd be asked in an interview … They helped me get the job."
Now a medical writer at Technical Resources International, Brooks believes in the value of mentoring, so much so that she coordinates what are known as the "professor rounds" at the American Society for Biochemistry and Molecular Biology annual meeting, along with Lana Saleh, who began as an ASBMB mentor before partnering with Brooks this year.
The ASBMB annual meeting, held in conjunction with the EB conference, offers numerous opportunities for students and early-career scientists to meet mentors, everything from the structure of the professor rounds to a more casual "meet the speaker" event during poster presentations.
Ways to connect
Professor rounds are offered in conjunction with the ASBMB Minority Affairs Committee's travel awards to the meeting. After the awards are announced, Brooks and Saleh contact the recipients to ask if they want to be paired with a mentor. About 75 percent of the 15 to 20 recipients each year express interest, Brooks said, and each is matched with a mentor based on career and research goals.
Students who want careers in academic research can usually find plenty of potential mentors on their home campuses, but for those interested in industry, science policy, consulting or biotech, the MAC program opens different doors.
About six weeks before the annual meeting, Brooks and Saleh start to get the ball rolling. They reach out to other MAC members for help in identifying potential mentors based on the interests expressed by the students. Once the matches are made, they send the mentors' contact information to the students, suggesting that the students get in touch to set up a meeting during the annual meeting.
Asking the students to make the first move is important, Brooks said. "It forces them to take the first step in networking."
The MAC hosts a reception at the annual meeting, and mentors sometimes will suggest meeting there. Or they might get together with their mentees for coffee.
Sometimes, a mentor can't be at the annual meeting so they touch base via Skype, Google Hangouts or a phone call. The point is for the mentee to make the connection and ask questions.
Opportunities for mentor connections also exist at the ASBMB graduate student and postdoctoral fellow career event held the Friday and Saturday before the main annual meeting program. Chris Heinen and Tim O'Connell co-organize the event, which has evolved over the years to provide more time for students to interact with speakers representing a variety of career fields.
"We have multiple opportunities for the students to talk to our speakers, including Q&A panels and lunch where the speakers sit with groups of trainees," Heinen, an associate professor at UConn Health who has co-organized the event for 10 years, wrote in an email. "I personally have overseen a Q&A panel on starting your own lab for nine years," he wrote. "I also sit with students at lunch and answer career-related questions."
Continuing the conversation
Mentorship is not a marriage. Aspiring scientists can have multiple mentors as they develop and hone their career interests — sometimes several at once. Brooks recalls her own experience as a graduate student at the 2012 EB meeting, where she was paired with a mentor through the professor rounds and also made mentoring connections with professionals at a workshop organized by Heinen.
Brooks knew then that she didn't want a career in academia. Before the meeting, she researched career paths and decided she was interested in science writing and science policy. "Fortunately, I was able to meet professionals in both fields from the workshop," she wrote in an email. "I asked both of them if they were available for coffee at some point during the meeting for a one-on-one session and they both agreed." She treated the one-on-one sessions as informational interviews, asking what steps she could take to prepare herself to enter and work in those areas. "I was able to get an understanding of both fields, the type of training required, and what exactly someone in that particular field does on a daily basis."
Attendees at the 2017 Experimental Biology meeting and ASBMB Annual Meeting in Chicago gather over hors d'oeuvres at the ASBMB Minority Affairs Committee welcome reception. Mentors designated by the MAC sometimes suggest meeting their mentees at the reception. Pictured, from left, are Yan Jessie Zhang, organizer of the annual meeting's Spotlight Sessions; MAC members Squire Booker and Kayunta Johnson-Winters; Craig Cameron, former MAC chair; Regina Stevens Truss, former MAC member; and Beverly Pappas of the University of the Pacific.
ASBMB
Mentoring can begin and end with that one-on-one over coffee or it can continue for years via regular emails, phone calls or Skype chats. Brooks said she and Delatte update each other about once a month. Both are now in the Washington, D.C. area "so we live close enough to meet for coffee," she said. She is in touch with her medical writer mentors about four times a year. "You have to keep up with people," she said.
In the last three years, Saleh, a staff scientist in the research department at New England Biolabs, has been a mentor to four students who wanted to pursue careers in industry. She has maintained contact with one of the four, helping him polish his resume, discussing interview strategies and keeping him updated with industrial openings she thinks would be a good fit based on his qualifications. "I plan to keep in touch with this mentee and ensure I am there for him to offer any guidance he wants in the next phases of his career," she wrote in an email.
Keys to success
What makes a successful mentor-mentee relationship? "This is the golden question!" Saleh wrote. Like any good professional or personal relationship, "(t)hey are the ones that start with some form of chemistry and continue strong due to open and frequent communication, reciprocity, clear expectations, and last but not least mutual respect."
Brooks believes the first and most crucial piece is "a willingness of the mentee to seek out or take advantage of opportunities for mentorship." It's also important for the mentee to understand that "the relationship may not directly lead to a position but will give you more insight and connect you to more people." Mentees also need to ask good questions about the career field, and they need to follow up, she wrote. "Many times (myself included) we do the initial work with identifying a mentor, but after the first interaction, we do not continue to develop the relationship. I suggest every few months to send an email to the person to tell them how you are doing … Share with your mentor what your goals are and what you are working towards as they may have a solution for you or be able to connect you with another person who has the answer you're looking for."
Saleh stresses that the communication needs to go both ways. "The mentor should take the first steps of keeping the line of communications open by checking in on a mentee and encouraging him/her to reach out," she wrote. "On the other hand, a mentee should not be intimidated to be up front and should communicate a clear set of goals that he/she desires to achieve from this mentoring relationship."
Both Saleh and Brooks encourage mentors and mentees to take advantage of social media and the latest forms of electronic communication to keep in touch if they are too far apart for that cup of coffee.
Doing more
The minority affairs committee, the education and professional development committee and all the organizers of the ASBMB annual meeting believe strongly in the importance of good mentor relationships to build careers in science. But even with multiple opportunities scheduled, students and young scientists sometimes may have a hard time making the connection.
Danielle Snowflack, the ASBMB's manager of public outreach, offers a suggestion to address this challenge. "One of the hardest things for a young researcher to do is to reach out to someone that they don't know, especially someone who may serve as a mentor. It helps to have a brief introduction to your scientific projects prepared," Snowflack said. That's one of the reasons the Public Outreach Committee has developed a workshop called "Constructing an Elevator Pitch," which will be offered twice at this year's Experimental Biology meeting. "It's important to have a well-crafted message explaining your interests ready to go," Snowflack said, "so that you're comfortable with what you are going to say before you take the leap and interact with a potential mentor, collaborator, employer or with anyone interested in what you do in the lab and why you are doing it."
Once a mentor connection is made, the student then needs to know what questions to ask. For help with this, the Education and Professional Development Committee has prepared a short video on informational interviews.
Heinen also recognizes the challenge for trainees to interact with more senior scientists at the annual meeting. "The volume of people is so large that people tend to interact with those they already know," he wrote. "It is more difficult to have spontaneous interactions with new people." In addition to the weekend events for grad students and postdocs, he suggests some planned lunches during the week centered around certain interest areas (research or otherwise) where selected faculty and other professionals would be asked to attend and specifically interact with trainees.
Due to the time constraints of the annual meeting, Brooks suggests it might be difficult to add additional sessions. "However, one possible way to strengthen existing mentoring relationships or build new ones would be to offer quarterly podcasts or Skype meeting outside of the annual conference in which potential mentors from varying backgrounds could connect with students," she wrote.
During a MAC meeting in October, members decided to establish a mechanism for following up with both mentors and mentees after the annual meeting to assess its programs. "This way we can collect more information regarding our pairing process as well as the success and effectivity of the connections that were established at ASBMB," Saleh wrote. "This feedback will help us in the planning of the next professor rounds and mentoring workshops."
In the final analysis, a mentor can be a bridge to the future, broadening a student's horizons as they provide direction and encouragement. A good mentor "leads you to the people who can tell you about the jobs you would like," Brooks said. "They have access to opportunities you might not know."
Join the ASBMB Today mailing list
Sign up to get updates on articles, interviews and events.
Latest in Careers
Careers highlights or most popular articles