Case Study
What do you want to do after school?
The path to a career in genetic counseling.
"What do you want to do after school?" is a question faced by many students as they progress from high school to college and beyond. Answering this question was not easy for me. Growing up, I toyed with the idea of becoming a doctor, a teacher and a scientific researcher. It was as if I was on a pendulum swinging from one possibility to the next. However, as I began my search for the perfect major and career, one thing remained clear to me: I liked science.
Once I came to that realization, things started falling into place. After careful consideration, I decided to major in neuroscience. As I became more involved with the courses in my major, I became more convinced that this was a wise decision. Neuroscience not only allowed me to study the biological sciences in depth but also offered exposure to the psychological sciences. This diversity appealed to me.
However, even after deciding on a major, the question of what I wanted to do after school still lingered. I had a course of study that I loved, but I still needed to find a career I would be enthusiastic about after I graduated. I began considering my options, utilizing all available resources. One day, as I was reading a textbook, I discovered genetic counseling. The book's brief description intrigued me and left me wanting to know more. I learned that genetic counseling combines medical genetics and counseling to help people understand the genetic components of disease. Genetic counselors provide risk assessment, education and support for individuals at risk for inherited conditions. The job sounded interesting, but I still had questions.
I began seeking more information from professors and career counselors at my school, who were very supportive and assisted me in whatever way they could. Eventually, I connected with a fantastic resource: the National Society of Genetics Counselors. Its website enabled me to find local genetic counselors, learn more about how to enter the field and discover available graduate programs.
Armed with knowledge about the profession, I grew more excited about this career possibility. However, a twinge of uncertainty still remained. I wanted to make certain this was the correct profession for me. One other field remained that I wanted to explore before I committed to a career in genetic counseling: laboratory research.
So I contacted a genetics professor at my university and committed to a year-long thesis project using yeast to perform a genomic survey. Although I enjoyed certain aspects of research, I discovered that I preferred working with people and that the laboratory environment did not mesh well with my personality. However, as I continued educating myself about genetic counseling, I learned that genetic counselors do have opportunities to participate in various research projects, which was comforting in case I ever wanted to have a research focus.
Making the goal a realization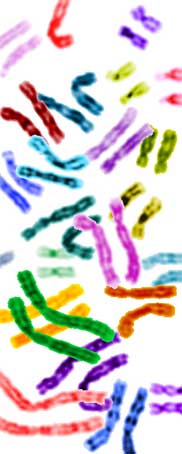 Now that I was feeling more confident about my career path as a genetic counselor, I had the task of attaining that goal. I knew graduate school would be a requirement, so I researched the programs available. When I began the process of selecting a graduate program, there were approximately 25 genetic counseling programs nationwide, and each admitted, on average, five to 10 students a year. Despite the competitive nature of the programs, I was determined to reach my goal.
Most genetic counseling programs strongly encourage students to gain experience working with a practicing genetic counselor prior to the application process, so I shadowed a local genetic counselor. I was fortunate to observe her daily clinic responsibilities, including her interactions with patients, and I used these observations to further my understanding of genetic counseling. This was an invaluable experience.
Also, to strengthen my application, I gained advocacy experience. I learned that past applicants had volunteered with crisis hotlines, pregnancy centers and domestic violence shelters. As a result, I committed to a volunteer position at a local women's clinic. This allowed me to assist with basic administrative tasks in a medical setting and offered exposure to different medical terms and clinical scenarios.
Once I confirmed that I had fulfilled all the requirements, I submitted my applications and waited. At last, several graduate programs informed me that I had been selected to continue on to the interview stage. Though this news thrilled me, I knew that the process was far from over. I had to face the next hurdle in my journey to becoming a genetic counselor: the interview.
I spent the next few months preparing for and participating in multiple graduate program interviews. The process let me gain a more detailed picture of each program I was considering by visiting and conversing with faculty and current students. I also was able to evaluate each program's geographic location, which was an important part of considering my options, because I would need to relocate.
Once the interviews were completed, another period of waiting began. This waiting period, however, was different from the last one. This time I was waiting for a specific day to come: match day. I learned that match day was the day when final acceptance decisions were disclosed to each applicant. On that day I would learn if I was accepted, waitlisted or rejected from the programs to which I had applied. The suspense surrounding the date was high, and I tried to keep myself busy by focusing on coursework and clearing my schedule for match day. I wanted be available to receive the news from each program as it came in.
When match day finally arrived, I learned that I had either been accepted or waitlisted at several programs. Everything began to fall into place. I completed my undergraduate degree, and, with the wheels now in motion, I began making preparations to relocate for graduate school.
The final steps to the beginning of a career
Transition from undergraduate to graduate school was not simple, and there were moments when the course load felt overwhelming, but the presence of a strong support group consisting of family, friends, classmates and faculty helped to make the transition easier. However, the initial question still remained: What would I do once I finished school?
Genetic counseling as a profession is quite diverse, offering multiple subspecialties. Some of the more commonly associated areas include prenatal, pediatric and cancer counseling. However, genetic counselors work in many other capacities, such as research and policy development. Based on my experiences in graduate school and my own career requirements, I was able to narrow down my options. In the end, I decided to apply for a job in a prenatal clinic.
Being new to genetic counseling, this seemed like a good fit on multiple levels: It would afford me the opportunity to see a variety of clinical scenarios while working in an environment that was complementary to my personality. It would also allow me to participate in various educational opportunities by attending conferences and teaching.
I still can recall sitting in my apartment the day I received the phone call offering me the position. It felt great to know that, after all the hard work of preparing for this day, it had finally come. I accepted the position with the understanding that I would still need to take and pass the genetic counseling certification examination.
Looking back on the experience, I can appreciate how each step was necessary in my development into a competent genetic counselor. I now work with families, assisting them in comprehending and coping with potential genetic diagnoses. It is rewarding to be able to support the families during challenging times in their lives. After all the time spent on the proverbial pendulum, I am happy to be able to say that I am working in the field of my choice and have begun the first job of the rest of my career.
Join the ASBMB Today mailing list
Sign up to get updates on articles, interviews and events.
Latest in Careers
Careers highlights or most popular articles