Jobs
A primer on performance reviews in industry
The structure and nature of industry jobs can be different than academic jobs. There are typically more formalized processes for job feedback and promotions in industry, and they are partially mediated by performance reviews.
Performance reviews, sometimes also called performance appraisals or evaluations, are periodic evaluations of an employee's job performance. Those in industry say the purpose is to acknowledge accomplishments, assess how goals are being met, and note areas that need improvement. Reviews are therefore typically a mix of positive and constructive feedback.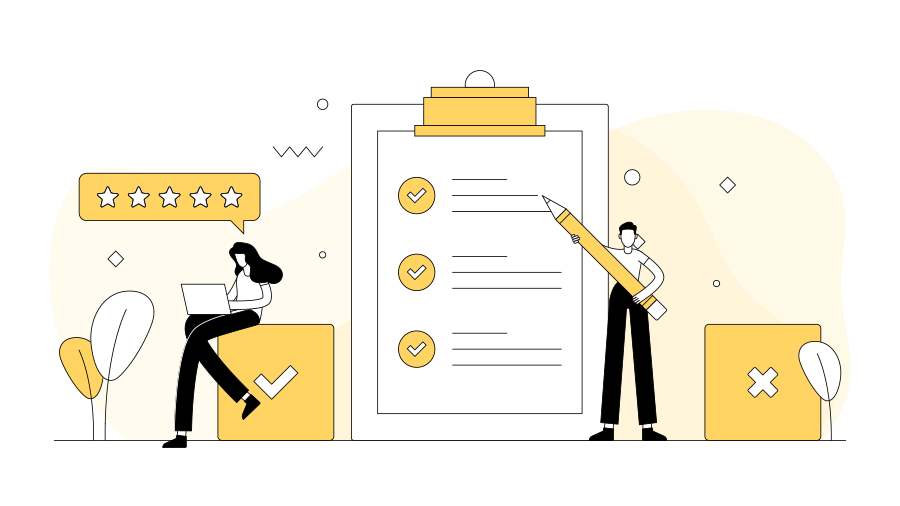 Employees may be evaluated based on what they've achieved (their results), how they achieved it (Can they work in a team? How do they interact with the rest of company or clients?), their potential (What knowledge or abilities could they bring to the table in the future? Do they seem to be productive in their current roles or are changes needed?), and any room for improvement (How could job criteria be better met?).
Some companies ask for feedback about employee satisfaction or about other co-workers. But, at the end of the day, the review process is supposed to assess your success and identify areas of improvement — and isn't always a two-way street.
That doesn't mean there's always going to be a negative. Performance reviews are an important way to prove you're meeting the metrics of your job. By having documented and tangible data, it can be easier to advocate for raises, promotions or more responsibility.
The performance review isn't as intimidating is it might sound. You might have experienced something similar if you filled out an individual development plan as a graduate student or postdoc and discussed it with your mentor. Performance reviews are similar, but they typically rely less on self-assessment and more on assessment from your supervisor.
What does the process look like?
The review process and format vary across companies. The general process, as described by industry experts, starts with the human resources department. HR designs the appraisal or review system and trains the supervisors who do the reviewing. Supervisors then review their direct-report employees, meaning anyone who works under and reports directly to them. They discuss the employee's performance and job satisfaction and may ask for examples of results.
The assessment results are then sometimes sent to the supervisor's manager (or another similarly senior-level person), who reviews the ratings and discusses feedback with the supervisor. Next, the supervisor has another conversation with the employee to address any performance issues, set new goals, or discuss promotions and raises.
During the review meeting, employees and supervisors discuss work completed since the last performance review and discuss what did and didn't work. During this or the follow-up meeting, they'll also set expectations for upcoming work and new goals. Good performance is oftentimes rewarded too, although the reward system varies across companies. It may be a one-time bonus, a pay raise, a promotion or simply recognition/praise.
Keep in mind that the performance review process is not designed simply to point out flaws in employee performance. Many companies view the reviews as a critical way to train employees and provide opportunities for career planning and development that aid both the worker and the company. Many companies try to use the performance review as an open line of communication, so employees can also give feedback about work-related success or grievances.
Performance expectations are typically related to the employee's specific job and use job-related criteria. Regulatory affairs employees will have different benchmarks than bench scientist employees. It is important to have a conversation about job expectations with your supervisor when you start your job so that you will know what is expected of you and will ready for future performance assessments.
In terms of frequency, performance reviews typically occur annually or semiannually at regular intervals. The review period might begin at with the employee's hire date, or all employees might be evaluated on the same schedule. Common times for annual reviews include the beginning or end of the year (to assess performance and goals over the past year and set goals for the upcoming year) or mid-year (to assess performance so far and figure out what changes need to be made to get back or stay on track for the rest of the year).
The ratings companies use vary but typically follow a similar pattern — outstanding, commendable, meets expectations, needs improvement and unsatisfactory. Each rating should come with an explanation of how it was reached, including employee successes or reasons for dissatisfaction.
What to do if you get a bad review
Even though the process is critical by nature, receiving an unsatisfactory performance review can sting, especially if you feel the review isn't accurate or fair. There are several tips for how to deal with negative reviews.
First, don't lose hope if your performance review seems unsatisfactory or lukewarm, especially if it's your first one. If you've recently started a new job or changed fields, it can take some time to get fully integrated into the new company culture and learn all of the ins and outs of your new role. Give yourself a break and focus on the specific criteria needed for improvement discussed with your supervisor.
If you've been given a review that you think is unfair, the first step should be to try to talk with your supervisor to get a better understanding of why you received the review you did. If you still think the review isn't fair, reach out to another manager or supervisor who wasn't involved with your review to try to get an unbiased assessment. Or you can reach out to HR if you feel like you're still being unfairly treated.
Importantly, keep in mind that the point of the review process is to identify areas in which employees can improve and grow. This growth is important not only for the company to success, but also for employee career development.
Even if you have excelled at your job and are well integrated into your team or the company, there will still be something your supervisor will say you can improve. Try not to think about it as criticism, but instead a way to improve, grow and learn new skills.
Remember that most jobs come with some type of feedback process, and, if you're curious about how you'll be assessed in a job in industry, ask your hiring manager or supervisor so you know what to expect.
Enjoy reading ASBMB Today?
Become a member to receive the print edition monthly and the digital edition weekly.
Learn more
Get the latest from ASBMB Today
Enter your email address, and we'll send you a weekly email with recent articles, interviews and more.
Latest in Careers
Careers highlights or most popular articles