Jobs
What are industry account executives, and what do they do?
Careers in the biotech and pharmaceutical industries extend well beyond those in research and development or at the bench. Companies rely on the sales and support of their products and technologies just as much as the research itself.
Sales managers, account executives and product specialists are all key players, and having a science background can help make you successful in these positions. It's a great option for scientists who want to move away from the bench and still work within industry.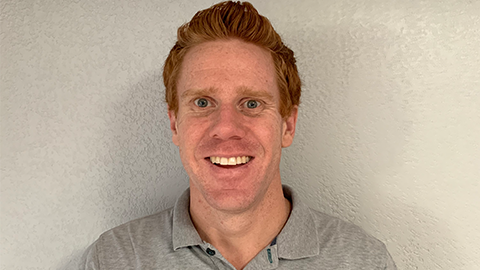 Chad Whitman is an account executive with the digital genome engineering company Inscripta.
This week, we're getting a firsthand perspective on one of these jobs, the account executive, to understand the position and the steps you can take if you want to pursue it. (My next industry-focused post, in three weeks, will feature someone in a related job, the technology specialist.)
Now, let's meet this week's expert.
I interviewed Chad Whitman, an account executive with the digital genome engineering company Inscripta. Whitman earned his Ph.D. and then transitioned into industry roles right after graduate school. He held multiple positions at multiple companies before gaining his current title of account executive, giving him valuable insight into this career path and the job diversity it offers.
Also, a quick note: These positions seem to vary greatly based on the company, role and level of experience, so keep in mind that Whitman's answers are specific to his own experiences and may not apply to other roles.
First, let's cover the basics. Describe your job.
My title, account executive, is essentially synonymous with terms like account manager, sales representative, etc. I would say the biggest difference is that I handle all aspects of the sales process since I don't have any sales-focused specialists that you might see at other bigger companies. Companies use a variety of terms, but generally we all have the same job. I am responsible for covering customers in the western United States and Canada.
What does a typical week of work look like?
As an account executive working for a startup, I spend a lot of time prospecting for new customers, which means I'm on the computer trying to connect with customers. Throughout the week, I will also set up phone calls, video conferences and in-person meetings to discuss our technology and will travel to customers outside of the Bay Area (where I live) for appointments as necessary. I'm a remote employee, so I spend about 50% of my time working from home and the other 50% with customers. Field-based sales reps typically don't go in to the main office unless they have specific meetings — it's one of the perks of the job.
How has COVID-19 changed your work life?
The biggest change is that I can't travel to see customers, so I am relying on email to connect with them. In this modern age, more customers are open to video conferencing, but there are definitely people that prefer in-person meetings, which are now delayed. Since I already had a home office, it's been easy to manage things from home, but I definitely can't wait to get back in front of customers when it can happen safely again.
Why did you decide to pursue this kind of role?
During graduate school, I was more interested in the technology I was using on a daily basis than the actual scientific questions I was pursuing. I made friends with one of the local company reps, and he gave me a lot of great insight into the commercial side of science. I realized I wanted to be customer-facing but still be involved with science through a tools-provider company.
How did you make the transition?
It wasn't the easiest transition from graduate school since I didn't really have a template to follow and it's not a traditional jump. So, I did my own research and started applying. I started out in a technical-support role, then moved companies and became a field-application scientist, followed by a variety of sales roles. Field-application scientist positions are a common role for people to get when leaving the bench, so that's a great place to start if you're looking.
What was the transition like?
Be prepared that you will have to cut your teeth to break into this role. Your first sales role may not be the most glamourous, but you have to show that you can sell before you can move up.
What skills do you recommend highlighting when applying for this kind of job?
If I had to pick my top three…
Presentation skills are a key component of customer-facing positions. You may only get one opportunity to talk about your technology before an opinion is made. The most transferrable advice I got from my graduate school mentor is that you should always have your elevator speech ready.
The second most important skill is time management. You will have a lot of customers and opportunities to manage at one time, on top of your general company responsibilities. Being able to keep yourself organized is critical to meeting your customer needs as well as those of your company.
Lastly, I'd say demonstrating any technical skills you have that are relevant for the job is essential to show that you have the background they want. A CV is generally less relevant than a résumé, since most hiring managers don't need to know about your entire scientific career, but you can highlight specific experiences that are relevant.
(Author's note: Interested in hearing more about the industry résumé vs. CV? Check out this previous post on this topic.)
What qualities make someone good for this job?
I would say persistence, patience and competitive desire are all important qualities to have when pursuing this type of career.
Does having an advanced degree help you?
Having a Ph.D. or master's definitely helps distinguish you from other candidates in the interview process.
What are your most and least favorite things about your job?
My favorite part is interacting with customers and helping them to get new technology that improves their research efforts. My least favorite part is the management of the sales funnel, as it's a lot of necessary work that just takes time.
(Author's note: Wondering what a sales funnel is? It's basically a strategy used to track potential clients and move them from browsers to buyers.)
What about salary — how does pay work?
The highest level of variability in salary comes from how much of a percentage your base salary is compared to your commission — the sum of the two makes up your total compensation. Some roles have high total compensation, but it could come with a caveat that you have to hit your sales plan to achieve it. In my experience, most companies are good about giving achievable sales goals, as it's in their best interest to keep their reps long term.
OK, so total compensation can be performance-based. What about salary ranges?
This is highly variable and there are a lot of factors involved. For a company that provides more general tools or is a large distributor, your total compensation can range from $50,000 to $100,000 when you reach your sales goals. If you move into a more specialized role or company, you can see that increase to $150,000 or more. Having an advanced degree may give you a small boost in your starting salary, say $5,000 to $10,000, but the real driver of salary is experience.
Finally, do you have any other insights you want to offer scientists considering a career similar to yours?
Connect more with your local sales reps about their jobs and what types of opportunities are out there where you live. Some regions of the country are more densely populated with sales opportunities because there's a lot of business (for example, the Bay Area, San Diego and Boston). Also, it's good to find out about the different types of roles that are out there (generalist, specialist) as not every sales job is structured the same way.
Enjoy reading ASBMB Today?
Become a member to receive the print edition monthly and the digital edition weekly.
Learn more
Get the latest from ASBMB Today
Enter your email address, and we'll send you a weekly email with recent articles, interviews and more.
Latest in Careers
Careers highlights or most popular articles