Blotter
Trump administration seeks to kick out and ban foreign students
Harvard and MIT sue to stop ICE rule change targeting F-1 and M-1 visa holders at or heading to institutions offering only online courses this fall because of COVID-19
The scientific community is bracing for the impact of visa policy changes announced Monday by U.S. Immigration and Customs Enforcement. It's not yet clear how many international students residing in the U.S. will be forced to leave if their colleges and universities decide to not hold classes in person this fall because of the COVID-19 pandemic. It's also not clear how many students still abroad will be denied entry. But it is clear that the human, scientific and economic effects will be widespread and long-lasting if the policy goes into effect.
Officials with the Student and Exchange Visitor Program announced Monday that the government is revoking temporary exemptions that it put in place earlier this year to allow international students on F-1 and M-1 visas to take all online courses, which many schools implemented mid-semester to stem the coronavirus pandemic. In the fall, in order to qualify for those visas, students must take some in-person classes.
Harvard University and the Massachusetts Institute of Technology filed a joint lawsuit this morning against the Department of Homeland Security and ICE to halt implementation of the policy change, which they say is illegal.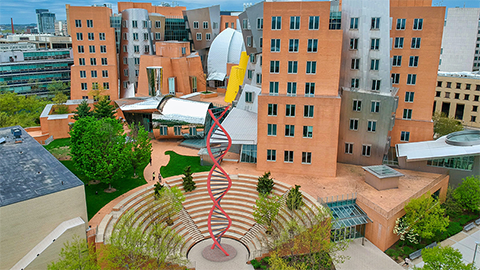 The Massachusetts Institute of Technology, pictured here, filed a joint lawsuit this morning with Harvard University against the federal government to stop the visa policy, which the institutions allege is illegal.
This policy change is the Trump administration's attempt to both pressure colleges and universities, which rely heavily on international student tuition, to reopen and to protect domestic students from foreign competition.
In a statement, Benjamin Corb, public affairs director for the American Society for Biochemistry and Molecular Biology, condemned the Trump administration's decision.
"The message from Trump and his supporters to foreign-born students is clear: You're not welcome here, regardless of your contributions to the discovery and development of cures, therapies and technologies that will improve lives all over the world," he said.
Science will suffer
Preventing international students from fully participating in the American research enterprise will have substantial and long-term effects.
The F-1 visa allows nonimmigrant students to pursue academic coursework in the U.S. The M-1 visa allows nonimmigrant students to pursue vocational coursework. Almost 400,000 F-1 and M-1 visas were issued in 2019, and experts say this ban will affect roughly 1 million international students who either must leave the U.S. or transfer universities who are offering in-person instruction.
"This is not only affecting undergraduate students who have successfully competed and have been fully vetted by ICE to receive an F-1 or M-1 visa for the duration of their studies," said Marina Ramirez–Alvarado, professor of biochemistry and molecular biology at the Mayo Clinic. "The entire pipeline for STEM is being affected by this student visa ban."
Foreign-born individuals accounted for a third of college-educated workers in science and engineering occupations in 2015. In 2018, 233,600 grad students in science and engineering held F-1 visas.
"A lot of the graduate programs and a lot of the research labs are very heavily dependent on international talent," said Rajini Rao, director of John Hopkins' graduate program in cellular and molecular medicine. "We're not going to find enough domestic applicants … to fill the need that we have to do this sort of research. It's looking very grim now."
The pandemic has underscored how important scientific research conducted at university labs and global research collaboration are to the health and well-being of people across the globe.
"Many of our research laboratories and classrooms have benefited from the hard work and talent of foreign-born students and scholars," said Ramirez–Alvarado. "Morale is low among scientists in the U.S., and the atmosphere in academic institutions is very reactive at the moment. This (visa change) is also reinforcing the idea that the current administration and its immigration policies are hostile for the U.S. scientific enterprise."
Colleges and universities under pressure
Many institutions have not yet decided whether they will host all classes remotely, allow some students to stay on campus, or completely reopen their campuses. Some schools are considering a hybrid approach.
Stanford University plans to allow freshman and sophomore students to stay on campus during the fall while juniors and seniors must study remotely from home. Some universities, including Harvard University, will hold all classes online but allow some students to live on campus.
Harvard President Larry Bacow said in a statement that the visa policy is "a blunt, one-size-fits-all approach to a complex problem."
Rao said that Hopkins will "work around this in a legal way...by offering hybrid classes with appropriate distancing and have options for international students."
The visa change will likely devastate the finances of those colleges and universities that decide online-only is the right choice.
Public institutions typically charge international students more for tuition than they charge domestic students — in some cases three times as much. The COVID-19 pandemic and travel restrictions already were expected to affect college budgets. The visa policy change is certain to force greater belt-tightening and reduce financial aid for domestic students unless universities can reverse the policy.
International students are vital to the American economy, which is already struggling as the COVID-19 pandemic rages on.
According to the U.S. Department of Commerce's International Trade Administration, international students contributed nearly $41 billion to the economy last year and supported more than 458,000 jobs.
"Promoting study in the United States strengthens our economic development through innovation, workforce development, and attracting foreign direct investment," the ITA website says.
Many studies have shown that immigrants contribute to gross domestic product growth because they represent new consumers and they fill critical skills gaps.
The human cost
International students enrolled at schools offering only online courses have a few choices. They can remain enrolled but leave the country and take the online courses from abroad. They can try to get into a different U.S. school that is offering in-person courses. Or they can drop out.
Those attending schools with in-person courses risk their health. Residential students will be at even greater risk of contracting COVID-19.
"I do think for undergraduates the challenge is much greater because they live in dorms and eat in dining halls and all that," Rao at Hopkins said.
Plus, not all foreign students can even get home.
The visa policy's one-size-fits-all approach, as Harvard's president put it, fails to take into account the travel restrictions that a majority of the world has implemented to slow the spread of COVID-19. At least nine-tenths of the world's population lives in countries with such restrictions.
Luozheng Kong is an incoming senior studying chemistry and biology at the Massachusetts Institute of Technology. She said that about 10% of undergraduates and 40% of graduate students at MIT are international students.
"A lot of international students are currently living on or off campus in the U.S. because they either could not go back to their home country due to various travel restrictions or they have immunocompromised family members or other family complications," said Kong.
She continued: "This visa ban creates the question of 'Where am I going to sleep?' … MIT is our home."
A troubling trend of targeting immigrants
All of this adds to the uncertainty and instability international students have been experiencing since President Donald Trump took office 2017.
The Trump administration has made numerous attempts to change components of the U.S. immigration system and have more recently used the pandemic as justification to further restrict immigration.
In March alone, the administration suspended routine visa services at U.S. consulates, closed many immigration courts and postponed hearings, closed U.S. Citizenship and Immigration Services offices and canceled citizenship ceremonies.
In April, the administration suspended new green card applications from abroad and blocked thousands of guest worker visas until at least the end of the year.
Several of these measures were announced initially as temporary but have been extended repeatedly.
Enjoy reading ASBMB Today?
Become a member to receive the print edition monthly and the digital edition weekly.
Learn more
Get the latest from ASBMB Today
Enter your email address, and we'll send you a weekly email with recent articles, interviews and more.
Latest in Careers
Careers highlights or most popular articles