Jobs
Finding a fulfilling scientific career in industry
Meet Sadiye Amcaoglu Rieder, a senior scientist at Viela Bio
Sadiye Amcaoglu Rieder has been in the biotech industry for over five years and finds her work exciting. If you've ever thought industry work may be repetitive compared to academia, Rieder is here to provide a different perspective: She says she has enjoyed all of the variety she's experienced in her past and current positions. She started out planning to stay in academic research but hasn't regretted her transition to industry. This week, she talks to us about her journey and how she's found a challenging and fulfilling scientific career in industry.
The initial plan: become a PI
Rieder started out intending to follow the traditional path to become a principal investigator in academia. She was born and raised in Cyprus and attended Hanover College in Indiana, where she joined the premed program. She realized her enthusiasm was in biology and after her sophomore year reached out to Dr. Walter Bruyninckx, an immunologist teaching biology, as a mentor for her independent study requirement.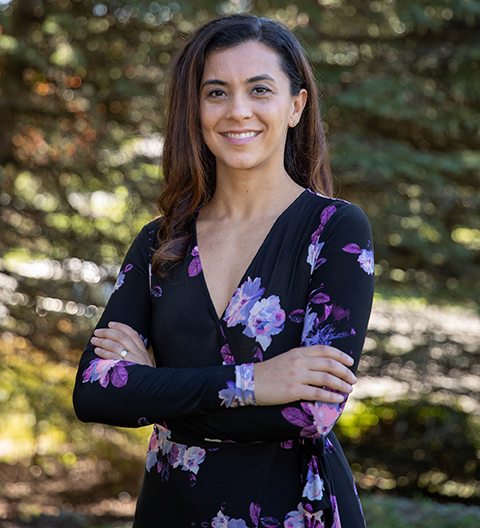 Courtesy of Sadiye Amcaoglu Rieder
Sadiye Amcaoglu Rieder earned her Ph.D. at the University of South Carolina and completed a postdoctoral stint at the National Institutes of Health before joining MedImmune and, later, Viela Bio, both in Maryland.
"It was quite challenging at first, since I didn't speak English that well and I didn't have the same kind of experience as many of my peers," Rieder said. "Walter was one of the key people that helped me overcome the barriers and infused in me the love of immunology."
After graduating, she worked in a diagnostic lab for two years. She started from scratch and it was an exciting experience to be training in the varied lab techniques – from chemistry panels to blood counts. But eventually Rieder realized she wanted more variety and challenge. With that in mind, she decided to apply for graduate school.
She attended University of South Carolina for her Ph.D., where she used basic science research and mouse disease models to answer immunology questions. Afterward, she moved to the National Institutes of Health to begin a postdoc studying the role of specific subsets of immune cells in autoimmunity.
"As a postdoc, I really wanted a NIH Pathway to Independence award (K99/R00) since I had had a predoctoral fellowship in grad school," Rieder said. "I was set and motivated to become an academic PI."
While at the NIH, she took advantage of career seminars that were available to her and began to realize that academia may not actually be for her. She also began to realize how few people end up securing the kind of transition funding grant she was hoping to apply for.
"Science in itself comes with a lot of bumps in the road," Rieder said. "I thought choosing academia as a career path was introducing all kinds of variables that I found extra challenging."
Moving into industry
After deciding the academic route wasn't her goal anymore, Rieder started talking to people about what else she could do with a Ph.D. in biomedical sciences. She heard about a networking session at a nearby biopharmaceutical company, MedImmune, which is now a part of AstraZeneca, and decided to attend. There, she talked to MedImmune employees, ranging from vice presidents to scientists, in different research departments and was excited by what she heard.
"I liked that, in many of the departments, there was a lot of basic science but with a translational angle and that research was being carried out from a human disease perspective," Rieder said. "It was all very interesting and exciting."
She continued to talk to others who had transitioned into industry to get a better idea of the depth of opportunity for someone with her experience. She was excited about the possibilities and work, so she decided to make the move.
She started with MedImmune with the title "scientist I" in 2015 and was promoted to "scientist II") after just a few years. She said most of her daily job involved lab work in those roles, with a little bit of strategy.
Rieder now works as a senior scientist at Viela Bio, a biotechnology company also in Maryland. She said her research department is relatively small, so she wears a lot of hats. Depending on what's needed, she may spend 80% of her time in lab one day and then the next spend 80% outside of the lab building strategy (understanding/studying the competitive landscape, crafting short- and long-term research goals, shaping the scientific focus of the R&D team), communicating with different stakeholders, and putting new processes into place to get things done.
She said she finds the variety enjoyable and her work meaningful due to its impact on patient care.
Differences in industry
Rieder said there are, of course, differences between scientific research in academia and in industry. One of the things she thinks people might find frustrating is that decision making in industry is very much budget- and timeline-oriented.
"I actually enjoy this, though," she said. "I think it helps bring efficiency to the system, and I like working within specific timelines."
For Rieder, the biggest advantage is the way the research is conducted.
"At the heart of every project is a scientific question, and, in industry, you are really tackling that question as a multifaceted team," she said. "I love that the solutions or answers we find are shaped by everyone's personal experiences and specialties."
She said her research team collaborates with clinicians, regulatory affairs professionals, statisticians and other experts to collectively work toward a shared goal. Bringing people with diverse backgrounds and talents together to help tackle a common problem helps move the project forward in a way that one team alone couldn't. Rieder said this is different than in academia, where even if you are working in a research group it's still typically from one type of scientific perspective.
The translational nature of the work is also something Rieder values. As an industry scientist, she works to answer scientific questions from a human disease perspective, with the hope that her research will someday help patients. She said it's harder to see that path to patients when you're in academia.
"In academia, I told myself my research was at least helping to keep the wheel turning, and it's a slow process" Rieder said. "In industry, I can see how my work has a clearer, more tangible path toward helping someone who is sick."
One of the potential disadvantages of industry work is that department or company priorities can change. This means there may be high turnover of people and/or projects.
"You won't have decades to work on a single project in industry, and you have to see the strength in being flexible." Rieder said.
Advice
If you're interested in moving into industry, Rieder has some advice.
If you're going into grad school thinking industry is the path you want, she said to critically evaluate the lab you are going to join (for example, if they have a dismissive or critical mindset about careers in industry, make find another option if you can). Have a conversation with the PI about their openness to nonacademic training and opportunities, and try to pick a lab with research that may translate well to the industry you want to go in to.
"Your mentor's support, or lack thereof, will change the trajectory of the research you do as a grad student – find a mentor and lab that will support your career goals," she said. "Even if you don't end up in industry, it needs to be OK as an option if that's what you may be interested in."
She recognizes this advice may be limiting. If you end up with a direct mentor who doesn't support students going into industry careers, seek out other mentors to help guide you. Rieder said people in your closest vicinity may give you good advice, but you can also go out and find people who will give you their perspective and provide mentorship outside of the formal grad student–PI relationship.
Be proactive, she said. Reach out for informational interviews, try to network with professionals in the field you're interested in, and try to get feedback or advice on your résumé and job talk. But also, Rieder said, it's important to know who you are.
"Knowing what makes you excited is so important," she said. "Figuring out what kind of job will make you happy is important when you're trying to apply for jobs or talking to people about their careers."
Enjoy reading ASBMB Today?
Become a member to receive the print edition monthly and the digital edition weekly.
Learn more
Get the latest from ASBMB Today
Enter your email address, and we'll send you a weekly email with recent articles, interviews and more.
Latest in Careers
Careers highlights or most popular articles