Professional Development
All about Ph.D. committee meetings
The most common email I got during my Ph.D. was from the director of my graduate program. Over the years, it contained various ways of asking me if I'd scheduled my next committee meeting. It had varying levels of urgency, capital letters and exclamation points, depending on how late in the year it was. I would always respond politely but continue to procrastinate scheduling until the last possible minute. Committee meetings scared me, and I just didn't want to face it. I was sure that my committee would discover that I was incompetent and stupid and didn't deserve a Ph.D.
I realized eventually that committee meetings are incredibly helpful, and I regretted putting them off. I do not think I was the only one who felt that way, so I'm devoting this column to committee meetings: What they are, what they're for, and how to get the most out of them.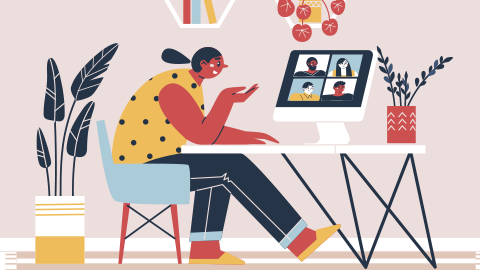 What is a committee?
Throughout your Ph.D., you typically will be working in one lab under one principal investigator. Your committee is a group of PIs outside your lab who have complementary expertise. They meet with you to assess your progress, including deciding when you can graduate. They help you through your research, share their ideas and knowledge, and act as a reality check. The committee meeting is typically an annual or semi-annual presentation of your work and discussion about how to proceed. The format varies from school to school and committee to committee.
In addition to the presentation and discussion, there is usually a component where you step out of the room and they talk about you while you wait outside. Sometimes there is also a component where the PI steps out and you talk about any problems you may be having with them.
Importantly, your committee typically has the final say about whether and when you proceed to your defense. Which means, while it might feel like you and your PI are in charge, your committee is actually what determines when you have done enough work to defend. Sometimes this is perfunctory, with the committee agreeing with the PI when a student is ready. Other times there can be conflict with a committee evaluating the situation differently.
What is the point of a committee meeting?
First off, it's important to be clear: Committee meetings are for you. In the end, the purpose of a committee meeting during the years of your Ph.D., is to help guide you, keep you on track to graduate, and make sure the work you are doing is good and will lead to a thesis and paper. Your committee is made of people you can turn to for advice and outside opinions. They (usually) want the best for you and don't want you to be wasting your time.
It's maybe your only opportunity to sit down with a bunch of experts who all are focused on you and your work. The meetings can be great opportunities for learning and growth.
There are many things a committee can do for you: They can suggest experiments, come up with new ideas about how to interpret your data, make new connections about your work, and generally ask insightful questions to make sure you're not barking up the wrong tree or leaving out something important.
Having a committee of experts outside your lab is a great reality check to make sure you and your PI are not so deep in your project with blinders on that you are missing something big.
They can help give you guidance if your PI is too distant or too involved, and they can be a voice of reason if your PI has expectations that are unrealistic for a Ph.D. project. In rougher times, your committee can be your lifeline.
Your committee members are also people you can talk to outside of your official committee meetings, in good times and bad.
Also, your committee members will know you scientifically and can probably write you letters of reference when you find yourself applying for a job or grant.
Are committee meetings exams?
A committee meeting is not a continuation of your qualifying exam, but you will be expected to know your stuff. It's a discussion, so there will definitely be questions. And if you don't know how to answer them, sometimes it can feel a little humiliating. But, generally, if you keep two things in mind, it's all good: First, you actually do know your project better than anyone else, because you are the one doing it. And, second, it's much better to find the things you don't know and need to know early on, so you can build your foundation early and well, and then build your research on top, instead of finding out later that you missed something obvious and wasted your time.
Do they judge my progress?
Yes. Committees can decide whether you are making enough progress and set expectations for what they want to see done by the next meeting. Sometimes they will tell you that you are not doing enough. That can be stressful, but they want you to get things done so you can graduate, not because they want to torture you.
If you're not getting enough done, you can talk to them about why. Maybe a protocol is too complicated and you need more training, maybe troubleshooting is taking forever, or maybe you can't get the mice or strains you need. Maybe you've been struggling with mental or physical health, or maybe you need help managing your schedule or setting priorities. Maybe you've actually been working well and efficiently but think the expectations are just too high for how long experiments take. You can have these conversations and work out how to make better progress.
How do I choose who should be on my committee?
The short answer is: Choose people whose skills and expertise will be useful to you. Also, check if your program has rules for who must or must not be on your committee.
Of course, it is impossible to find the perfect committee, but you can keep these things in mind:
Look for complementary qualities: It's helpful to choose people who aren't clones of your PI but complement your PI's style and strengths. If you have a young PI, maybe look for a more established person for your committee. If you have a hands-off PI, maybe look for a committee member who will be more involved and help you work out the small things. If you have a detail-oriented PI, look for someone who likes to step back and look at the big picture. If you have a PI who loves to daydream about unrealistic experiments, look for someone who is very realistic and pragmatic. You get the point.
Look for someone invested: It might be tempting to choose people who seem like they'll be easy and not challenge you, but this is your chance to have your horizons expanded and be pushed, so someone who might not care much about your work is not a great choice though they might be easier to deal with in the moment.
Ask around: If you are thinking about asking a certain person to be on your committee but are unsure what working with them will be like, find someone who has that person on their committee and talk to them about it.
Think about who will help you if things go badly: If everything goes smoothly in grad school, your choice of committee might not matter so much, and anyone you choose will be fine. But if things go bad, your committee will be very important, and you might want to plan for that just in case.
While researching for this article, I talked with a few grad students who stressed this point: PI–student relationships can get really fraught, and, with the power dynamic, they can become abusive, as described here, here and here. In cases where your relationship with your PI has really gone down the drain, it's essential to have people on your committee who can be objective and help you navigate — or even help get you out.
If you can help it, your committee shouldn't be longtime friends of your PI. That might seem appealing at first: They've known your PI's work for a long time and probably want their pal's students to do well. If everything stays good, then it's not a problem. But if things start to go badly in the PI–student relationship, it will be useful to have someone who isn't guaranteed to see things only from your PI's point of view. Having someone who is more of an outsider on your committee can help here. A neutral voice who doesn't have a long friendship invested already with your PI might be able to look objectively at the dynamics and figure out how to move everyone forward. A committee of all old friends of your PI can leave you feeling trapped and helpless if things get rough.
Anything else?
Be gracious and respectful. These professors are taking time out of their day to focus on your work.

It's pretty tricky to find a time when a group of professors are all free for two hours. Start scheduling early. Maybe use Doodle or another scheduling aid.
Enjoy reading ASBMB Today?
Become a member to receive the print edition monthly and the digital edition weekly.
Learn more
Get the latest from ASBMB Today
Enter your email address, and we'll send you a weekly email with recent articles, interviews and more.
Latest in Careers
Careers highlights or most popular articles