Outreach
How to get involved in science outreach
One takeaway I got from the overwhelming year we just had is the importance of science literacy — for everyone. Science literacy can be cultivated in many ways. Certainly good science journalism plays a role in helping grow science literacy, as do science teachers in schools. But there's also a need for academic scientists to play a role — through science outreach. In 2020, we saw very clearly what can happen when the gap between what scientists know and what the general public knows gets too wide.
Making discoveries in the lab is awesome, essential and lifesaving. But our job as scientists doesn't end there. Whether you're an undergrad, a professor, or anything in between, you have a duty to share your understanding of science, and how science is conducted, with your community. It's our responsibility to keep the public informed and involved, especially given that it's usually their tax dollars funding our research!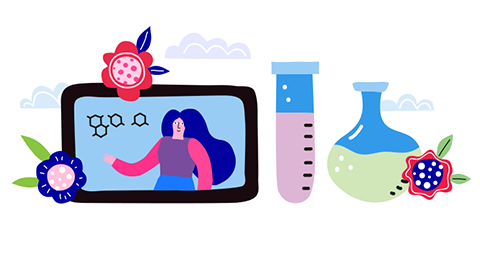 Science outreach can be a full-time job, and many brilliant people are professionals in science outreach. But this article will focus on how academics can get involved in the essential work of outreach while keeping their day jobs.
Contributing to science literacy doesn't just mean sharing a bunch of facts, though being knowledgeable in science facts is also important. Science literacy is developed by understanding the process of science: the scientific method. In other words, understanding how scientists come to know what they say they know. Scientists are in a perfect spot to share this knowledge, as we use the scientific method every day!
By sharing our knowledge and experiences, we can help future scientists discover their passions. Importantly, we can also help everyone else evaluate data they see in the news or read online, determine when they're being misled and when they can trust sources, and figure out not only what to question or believe but also what questions to ask to get a reliable answer.
People often think of science outreach as about going into a classroom and doing a science demo with a goofy result, such as the baking soda volcano. That is definitely part of outreach, and can create really memorable experiences for kids, but outreach can be many different things. Tutoring after school, working with teachers to help students design their own projects and evaluate their data, giving accessible talks about your work, giving a tour of your lab, participating in podcasts, and teaching a community class are all examples of outreach. There's almost certainly something out there that fits your gifts and skills.
If you've decided you want to participate in more outreach but aren't sure how to start. Here are some ways to begin.
Outreach offices
An easy place to start is by determining if your academic institution has an office of science outreach. If it doesn't, departments within your institution might. If you find a department that does have an outreach program, but it's not exactly your field, it's still worth contacting the experts there. For example, at Columbia University, where I did my Ph.D., there was a very active neuroscience outreach group that welcomed me even though I was not studying neuroscience. Get on email lists and see what programs need volunteers. This goes for scientists at all stages from undergrad to PI. The office might also have info about how much training is required for different outreach opportunities, which can vary a lot.
Activity fairs and science clubs
Most universities hold activity fairs in the fall that showcase student groups on campus. This is a great way to find the groups involved in science outreach. When I was an undergrad, that was how I found a program that partnered with local elementary schools to do science experiments in their classes. These fairs usually target undergrad and graduate students, but postdocs and more experienced researchers probably wouldn't be turned away if they voiced interest in participating! When and where the fairs are may be listed on the school's calendar. If you're an undergrad, your major might have its own club involved in outreach.
ASBMB undergrad student chapters
If you're an undergrad, your school's ASBMB student chapter probably does science outreach activities! For example, a couple of years ago I learned about the Purdue Spring Fest when I wrote about former Purdue University chapter president Jacob Crosser. Also, Kelly McAleer, who led the student chapter at The College of New Jersey, told me about the tutoring and mentoring her chapter did. In addition to being a way for undergrads to get involved in outreach, ASBMB chapters also need faculty advisers, so professors can get involved as well.
Local programs, schools, science fairs and community centers
There are often standalone science outreach programs in towns and cities, such as the BioBus in New York City, that need volunteers.

Though it might be easier to get involved with your local schools through another organization that organizes events, sometimes schools seek volunteers directly. You can check online if the schools in your area do activities or projects with local scientists. Science fairs usually need judges, and other science projects often need external helpers or mentors. You also could simply ask science teachers directly.

Many neighborhood community centers offer evening courses for curious adults and after-school programs for kids. If you have teaching skills, designing and administering a course or program would be a great way to connect with people in your community and share your knowledge. It's a big commitment but can be fulfilling and have a real impact.
Science museums, planetariums and zoos
Many educational institutions need volunteers. Long-term tour guide positions, for example, often involve extensive training and time and are good for someone who wants to really commit to the institution. But there are often other short-term activities or single-day events too, such as lectures or festivals, that you can get involved in.
YouTube, TV, podcasts and blogs
If you have a vision for sharing your knowledge and want to just put it out there directly, you can host your own YouTube videos, podcast or blog. In addition, many local access TV stations have classes in filmmaking that will teach you the basics of how to film things well and give you access to their professional camera equipment (and potentially airtime).
Bulletin boards
Amazing things can be found by chance: If you see interesting science events advertised in ads or posters, see who is putting it on, and get involved!
Email lists
Get on as many email lists as you can (you can always unsubscribe later if they out to not be relevant) to get a feel for what's going on. I always find that I end up on a million university-associated email lists, and I don't know how I got on them. But it really is worth opening them at least at first! People are often planning creative and inspiring stuff, and boring-looking newsletters can contain the info.
Word of mouth
A lot of opportunity finding happens by word of mouth. Make sure people know you're interested!
Take a related class
Many research institutes and organizations offer science communication or teaching classes. This is not only a good way to learn the necessary skills for outreach, but it's a great way to meet other people who are interested in the same things and who can help connect you to opportunities. ASBMB's "Art of Science Communication" course is one option.
Start your own activity
Maybe you looked in all these places and there really aren't opportunities, or there aren't any that match your interests or skills. You can start an activity! It can be tricky but certainly not impossible. If you can join up with an organization at your institution that has funding, that's a good place to start. When I was a Ph.D. student, a fellow student founded a lecture series called "Late Night Science," during which researchers give talks about their work for the general public. Each talk is followed by a tour of their lab so people can see how the work is done.
Enjoy reading ASBMB Today?
Become a member to receive the print edition monthly and the digital edition weekly.
Learn more
Get the latest from ASBMB Today
Enter your email address, and we'll send you a weekly email with recent articles, interviews and more.
Latest in Careers
Careers highlights or most popular articles