The Art of Science Communication
The summer session is now full.
Sign up to the
mailing list
to be notified of the next course offering in winter 2024.
The Art of Science Communication is an online course that provides fundamental training in science communication, focusing on how to present science to a nonexpert audience in a formal setting, such as a public lecture.
Using video lectures, background material, virtual mentoring and discussions, the course covers the important components of what makes for a successful presentation, including messaging, generating interest and engaging with the audience.
The course is open to all scientists and STEM professionals.
Join the Art of Science Communication mailing list for updates on course offerings.
Course dates
Summer session enrollment begins in June and the course runs throughout July and August.
Winter session enrollment begins in January and the course runs throughout February and March.
Next course offering: Dates of the winter 2024 session will be posted in November 2023.
Cost
Schedule
The course is eight weeks long — six weeks of learning and two weeks for preparation and delivery of final presentations.

For more information about the weekly themes or course syllabus, please email outreach@asbmb.org.
For general information about the course, read our 2018 paper in the Science Communication issue of the Journal of Microbiology & Biology Education. More information about the impact of participating in the Art of Science Communication can be found in our most recent paper in the Journal of Microbiology and Biology Education.
Format and syllabus
Preview the course syllabus and weekly learning objectives here.

In the first week of the course, each participant records a short, five-minute talk on a scientific topic (preferably the participant's research topic or topic of interest). The talk should be appropriate for the general public or non-expert audience. This "before" video is used as a reference point for the weekly discussions and homework assignments and helps measure participant progress.
Each week, participants watch instructional video content, read background materials and review other resources. Weekly homework assignments help participants master the material. There are required weekly discussions (one-hour video chat sessions via Zoom) during which participants discuss that week's content and assignments. Discussions are facilitated by members of the ASBMB Science Outreach and Communication Committee and course graduates.
The final course assignment is another recorded (5-minute) talk.
Participants should plan to dedicate three to four hours to the course per week. Those who finish all the course requirements receive a certificate of completion.
Questions? Contact us at outreach@asbmb.org.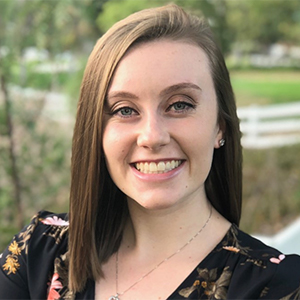 Emily Cauble
Research Associate
City of Hope
"My favorite part about being a part of this program, first as a student then as an instructor, is the core idea that is emphasized throughout the entire course: science is for everyone."