Feature
Science on a visa
The U.S. biomedical research enterprise heavily depends on scientists who were born overseas. But the legal pathway to work and live in this country is different for each skilled worker, and navigating the complex visa and immigration system can be daunting.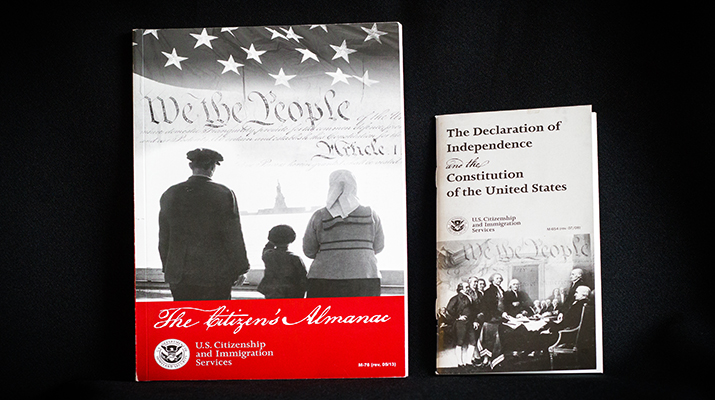 Study guides given to would-be citizens of the U.S.
EMILY HUFF
Prologue
It was February 2014, and the sky was a chilled blue. My eyes watered from a vicious cold, but I had to go out. I pulled on a vibrant red jacket. I wanted to be photographed later in the day, and I wanted the jacket color to be symbolic.
In the car with my husband, I tapped on our GPS, entering the address I had received in the mail a few weeks before from U.S. Citizenship and Immigration Services. Neither of us recognized the address, which was somewhere near Baltimore. We soon found ourselves driving through nondescript, sparse suburbia, winding down a road that was surrounded by flat greens and woods.
The GPS directed us to the back of a single-level, gray building that squatted on an asphalt parking lot. A dark glass door with a black steel frame marked the entrance to the building. There was a giant flagpole on the sidewalk in front of the door. An enormous Stars and Stripes, designed to inspire awe, draped from the top of the pole.
Later that February day, I uploaded a photo of myself clutching a small version of the Stars and Stripes against my red jacket. It was official, I told my Facebook friends. I now was an American citizen, 16 years after I first rolled into the U.S. from Canada as a biochemistry graduate student on a Greyhound bus.
The complexity of the visa and immigration process makes those of us who are in it, or who have been through it, skittish. I consider myself to be very lucky to have gotten through the system with a few hiccups. But even with my citizenship and a U.S. passport in hand, I can't help but feel uneasy revealing how I became a citizen. I don't want others scrutinizing the steps I took through the visa and immigration maze. I still have flashbacks to sleepless nights spent worrying that an innocent error on my paperwork would get me kicked out of the country.
Back when I was wading through the paperwork, I, like a number of my fellow foreigners, was especially hesitant to voice my concerns about the confusing system. After all, I had decided to stay in the country, so I couldn't very well complain about what I had to do to stay.
Because most people are hesitant to talk about the issues they face while holding temporary visas or trying to get green cards, I have decided to share parts of my story here. The decisions I made while going through this process were based on my personal circumstances, and every person coming into the U.S. has his or her own unique situation. There is no one-size-fits-all approach to these matters. For this reason, this article should in no way be considered legal advice.
The system and the numbers
From the 1920s to the mid-1960s, admission to the U.S. largely depended upon an immigrant's country of birth. The quota system during that time favored immigrants from Europe (70 percent of the slots were reserved for the British, Irish and Germans). In 1965, the Hart–Celler Act did away with the national origins quotas and set forth new immigration priorities: facilitating family reunification and bringing in skilled workers from any country.
Since the act passed, according to a recent Pew Research Center report, about 59 million immigrants have arrived in the U.S. "For the past half-century, these modern-era immigrants and their descendants have accounted for just over half the nation's population growth and have reshaped its racial and ethnic composition," the report said.
Another report, this one released by the National Academies in September and titled "The Integration of Immigrants into American Society," noted: "One difference from earlier waves of immigration is the large percentage of highly skilled immigrants now coming to the United States. Over a quarter of the foreign-born now have a college education or more, and they contribute a great deal to the U.S. scientific and technical workforce."
According to the National Science Foundation, 18 percent of the scientists and engineers residing in the United States in 2013 were immigrants. In addition, the NSF found that the life sciences had the highest employment growth among immigrant scientists and engineers from 2003 and 2013, followed by computer and mathematical sciences and social sciences.
To work in the U.S., immigrants must go through the U.S. visa and immigration system. But this is a daunting task. The system "is second in complexity only to the tax code," said Michael Teitelbaum in his book "Falling Behind: Boom, Bust & the Global Race for Scientific Talent."
Immigration lawyer Frances Taylor of Baltimore's Taylor & Ryan law firm wholeheartedly agrees. "It's absolutely Byzantine. I've been working in this field for close to 30 years, and there are still days where I'm learning something new," says Taylor. "It would be shocking if anybody who is trying to navigate the system could do it easily, without a lot of stress, bother and pain."
The J-1 visa
Biomedical research relies heavily on non-U.S. citizen postdoctoral fellows. Nearly 60 percent of postdocs in the life sciences in 2008 were temporary residents of the U.S., according to Paula Stephan's book, "How Economics Shape Science."
Amita Bansal
Fellows who earn their Ph.D.s abroad come into the U.S. on the J-1 visa. The J-1 visa program is designed to give citizens of other countries an experience of American life that they can take back to their home countries. Overseen by the U.S. Department of State, the J-1 visa, with its various categories, allows foreigners to come to the U.S. to "teach, study, conduct research, demonstrate special skills or receive on-the-job training for periods ranging from a few weeks to several years," according to the department's website.
Last year, the State Department issued nearly 32,000 J-1 visas, which can be valid for as long as five years, for professors and research scholars. "It's a status that's easy to obtain," says Taylor. "But it brings with it burdens that many people find difficult."
The greatest burden is the J-1 visa's home-residency requirement. Once a J-1 status expires, the visa holder has to return to his or her country of origin for at least two years.
This stipulation applies to medical trainees, people funded by the U.S. or their home countries' governments, and people trained in certain subject areas, such as biology, mathematics and physical sciences. For the latter category, the State Department draws up a list of fields requiring specialized knowledge and skills that are considered to be crucial for the development of an exchange visitor's home country. For example, Indian citizens trained in any area of science, engineering technology or math must return to India for at least two years when their J-1 statuses end.
"Very often, we find that people come in and are doing their work or getting their education and doing some fruitful work with the right kind of support. But then their J (status) comes to an end, and they've got to leave," says Taylor.
Amita Bansal is a postdoctoral fellow at the University of Pennsylvania on a J-1 visa. Bansal, who earned her Ph.D. in New Zealand, says the home-residency requirement "is challenging because that limits a lot of postdocs from thinking of longer-term career plans in the United States."
A J-1 holder can apply for a waiver from the home-residency requirement. The waiver request requires dealing with the home-country government as well as the U.S. government. If an applicant is successful, he or she will get a different visa to stay in the country.
Bansal points out another J-1 drawback: J-1 visas are not always given out for the full five years for which they can be issued. The duration of a J-1 may depend on the amount of available funding from, for instance, a research grant.
A postdoctoral fellow can apply for an extension on an initial J-1 visa. If successful, the fellow gets a revised DS-2019 document, which is a certificate of eligibility for J-1 status, with new dates. The document allows the J-1 holder to stay legally in the U.S.
But even the revised DS-2019 can cause headaches, particularly when it comes to international travel for scientific conferences and going back home to visit family, says Bansal. If a postdoctoral fellow needs to go abroad, he or she must make arrangements during the journey to get a new J-1 visa stamp to re-enter the U.S.
Bansal points out that much of the complexity of the visa system isn't apparent when a person is still outside of the U.S. It's only when the person accepts a postdoctoral fellowship and enters the visa process that the complexities of the system become obvious.
Bansal says people like her persevere because they are in the U.S. for the science. "Do you turn down a position because of the mayhem the visa process may create in your life later on? Or do you take that position because you are passionate about doing your research?" she asks. "For most of us, we're passionate about research. It's the complicated visa system which makes the postdoctoral life difficult."
Love presents problems too, as Edgar Kooijman found out when he was a Ph.D. student at Kent State University in the late 1990s. A citizen of the Netherlands, Kooijman then held an F-1 student visa. But shortly after he began his studies, "I met this wonderful Filipino lady who was working here as a researcher," says Kooijman. His future wife was working on her Ph.D. at an institution in the Philippines and was in the U.S. on a J-1 visa as a visiting research scholar. The visa had a home-residency requirement, which meant Kooijman's future wife would have to return to the Philippines. "We got married and then it was 'Oh, shoot! Now what are we going to do?'" Kooijman recalls.
They both quit their graduate programs and left the U.S. for the Netherlands. Back in his home country, Kooijman went on to get his Ph.D. at Utrecht University, and he and his wife started a family. (There's more to this story below.)
The H-1B work visa
By the time I had completed my Ph.D. in 2004, I long had decided to devote myself to science writing. I didn't apply for a postdoctoral position. Instead, I aimed to land a job straight out of graduate school. To do that, I had to move away from my F-1 student visa and get a temporary work visa, known as the H-1B.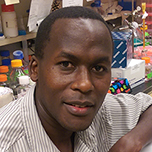 Joshua Muia
First introduced in the 1990 Immigration Act, the H-1B status usually is granted for a three-year period with the possibility of renewal. An American employer must sponsor the H-1B worker. The employer has to attest to the Department of Labor that the foreign worker will be treated like other employees, given appropriate working conditions, and get paid the prevailing wage or the same wage the employer pays to other employees, whichever is higher. The employer also must pay the costs of the process (including the filing fees) and submit paperwork on the behalf of the foreign worker.
I was fortunate to have a generous employer willing to sponsor my visa, so after wading through the paperwork with my employer and my immigration lawyer, Vivian Wang, I managed to get one.
But the setup could lead to abuse. "Your ability to stay in the country is dependent on whether you're employed by that specific employer. That puts you in a vulnerable position. You don't want to talk back to your boss, because if you get terminated, you have the leave the country," says Ronil Hira, an associate professor of public policy at Howard University. "That puts a lot of bargaining power in the employer's hands."
Joshua Muia, a Kenyan citizen on an H-1B visa at Washington University School of Medicine in St. Louis, is an instructor of medicine. When he was job hunting, he worried about being discriminated against because of his need for H-1B sponsorship. "You don't know how employers will think," he says. "If you tell them you need an H-1B, you don't know if they will say, 'That's a lot of work,' even if you have qualifications that are unique."
At academic and nonprofit institutions, there is no limit on the number of H-1Bs available. But Jennifer Kerilla at Johns Hopkins University and Ilana Smith at the California Institute of Technology, both international office directors, emphasize that their institutions are very careful with applying for H-1B visas so as not to abuse their privilege.
For the private sector, where I worked, there is a congressionally mandated limit on the number of H-1B visas issued every year. The cap is 65,000. Up to 20,000 additional applications from people who have obtained master's degrees or Ph.D.s from U.S. institutions are exempt from this limit. (I qualified for that category.)
For the 85,000 available H-1B visas for fiscal year 2016, there were more than 230,000 applications in April 2015, the month when the application process opened. Wang says the overwhelming number of applications forced USCIS "to run a computer-generated lottery to decide which applications get in and which don't get in." As with any lottery, there are many disappointed people.
"The need is grossly disproportionate to the supply," says immigration lawyer Taylor. Pointing out that the process isn't cheap and painless for employers, Taylor adds, "No one does this for fun. If they are doing it, they are doing it because the person they are sponsoring is really good or they can't find a U.S. worker who is going to do this job. Congress has created an artificially limited system and made it very difficult for people in industry." (In some circumstances, there are other options. See the sidebar "O-1 and L-1 options.")
It's important to note that not everyone agrees with Taylor on the supply and demand for H-1B visas in the private sector. There is much debate about what types of workers should be allowed into the U.S. and about what they contribute to the country's economy.
O-1 and L-1 options
There are two other nonimmigrant visa options open to members of the highly skilled foreign workforce. Both the L-1 visa and the O-1 visa can be "a backup option if the person doesn't get in on the H-1B lottery," says immigration lawyer Vivian Wang.
"To qualify for an O-1 visa, the beneficiary must demonstrate extraordinary ability by sustained national or international acclaim and must be coming temporarily to the United States to continue work in the area of extraordinary ability," says the U.S. Citizenship and Immigration Services website. "Extraordinary ability in the fields of science, education, business or athletics means a level of expertise indicating that the person is one of the small percentage who has risen to the very top of the field of endeavor."
The O-1 visa certainly applies to scientists who've earned awards for their work, have a notable publication record and have been invited to give talks at conferences, Wang explains. Jennifer Kerilla and Ilana Smith, both directors of international offices at top-tier institutions, emphasize that the bar for the O-1 visa is high, so the foreign student or scholar has to strive for excellence.
"All of the things that (principal investigators) encourage postdocs to do, the postdocs should be doing them. Ultimately, it helps create a dimension to one's accomplishments that fit into the criteria that (USCIS) will look at in a standardized way," says Smith. Whenever she hears someone turn down the opportunity to present at a conference or to review a paper, she is disappointed: "One has to take advantage of all of the opportunities offered."
The L-1A visa allows an American employer to bring an executive or manager from one of its affiliated international offices to one of its U.S. offices. The visa also lets a foreign company that does not yet have an affiliated U.S. office send an executive or manager to the United States to establish a U.S. presence.
"In recent years, because of the H-1B quota problem, some large companies consider sending the person to the overseas office to work one year so the person can become qualified to transfer back into the U.S. office on an L visa that way," says Wang.
Going for the green card
With my H-1B paperwork complete in 2005, I immediately began to look into getting a green card. After living in the country for seven years, I badly wanted to become a part of it. A tornado of paperwork, fees and a medical exam (to make sure I wasn't ridden with tuberculosis and other transmittable diseases) ate up about a year.
For those who want to transition from temporary skilled workers to permanent residents (and it's important to note that not everyone does), there are various ways of getting a green card. Self-petition or employer sponsorship are the two options for highly skilled workers. Self-petition works for people with impressive résumés; for example, the EB-1A category, known as the "alien of extraordinary ability," can accept people who have excelled in their careers.
The EB-3 employer-sponsored route, which I took, requires the employer to prove that the company is not passing over an equally qualified American worker by hiring the foreign worker. The proof takes the form of a certification issued by the Department of Labor. The company posts the job and sees if any qualified American workers apply. "If a single qualified U.S. worker is found, the application fails," says Wang.
However, if the employer doesn't find an American worker equally qualified as the foreign worker, the Labor Department issues a certification for the foreign worker. With the certificate in hand, the employer submits an immigration petition for the foreign-born worker to USCIS. "It's very time-consuming and very expensive," says Wang of the process. "For example, the current processing time from the time of filing is eight to 12 months without audit." The employer and the candidate have to pay for, among other things, the job postings, the Labor Department certification step and the medical exam.
The U.S. can issue at least 140,000 employment-based green cards each year. The distribution of those permits is based on the applicants' countries of origin. For applicants from countries like China, India and the Philippines, waiting for the backlog can take years. Indian immigrants can expect to wait 11 or more years for some employment-based green cards.
Furthermore, the immigrant has to hold the same job as covered by the Labor Department's certification. "While they wait several years for their green card application to go through, if something happens at their company — for example, the company has layoffs — the labor certification application will fail," says Wang. "Nothing can go wrong while your application is pending!"
Muia, the Kenyan instructor of medicine on an H-1B visa, points out that a foreign scientist's aspirations to pursue a career as an independent researcher can be uncertain until that green card shows up. Many grants and fellowships require applicants to be permanent residents or U.S. citizens. "It may take you a while to petition for a green card and get started," he says, adding it may take up to 10 years for a Kenyan like him to get a green card.
But the system can have unexpected surprises.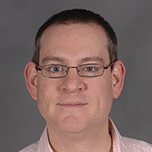 Edgar Kooijman
The Kooijmans' case is an example of what happens when someone is from a country that doesn't have a backlog of green card applicants. After spending several years in the Netherlands (during which time his wife became a Dutch citizen), they returned to the U.S. so that Kooijman's wife could finish her Ph.D. They went back to Kent State, where Kooijman eventually became a tenure-track faculty member on an H-1B visa. He became eligible to apply for green cards for himself, his wife and their two children.
"I guess U.S. government doesn't expect any Dutch people to want to ever move to the U.S.," he says. "We submitted the paperwork. We had to go to Cleveland for biometric processing. I thought they were going to give us a full-blown interview, but all they did was took our fingerprints and our picture and we were done. Three months later, our green cards rolled into the mailbox. Unbelievable."
He counts himself and his family very lucky, because, he says, "I have colleagues who are from India and China who having been waiting five years for green cards, and they haven't gotten anything yet."
The green card application process also held an unanticipated surprise for me. I knew of the backlog in processing green card paperwork for Indian-born nationals like me, so I was desperate to submit the paperwork as quickly as possible.
On the day I was about to submit the green card paperwork, I caught a mistake. My country of birth was recorded as India, which was correct — but so was my husband's. That wasn't correct: He was born in Canada.
I mentioned the mistake to Wang. The relief in Wang's voice over the phone was palpable. She told me that this would mean the application would go into the smaller queue — the Canadian one. This was an out-of-the-blue welcome twist. But there still was an anxious wait with an unsettling silence from the USCIS.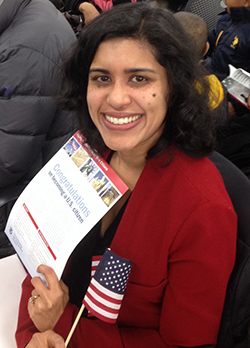 The author on the day she became a U.S. citizen.
In early 2008, a nondescript white envelope arrived in the mailbox. In it were instructions to visit an unmarked office in a strip mall in a suburb of Washington, D.C., on a particular day. When we showed up, it turned out to be a white-walled office with regulation-gray chairs with red numbers flashing on a screen. When my number came up, an employee from the Department of Homeland Security who didn't indulge in conversational pleasantries took my photo and my fingerprints.
In May 2008, another nondescript envelope turned up in the mailbox. In it nestled a card in a deep green color. (That's when it dawned on me that it is a green card in the most literal sense.) The overwhelming sense of relief at getting my green card, which was the same size as a credit card, left me feeling weak in the knees for days. I was free to switch jobs if I desired. I could seriously contemplate becoming a citizen.
Epilogue
When the fifth year of holding a green card was complete, I was eligible to apply for citizenship. I welcomed the paperwork as an old friend and gave myself a crash course in American history, civics and law.
On that cold February day in 2014, I passed the citizenship test. After assuring the government that, among other things, I didn't belong to the Communist Party or have syphilis, I took the oath to become a U.S. citizen. I accepted my naturalization certificate from smiling DHS officials and momentarily panicked when I was asked to hand over my green card. I had carried that green card in my wallet for more than five years with the same fervor a toddler reserves for a lovie.
I pledged allegiance to the flag and sang "The Star-Spangled Banner" as best as I could with a sore throat. With tears in my eyes, brought on by the relief of ending a long, nerve-wracking journey, I watched a video of President Barack Obama welcoming me and my fellow freshly minted U.S. citizens.
Enjoy reading ASBMB Today?
Become a member to receive the print edition monthly and the digital edition weekly.
Learn more
Get the latest from ASBMB Today
Enter your email address, and we'll send you a weekly email with recent articles, interviews and more.
Latest in Policy
Policy highlights or most popular articles