Retrospective
Martha Vaughan (1926 – 2018)
Like many great scientists who spend their careers at the National Institutes of Health, Martha Vaughan possessed a quiet humility that sometimes concealed her immense contributions to the field of biochemistry.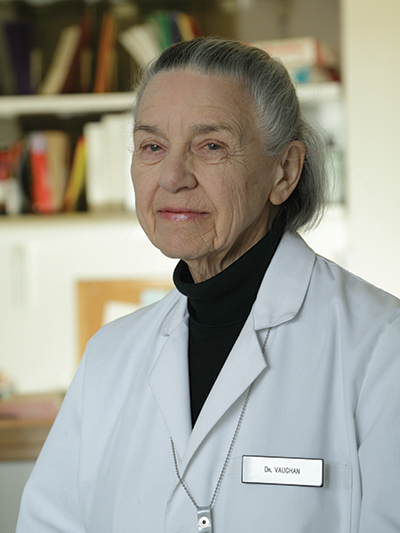 Martha Vaughan worked for more than six decades at the National Institutes of Health and was an associate editor at the Journal of Biological Chemistry for more than 20 years.BILL BRANSON/OFFICE OF NIH HISTORY, NIH
Gentle, unassuming yet omnipresent in the corridors of the NIH for more than 65 years, Martha devoted her time to understanding the molecular basis of intracellular signaling. She conducted some of the earliest research on insulin signaling, which helped to reveal the insulin receptor, and spent six decades largely focused on G proteins and metabolic regulation.
A member of the National Academy of Sciences since 1985, Martha conducted seminal studies that elucidated the role of cyclic nucleotides and G proteins in regulation of lipolysis in fat cells. Later in her career, she investigated the control of intracellular vesicular trafficking by ARFs, a family of low molecular weight G proteins, and their regulatory partners.
Little did her colleagues imagine when they celebrated her 75th birthday with a two-day symposium at the NIH in 2001 — an event that drew no fewer than three Nobel laureates as speakers, including Ferid Murad, whom she mentored — that Martha still had more than a decade ahead of solid research findings, such as how the G protein activators BIG1 and BIG2, discovered in her lab, regulate cell migration. She retired in 2012 and was named NIH scientist emerita, a position that allowed her to continue her scientific pursuits and her mentoring, which she cherished above all.
Martha, our dear friend for many years at the NIH, died peacefully Sept. 10 at the age of 92.
Martha's soft-spoken demeanor could be traced to her Wisconsin roots and a modest upbringing; her family lost much of their wealth in the Great Depression. She earned a bachelor's degree from the University of Chicago in 1944, part of a cohort of stellar female scientists that included the geneticist Janet Davison Rowley.
In 1949, Martha received her M.D. from the Yale School of Medicine and soon began her research career as a postdoctoral fellow in Yale's department of physiological chemistry. At Yale, Martha revealed her commitment to human rights, joining the Yale chapter of the Association of Internes and Medical Students, which concerned itself with then-progressive ideas such as universal health insurance, racial equality in medical education, vivisection and the draft.
While at Yale, she also met her future husband, the charismatic Jack Orloff, a brilliant scientist who died in 1988. In many ways, the boisterous Jack was Martha's polar opposite; yet, as the saying goes, opposites attract. Jack adored Martha. He arrived at the NIH and the newly established National Heart Institute in 1950, and Martha joined him two years later (after a yearlong stint as a fellow working with the great diabetes researcher William C. Stadie at the University of Pennsylvania).
Recruited to the NIH by Christian Anfinsen, Martha worked in the now-legendary Building 3 with an elite core of researchers, a mind-boggling collection of scientific talent that included Anfinsen, Julius Axelrod, Robert Berliner, Robert Bowman, Nina Braunwald, Bernard Brodie, Donald Fredrickson, Leon Heppel, Edward Korn, Arthur Kornberg, James Shannon, Thressa and Earl Stadtman (another power couple), and James Wyngaarden.
The 1950s were crazy, fun times at the NIH and particularly in Building 3, which Martha later recalled as being home to lab animals that included cats, dogs, cows, pigs, sheep and chickens; it was not uncommon for her to ride the elevator with four-footed and winged colleagues. Many of the scientists, including Martha, had moved over to the newly built NIH Clinical Center, Building 10, by the mid-1950s.
Early in her career, Martha worked closely with Anfinsen, whose studies of the essential building blocks for making proteins and their three-dimensional folding earned him a Nobel Prize in 1972. She rose to the position of chief of the National Heart, Lung and Blood Institute's Laboratory of Cellular Metabolism and head of the Section of Metabolic Regulation. She made lasting contributions toward understanding fundamental signal transduction mechanisms.
As her 1985 NAS citation reads, "Vaughan's pioneering studies on adipose tissue metabolism, her elucidation of the mechanism of action of cholera toxin on the adenylate cyclase system, and her brilliant work on the phosphodieseterases have had a major influence of current concepts of metabolic regulation."
We can add that Martha was way ahead of the curve on her cholera research using adipose tissue instead of intestinal tissue; the editors of the journal Nature were not at all convinced by the unconventional approach but eventually acquiesced and published what is now considered a landmark paper.
Martha authored or co-authored more than 365 papers and book chapters and was a generous citizen-scientist, serving in editorial positions with several research journals including more than 20 years with the Journal of Biological Chemistry. She also served on the NAS Committee on Human Rights from 1992 to 1998 and was a president (1988−1990) and board member (1979−2007) of the Foundation for Advanced Education in the Sciences, which sponsors academic courses, job-related training, cultural events and services for NIH staff. Martha also was a medical officer with the U.S. Public Health Service from 1954 to 1989.
Throughout her life, Martha was a survivor, as quiet as she was fierce. She struggled to pay for her college education. She survived breast cancer in the late 1950s as well as a traumatic brain injury from a fall in the 1990s that left her in a coma for several days. After that injury, doctors were convinced she'd never regain her cognitive abilities, but Martha, then a recent widow, did so in spades.
We visited her at the hospital and found her casually reading a newspaper — upside-down. She was faking it, pretending she could read and not wanting us to worry about her condition. This funny anecdote captures Martha's spirit, but it was worrisome to us then, for sure.
A few years after this, a terrific derecho windstorm blew over a massive tree that leveled Martha's house and car. This was on a Friday. On Saturday she bought a new car and found an apartment to rent; on Monday she was back at work. She never returned to that house.
Martha was renowned for her mentorship of young scientists. In his Nobel autobiography, Murad singled her out as an "excellent mentor" who offered sage advice and "considerable freedom." Martha mentored scores of postdoctoral fellows, many of whom are now in prominent academic and government positions.
After her retirement, Martha spent most of her time at her second home, the NIH, attending lectures and asking pointed questions. We wonder how many of the young postdoctoral fellows in attendance at these lectures understood the greatness of this soft-spoken woman.
Martha was preceded in death by her husband, Jack, in 1988 and her son David in 2015. She is survived by her sister, Margaret Cox, of Onancock, Virginia; her sons Jonathan Orloff of Washington, D.C., and Gregory Orloff of Bethesda, Maryland; and six grandchildren.

The authors acknowledge Christopher Wanjek at the NIH for his help in composing this tribute.
Join the ASBMB Today mailing list
Sign up to get updates on articles, interviews and events.
Latest in People
People highlights or most popular articles