Member News
Collins honored by Sigma Xi; Marnett steps down as dean
Collins receives innovation award from Sigma Xi
James Collins, a professor at the Massachusetts Institute of Technology who is also affiliated with the Wyss Institute and the Broad Institute, has received the 2021 Walston Chubb Award for Innovation from the scientific research honor society Sigma Xi. The award recognizes Collins' work in synthetic biology, which has led to new diagnostic and therapeutic products including a novel antibiotic.
James Collins
Collins' lab at MIT studies synthetic biology and systems biology, applying large-scale computational techniques to come up with novel antibiotics and other tools. In recent years, his lab has published on synergistic drugs to treat COVID-19, using CRISPR-based biosensors to detect pathogens including malaria and SARS-CoV-2, and applying deep learning to such problems as dermatological diagnoses based on images and identifying synergistic drug combinations.
Some of the lab's most applauded work involves overcoming antibiotic resistance. They have investigated ways to use complementary antibiotics, some dependent on metabolic activity and others independent, to kill bacteria without causing harm to human cells. In 2020, with colleague Regina Barzilay's team, they published a neural network–based study that surveyed thousands of compounds and identified one, a c-Jun N-terminal kinase inhibitor called halicin, that could slow the growth of numerous bacteria, including some that can resist other antibiotics.
Collins earned his doctorate in medical engineering at the University of Oxford, where he was a Rhodes scholar. He then joined the faculty at Boston University, where he remained until he moved to MIT in 2014. Among his many honors are a MacArthur fellowship, a National Institutes of Health director's pioneer award, and a Sanofi–Institut Pasteur award. He is a member of the National Academy of Sciences, the National Academy of Engineering, the National Academy of Medicine, the National Academy of Inventors and the American Academy of Arts and Sciences.
Sigma Xi is a chapter-based organization of about 60,000 members from across the sciences and engineering. Founded in 1886, it offers several annual awards and includes an honorific group of fellows.
Marnett to step down as Vanderbilt dean
Lawrence Marnett, the dean of Vanderbilt University's school of basic medical sciences, has announced that he will step down from that role on June 30, 2022.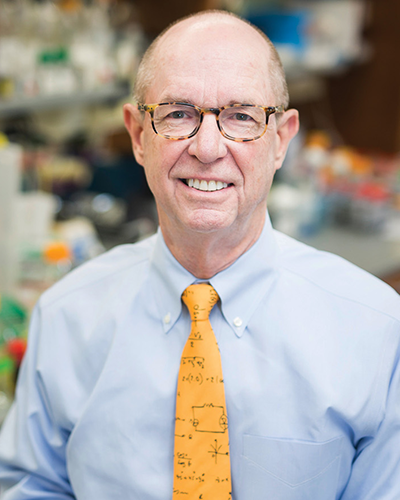 Lawrence Marnett
Marnett has led the school since 2016, when the university separated from Vanderbilt University Medical Center. As dean, he led the creation of the school of basic medical sciences in 2016, aiming to give a new home to basic science departments including biochemistry, cell and developmental biology, molecular physiology and biophysics, and pharmacology.
In a news article on the university's website, Cybele Raver, provost and vice chancellor for academic affairs at Vanderbilt, credited Marnett with "put(ting) in place the infrastructure and investments to clear the way for truly transformative collaboration and breakthroughs in the biomedical sciences."
Marnett earned his Ph.D. at Duke University and conducted postdoctoral research at the Karolinska Institute and Wayne State University. He was a professor at Wayne State for 14 years before joining the faculty at Vanderbilt in 1989. Since then, he has helped to launch or lead numerous other groups and centers on the campus; he served as director of basic research at the Vanderbilt-Ingram Cancer Center for five years, directed the Vanderbilt Institute of Chemical Biology and served as associate vice chancellor for research and senior associate dean for biomedical sciences at the medical center.
After stepping down as dean, Marnett plans to focus on his cancer research. His lab, which has trained nearly 100 doctoral students and postdocs, studies the enzyme cyclooxygenase-2 and how its activity contributes to cancer and inflammation. They also investigate how normal metabolism contributes to DNA damage and how cells respond to damaged proteins.
Marnett has received excellence in teaching awards from Vanderbilt, and he is a fellow of the American Chemical Society, the American Association for the Advancement of Science and the Society for Redox Biology and Medicine.
Enjoy reading ASBMB Today?
Become a member to receive the print edition monthly and the digital edition weekly.
Learn more
Get the latest from ASBMB Today
Enter your email address, and we'll send you a weekly email with recent articles, interviews and more.
Latest in People
People highlights or most popular articles