Interview
Meet Natasha Brooks
Since earning her Ph.D. in 2012, she's been a clinical research coordinator, a consultant, a medical writer and, now, a supervisor for a team of regulatory experts
Natasha Brooks is a regulatory affairs manager at Technical Resources International, a government contracting company based in Rockville, Maryland. She earned her bachelor's degree in food science at Penn State and her Ph.D. in biochemistry at the University of Texas Medical Branch at Galveston. Brooks is also a member of the American Society for Biochemistry and Molecular Biology Minority Affairs Committee.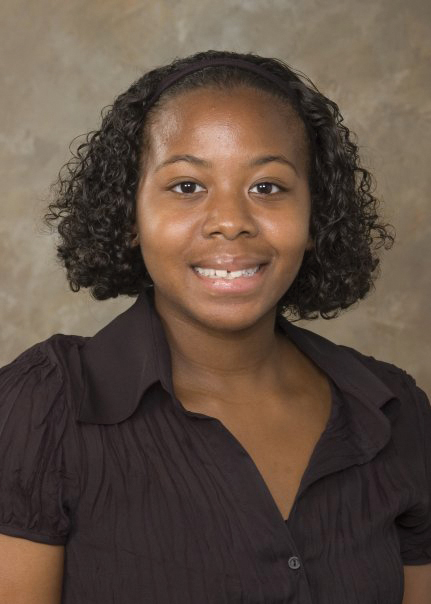 Natasha Brooks
Natasha Brooks, a regulatory affairs manager at the government contracting company Technical Resources International, encourages young scientists to keep an open mind about where their careers might take them. "What's interesting now may not be interesting later," she said. "For example, I thought I'd just be in the lab. I would stay there for hours on end. That's what I loved to do. And then it wasn't."
She spoke to ASBMB Today Executive Editor Angela Hopp about her career path and offered advice for graduate students and postdocs who are trying to figure out their next steps.
The conversation has been edited for length and clarity.
Where did you grow up? Tell me a bit about your early life.
I grew up in Erie, Pennsylvania. It's the most northwest corner of Pennsylvania, right near Lake Erie. I went to an honors high school, and since a very early age I've been interested in science. I participated in the Pennsylvania Junior Academy of Science. I won some scholarships and awards.
I went to Penn State and initially pursued a degree in biochemistry. However, I didn't feel that would be enough to get a job, so I pursued my B.S. in food sciences. There are a lot of opportunities nearby, like at Heinz and Unilever. Our food science program had a lot of contacts with those companies.
When I was a rising senior, I went to Cornell and did a food science summer program. I was able to work in the lab and tour some companies. I realized that I did not want to work at a company. I did a lot of summer research, and that solidified for me that I wanted to go to grad school and stay in the lab.
Why did you settle on UTMB at Galveston for your Ph.D.?
They worked on tropical infectious diseases, and initially I wanted to pursue a laboratory that worked with tropical waterborne pathogens. When I was at Cornell, and at Penn State, I worked on foodborne pathogens, so it seemed like a natural fit. But at UTMB, I was exposed to other things through taking different courses. I decided that I wanted to go into biochemistry. So I circled back.
As a native of Houston who often went to Galveston on a whim, I have to ask: How was it living so close to the beach?
It was a nice beach town. I liked to relax at the harbor and see dolphins, and I liked seeing the historic sites. It's definitely someplace that I could go back and live.
At some point, though, Hurricane Ike hit.
Ike was a devastating hurricane for the island. We were unable to work in our offices or perform experiments. So I completely understand what grad students, postdocs and researchers are going through right now with COVID-19.
Any advice for them?
Know that you'll get through it. Right now, you may not have access to the lab. But make sure you're reading and preparing so when it comes time, when you're able to enter the labs, you can finish strong.
Try to keep your morale up. One thing that helped me after Ike was running. I initially did it to lose weight, but then it became very relaxing and freeing. I did short distances at first. Each time, I was able to progress: Today I ran five miles. Oh, I did 10. I did 20. I like being able to hit those milestones. It's good to have ways to clear your mind.
After Ike, your lab moved from Texas to Sunnybrook Research Institute in Toronto. Were you near the end of your Ph.D. at the time?
I was. I think I had two years left. My PI said, "Well, we're moving the lab to Toronto. You can come, or we can find you another lab." By then, I'd been in grad school for four years and wasn't interested in starting over. I decided to go. Plus, it's only about four hours away from my hometown.
You spent a lot of time while pursing your Ph.D. working on your writing skills. What sorts of things did you do?
I would take so much time to read papers, and I loved it. It really helped me craft my experiments. I knew what I would need, how to develop assays and plan my experiments. My PI gave me opportunities to write small, one-page papers for his professional society, and I reviewed papers by postdocs and medical fellows. And I did my own writing. I found my niche there. I took time after I graduated to look at other careers, but I knew I wanted to do writing.
When you graduated, you went back to Texas to work at the Shriners Hospital for Children in Galveston as a medical staff research services coordinator. What was that like?
There was a lot to it. I helped write protocols and consents for clinical studies. Some protocols had to be reviewed by the Food and Drug Administration, so I learned, early on, the types of concerns the FDA might have with a study and how to answer said concerns so the study can move forward.
I did a bit of budgeting for the studies to make sure we weren't over budget and we had the supplies that were necessary to, for example, get blood and tissue specimens.
I also worked on new studies, making sure the staff had their credentials and training. And sometimes they'd pull me in to work on grants they were writing, because I had a Ph.D.
I worked there for about two and a half years and touched on everything. I learned a lot about clinical research.
We've all seen the commercials for Shriners — they tug at the heartstrings. What did it feel like to work there?
This particular Shriners was a burn hospital. They also did some reconstructive surgeries, like cleft palates, but most of our patients had a 60% or greater burn injury. I saw a lot of resilience. As much as it tugs on your heartstrings in the commercials — that's how it really is. It's such a loving and great environment for the kids.
Shriners' nurses and doctors really care about those kids and want to see them succeed. A lot of the patients, after they're done with Shriners, stay in the Galveston area. One of them became a research technician at Shriners after she received her care.
How did you decide to then go into consulting?
I learned about the business aspect of science when I was a liaison for a study that worked with a Fortune 500 company. I enjoyed the business aspect and began to look for careers that allowed me to pursue that. I went to work for Alliantgroup, a small consultancy that did research and development tax credits.
At Alliantgroup, we had to write technical reports after we finished doing a research and development tax credit, so if a company ever was audited we could prove why they should have gotten this tax credit. I enjoyed writing those reports, and I got so many compliments on how I wrote the summaries and how they were so thorough. Our legal team read these reports, and they told me, "If this ever has to go through an audit or trial, what you've written won't be in question." That solidified for me that I needed to get more into writing.
People underestimate how much businesses, institutions and nonprofits need good science writing.
I started to talk to a lot of people about what they were doing in science writing, because there are so many things that you can do. There's science writing at universities. There's science writing that is regulatory. There are presentations and pamphlets for pharmaceutical or biotech companies. Some people do science advertising. If a food company wanted to add a new, healthier component and needed to communicate the benefits to laypeople, a science writer would do that. I had to reach out to my contacts to see who they knew so I could talk about and understand these areas.
When I settled on regulatory writing, I decided to move back to the Northeast. There's proximity to government and a lot of biotech and pharmaceutical companies. That ultimately led me to my current position at Technical Research International.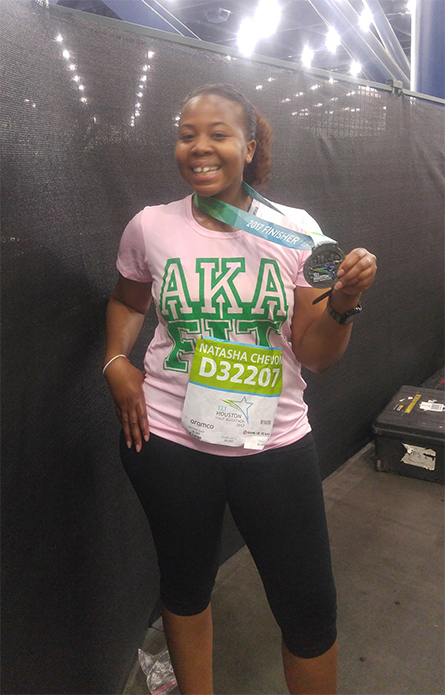 Natasha Brooks
After Hurricane Ike devastated Galveston Island and the surrounding Houston metro area in 2008, Natasha Brooks took up running as a form of self-care. "I initially did it to lose weight, but then it became very relaxing and freeing," she said. Little by little, her runs got longer. Here she wears her half-marathon finisher medal and Alpha Kappa Alpha Sorority shirt with pride in Houston in 2017.
What does TRI do, generally speaking?
TRI is a contract/clinical research organization, or a CRO. We have many government contracts as well as ones with biotech and pharmaceutical companies. We provide research support, such as managing clinical trials and studies, and we provide regulatory oversight, protocol development, and management of pharmacovigilance and toxicovigilance.
You've had a few jobs at TRI. What was that progression like?
I started as a medical writer on a new contract; we wrote protocols for novel cancer therapeutics. Once a grant is approved for testing a drug in a specific population, a team of writers turns that grant into a protocol. I was part of that team. Protocol writing is intimately tied to regulatory affairs. It's the first step in a continuum.
I ended up leading a small team of about six or seven writers on that program. I helped to build it and put a lot of infrastructure in place. We got great results. It really taught me a lot about management.
The company saw that I could manage a team and also save money. Some people went on to take other positions, and the company moved me into the regulatory affairs manager position.
So what do you do now as a regulatory affairs manager on a day-to day-basis?
My team is responsible for submitting protocols to the FDA to allow patients to enroll in studies. Another team writes what we call investigational new drug applications, or INDs.
The FDA reviews these submissions to ensure the studies are safe for patients. Once they are approved, we let the National Institutes of Health know, and they tell the study teams that they can proceed.
But that's just one aspect of it. We're here for the entire lifecycle of a protocol. And when I say lifecycle, I mean from when the protocols are written until they are no longer in place.
Sometimes a protocol has a safety issue, such as side effects a patient may have from the drug they received. My team processes those documents to send to the FDA.
And if the study has gone well, the drug might be approved for a specific indication or disease.
We manage 150 to 200 investigational drug applications yearly.
Where are these drugs coming from? Are they being developed at the NIH, or are they being developed elsewhere but the NIH wants to use them in studies?
Most of the time, a drug company has developed the drug. It may be one that's already on the market but not used in a specific patient type or indication. Or researchers might have used the drug in a lab and want to move it into patients. We write a protocol specific to that drug and population, and we start the paperwork so the FDA can review it, ask any follow-up questions they have and then approve the drug for use.
Even longtime managers never have managed through a global pandemic. What's your approach to managing people from afar?
A lot of it is just trying to be flexible with people — understanding what their needs are and recognizing that they are human beings. You have to have compassion. You have to talk to people.
So far, we haven't had any issues in terms of people getting things done, but we had to find out what type of resources they had at their homes. Some people on my team didn't have the space to telework. Some people were dealing with other crises — maybe somebody they knew had COVID-19.
One staff member had just started as we went to teleworking. Having to train new staff, making sure they can do the work — that was completely different for me.
Your path demonstrates that we all have to be willing to try things. Sometimes we get our hearts set on something and end up blind to other, even better, options.
Through all of this, I realized I can't be rigid. As you are exposed to new information, you can go in different directions. What's interesting now may not be interesting later. For example, I thought I'd just be in the lab. I would stay there for hours on end. That's what I loved to do. And then it wasn't.
Carla Harris, vice chairman at Morgan Stanley, once said that, as millennials, we're going to have maybe four to five careers — not jobs but careers. So you want to make sure that you're opening yourself to those possibilities.
You are on the ASBMB's Minority Affairs Committee. What motivated you to serve?
As a scientist and a Black woman, I think that having a committee that understands the issues people face, and that can provide support and guidance, is important. I like that there are a lot of different people on the committee: people of color, women, people with disabilities.
Growing up, I was around a lot of Black and people of color who were professionals. Not everyone has that. When you see somebody who looks like you — who is a doctor, who is a scientist, who is a lawyer, who runs a business — it makes you feel like you can do it too.
You did some substitute teaching and worked at a community center between undergrad and grad school. I'm seeing a theme of service and outreach here.
From an early age, my mother would take my sister and me with her to service projects. We often participated in Day of Caring with the United Way. My love of community service and outreach has continued. I have done service projects with my sorority, Alpha Kappa Alpha Sorority Inc., as well as individual projects.
A family friend who ran a community center asked if I could help run their after-school program. Many of the families that center serves don't have a lot of money or resources. And there's a large population of people who have newly come to America.
Many of my students were seniors in high school, and I would help them write their scholarship applications and essays. They told me the stories of how their families moved from war-torn Iraq or Jordan and what they had to do to come here, to learn the language, to understand the customs. There were also African refugees and people from Ukraine.
I saw, over the year, how they became more comfortable in the English language, more comfortable making friends.
I kept in contact with one student after I helped write her college application. She graduated, and she is now a director of minority affairs at a local university. To watch people grow like that was an interesting part of my journey.
And being in a classroom helps a lot with managing. You run into different personalities, learning styles and abilities. I use all those skills now: making sure projects go on time and individuals have what they need to succeed.
Any final advice to share?
When you are networking, be cognizant of how you're making connections. It shouldn't be "I need a job. Help me, please." It should be "I want to learn about this position. These are the specific questions that I have."
Ideally, you keep up with these contacts so they have an investment in you. Check in every few months: "Hey, I hope you're doing well. This is what I've been up to." Cultivate those relationships so when it's time to start looking for jobs, they might say, "Hey, a recruiter called me and I suggested your name," because they know you and have a vested interest in you.
In terms of looking at different careers: Be open, be flexible and know that it's going to take some time. Enjoy the adventure.
Enjoy reading ASBMB Today?
Become a member to receive the print edition monthly and the digital edition weekly.
Learn more
Get the latest from ASBMB Today
Enter your email address, and we'll send you a weekly email with recent articles, interviews and more.
Latest in People
People highlights or most popular articles