Outreach
University program aims to serve and inspire future scientists
When Edwin Li joined the Saint Joseph's University biology department in 2010, he noticed the school's strong culture of community service. As a Jesuit institution, SJU encourages students and faculty members to work for social justice and serve others, a practice described in Latin as "cura personalis," which translates as "care for the entire person."
Molecular biologist Edwin Li demonstrates proper micropipetting technique to Bishop McDevitt High School students during their field trip to Saint Joseph's University in March. PHOTOS BY MAURA SOUTHWELL & ASHLEY BLISS
Li first experienced science outreach at SJU with a molecular biology graduate student, Jessica King, who was a GeoKids fellow. The GeoKids Learning Integrating Nature, Kids and Science, or LINKS, fellowship places graduate and advanced undergraduate fellows into first- through fifth-grade classrooms in Philadelphia. Mentors from the Wagner Free Institute of Science, a museum in the city, work with the SJU fellows who co-teach weekly hands-on lessons in natural science.
"I noticed all of the outreach programs were focused on macro-level biology — teaching elementary students about ecosystems and organisms," Li said.
Li wanted to develop an outreach program based in molecular biology, his area of expertise. He envisioned undergraduate biology majors and high school students learning together and inspiring each other.
In 2013, Li applied for grants from the American Society for Biochemistry and Molecular Biology to fund a partnership between high school teachers and academic researchers. He recruited SJU microbiologist Brian Forster, SJU science outreach coordinator Caitlin Fritz and honors biology teacher Matthew Jurkiewicz from Bishop McDevitt High School in Wyncote, Pennsylvania, to create High School LINKS, modeled on the mentor-based GeoKids program. They developed a curriculum, " Genes, mutations and diseases: Understanding the origins of genetic disorders through experiential learning."
In the program, undergraduate LINKS fellows, mentored by Li and Forster, lead a five-week unit focused on DNA structures and functions, genetic mutation and inheritance, gene expression, and protein structure and functions. The high school students learn techniques such as polymerase chain reaction, electrophoresis, bacterial transformation and enzyme-linked immunosorbent assay. The unit culminates in a field trip to SJU's laboratories, where they analyze the phenotype, chromosomes, proteins and DNA of three samples to determine which patients are diagnosed with sickle cell anemia, Down syndrome and Cri-du-chat syndrome.
Jurkiewicz, an SJU alumnus, now has had LINKS fellows in his classroom for six years. "For many of my students," he said, "the biggest takeaway from the LINKS program is to … see young men and women just a few years older than them with the desire, ability and opportunity to have a career in these fields."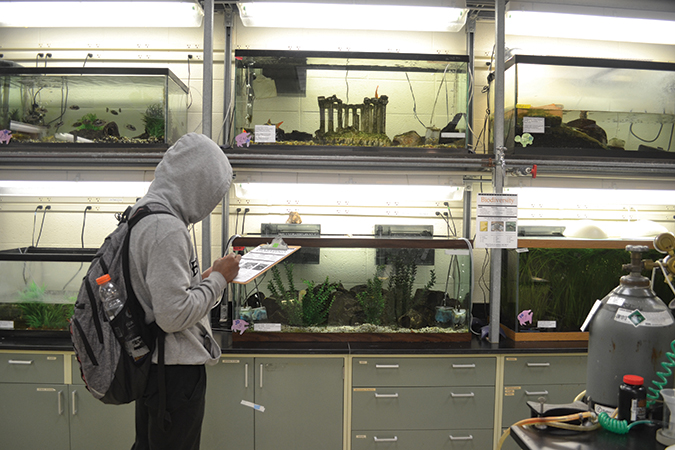 An Overbrook High School student completes a scavenger hunt during the field trip to the Saint Joseph's University biodiversity lab in May.High School LINKS also provides a unique opportunity for the future scientists of SJU. Marly René works as an undergraduate LINKS fellow in Jurkiewicz's honors biology class. "This experience strengthened my presentation and leadership skills," she said. "I also learned to communicate better with students and my peers, which will benefit me in interacting with colleagues, professors and professionals in the future. The students are great and so eager to learn more. It really made me realize how much of an impact outreach has on the community."
High School LINKS expanded in 2017 into Overbrook High School, 10 minutes from SJU's campus. The SJU faculty and undergraduates worked with Overbrook biology teacher Christina Johnson to develop a new curriculum focused on how genetic mutations can lead to biodiversity. During the unit, the Overbrook students visit SJU's biodiversity lab to see fish, reptiles and amphibians up close.
The field trip and the interactions with professors and college students are priceless, Johnson said. "The LINKS program allows our students who would normally not go to a college lab during their high school careers the opportunity to engage and spark an interest. They were able to visualize how genetics can play a major role in the lives of living things such as an albino red ear slider turtle."
On a recent field trip, Overbrook High School students discussed how skin color is determined by genetics. Their observation of the animals' body patterns led them to talk with SJU students and faculty about how genetics influence human skin color. One Overbrook student made the connection that the skin condition vitiligo, where patches of skin lose pigment over time, may be linked to an inheritable genetic mutation.
Li has realized his goal. "The continuation and expansion of High School LINKS has allowed us to capture the interest of a wide range of students," he said. "This is one of the few outreach programs to offer SJU students the opportunity to share their passion for cellular and molecular biology, organismal and evolutionary biology, or both. We have met the diverse interest of our undergraduate students while also fulfilling the educational needs of our high school partners."
LINKS has served hundreds of high school students and has provided more than 20 SJU undergraduates with experience in science outreach and public engagement.
Alison Kloiber graduated from SJU last year and is a High School LINKS alumna. She now works in an internship using the skills she developed in the program. "While three years ago I was clueless about this field," she said, "I am now considering (science outreach) as a potential career path."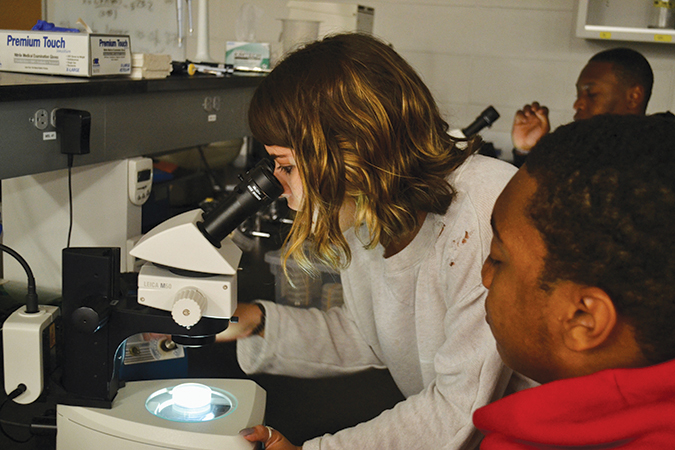 LINKS fellow Madison Honer focuses a dissecting scope for Overbrook High School students to see and try to pick a roundworm during their field trip to Saint Joseph's University in May.
Join the ASBMB Today mailing list
Sign up to get updates on articles, interviews and events.
Latest in People
People highlights or most popular articles