News
Biochemist offers fellowships to Ukrainian scientists
As Ukraine endures the ravages of an unprovoked attack, battling for survival amid the wreckage wrought by Russian missiles and bombs, Oleh Khalimonchuk is coping with the killing of his people by offering what refuge he can in the science of life.
A native of Ukraine, Khalimonchuk spent the first 20 years of his life in the western city of Lviv.
"It's near the Polish border, and that's where many of the refugees are these days," Khalimonchuk said of the city, where his mother continues to reside amid the invasion that began Feb. 24. "At least, it is for those who haven't fled even farther west."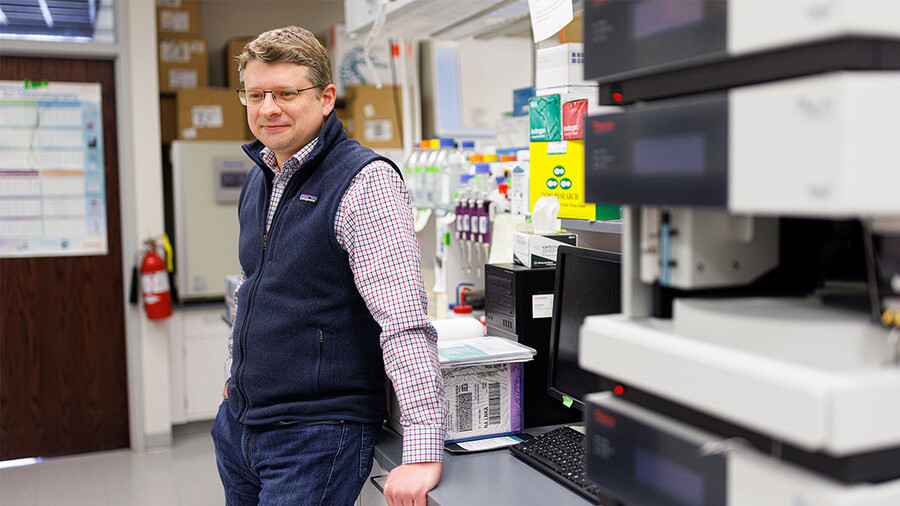 Craig Chandler/University of Nebraska–Lincoln
Oleh Khalimonchuk, seen here in his lab at the Beadle Center, studies the role of mitochondria in biological processes and human disease.
Much farther west, in Lincoln — a community also known as a sanctuary for refugees — Khalimonchuk is extending a sort of academic asylum. On Feb. 27, the professor of biochemistry at the University of Nebraska–Lincoln announced that he will open his lab's doors to Ukrainian refugees — graduate students, postdoctoral researchers, senior scientists — who are being forced to flee their homeland.
"The idea was just to do something, and not just stand aside," Khalimonchuk said. "People, myself included, can feel helpless, not being able to help directly.
"I wouldn't forgive myself if I were just sitting quietly and not doing anything."
Khalimonchuk estimated that his lab could accommodate up to three or four Ukrainian biochemists. COVID-related disruptions have left the lab, like many others, with a temporary surplus of funds that Khalimonchuk intends to put toward hiring those Ukrainian transplants.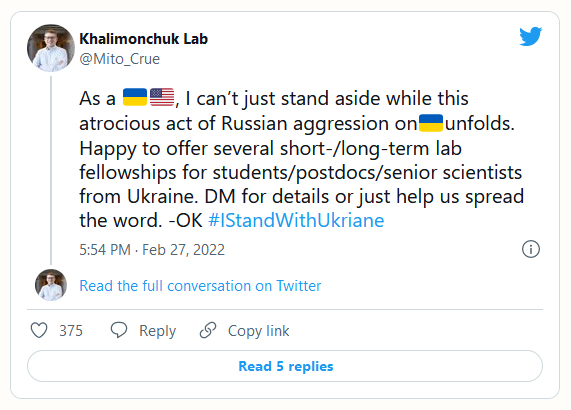 "There are a lot of brilliant scientists in Ukraine," he said of his native country, which houses more than 40 million people. "So if someone wants to come over here and work, that'd be a win-win."
Many labs throughout Europe have extended similar offers, and given their proximity to Ukraine, "they might be in a better position to help," said Khalimonchuk, who also directs the Nebraska Redox Biology Center. "But still, I wouldn't want to miss a chance to help. And I guess what we can offer is that we actually have some native speakers who can help people get acclimated."
Two of those native speakers work directly alongside Khalimonchuk. His wife and fellow Lviv native, Nataliya Zahayko, manages the lab. Its senior research associate, Iryna Bohovych, has worked at the lab since arriving in the United States nearly a decade ago.
Lincoln itself also includes a sizable Ukrainian population, Khalimonchuk said, with churches that serve Ukrainian Baptists and Catholics. The church that Khalimonchuk and Zahayko attend was founded by Ukrainians who fled the Soviet Union in the aftermath of World War II. Those refugees preceded the arrival of many others from the Middle East, Southeast Asia, Africa, Latin America and elsewhere in Eastern Europe.
"Lincoln has always been a sanctuary city for refugees," Khalimonchuk said of the city he's called home since 2011. "So if there's a possibility to welcome people here, we should be welcoming them."
In that spirit, Khalimonchuk has already begun thinking about how the university might further accommodate Ukrainian scientists. The head of the Department of Biochemistry, and multiple faculty whose labs are short on personnel, have shown interest in supporting or joining Khalimonchuk's efforts. That feedback also has him considering the idea of setting up a fund specifically to support Ukrainian scientists interested in working or studying at Nebraska.
"There'll definitely be more people willing to help out," he said, noting that he's received well-wishes from the university and Lincoln communities since the Russian invasion commenced.
Khalimonchuk, Zahayko and Bohovych have remained in touch with their immediate and extended family in Ukraine. Some of Bohovych's family was living in an area bombarded by Russian airstrikes before managing to escape to relative safety in the past week.
On a recent trip to the grocery store, Khalimonchuk's mother was forced to seek cover in the basement of a nearby building when an air raid siren began blaring. Yet despite the constant threats of airstrikes and Russian saboteurs posing as Ukrainian citizens, his mother, like Zahayko's family, refuses to leave Lviv.
"We could probably evacuate her if she wanted, but she doesn't," Khalimonchuk said. "I think that's true for a lot of people there. They don't want to leave. Their entire lives have been spent there."
This article originally appeared in Nebraska Today and has been republished with permission.
Enjoy reading ASBMB Today?
Become a member to receive the print edition monthly and the digital edition weekly.
Learn more
Get the latest from ASBMB Today
Enter your email address, and we'll send you a weekly email with recent articles, interviews and more.
Latest in People
People highlights or most popular articles