Award
Baserga honored for work
on ribosomes and commitment
to teaching and mentoring
She won the ASBMB's William C. Rose Award
Susan J. Baserga, professor of molecular biophysics and biochemistry, genetics and therapeutic radiology at Yale University, is the winner of the American Society for Biochemistry and Molecular Biology's William C. Rose Award for her valuable contributions to ribosome biogenesis research and her dedication as a teacher and a mentor. Joan Steitz and Karla Neugebauer at Yale nominated Baserga for the Rose award, which is given to scientists who have made outstanding contributions to biochemical and molecular biology research and have a proven commitment to the education of younger scientists.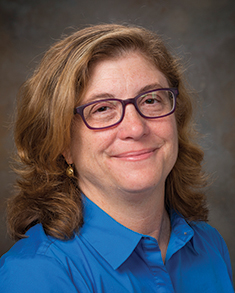 "Utterly surprised, utterly grateful, utterly happy to be doing science!" — Susan J. Baserga
Baserga has a long-standing interest in fundamental aspects of ribosome biogenesis, the nucleolus, human diseases of making ribosomes (ribosomopathies) and the impact of ribosome biogenesis on cell growth, cell division and cancer. Her work established the small subunit (or SSU) processome as the large ribonucleoprotein required for processing and assembly of the small ribosomal subunit. She continues to study 17 new proteins first described in a 2002 report in the journal Nature, to define their role in making ribosomes as part of a large RNA–protein complex. Mechanistically, Baserga was the first to show that nucleolar RNA helicase activity was regulated by protein co-factors and demonstrated RNA-binding protein Esf2 activation of Dbp8 ATPase activity in vitro. Furthermore, she proposed the Utp24 protein as a pre-rRNA cleavage enzyme for the first time. In collaborative work, she has studied the effect of lack of ribosome biogenesis on the cell cycle and of deubiquitination on ribosome biogenesis. Recent work includes a collaborative publication with crystallographer Traci Hall of the National Institute of Environmental Health Sciences on a novel fold in the RNA-binding protein Puf-A/Puf6.
Baserga has published key initial studies on the molecular pathogenesis of North American Indian Childhood cirrhosis as a potential disease of ribosome biogenesis. Because of the increasing number of ribosomopathies that are being described, almost all of which are congenital diseases, Baserga recently has moved to the study of ribosome biogenesis in embryonic development in fish, with collaborator Pam Yelick of Tufts University, and frogs, with collaborator Mustafa Khokha of the Yale University School of Medicine. To recapitulate the phenotypes of ribosomopathies and to study their molecular basis, the Baserga lab uses yeast and human cell lines as well as animal models and has established a bench-to-bedside connection fundamental for the advancement of biomedical research.
In his letter of support for Baserga's nomination for the award, Joseph G. Gall at the Carnegie Institution for Science wrote, "Susan is not afraid to tackle difficult molecular problems. She has been unusually successful in elucidating the complexities of RNA-based cellular machines and the way they control everything from transcription and transcript processing to translation by the ribosome." Jonathan Warner at Albert Einstein College of Medicine also supported Baserga's nomination, writing, "She had the insight to select an important problem and to pursue it from a variety of angles, digging deeper and deeper, learning new and important facts leading to new and important concepts."
At Yale, Baserga is a driving force for education at the undergraduate, graduate and postgraduate levels. She chairs the Beckman Scholars Program, which funds research for undergraduates, and has served on the steering committee of the Howard Hughes Medical Institute Undergraduate Science Program; her school's Teaching Support Committee; and the Undergraduate Advisory Committee of the Science, Technology and Research Scholars Program. The latter supports underrepresented minorities and economically underprivileged students studying science, technology, engineering and medicine.
Baserga also has been the associate director of Yale's M.D./Ph.D. program and was a member of the National Institute of General Medical Sciences' study section for training-grant review. She is the program director for the largest graduate training grant at Yale (in cell and molecular biology), is the director of medical studies and has been the course director for the medical student biochemistry course since 2002. In 2014, Baserga won the Charles W. Bohmfalk Prize for teaching in the basic sciences.
Baserga obtained her bachelor's and master's degrees at Yale, a medical degree at the Yale School of Medicine and a Ph.D. from Yale's department of human genetics. She was an assistant professor at the Yale School of Medicine and has been a professor in the departments of molecular biophysics and biochemistry, genetics, and therapeutic radiology at the same institution since 2007.
Watch Baserga's annual award lecture, "When good ribosomes go bad," below.
Enjoy reading ASBMB Today?
Become a member to receive the print edition monthly and the digital edition weekly.
Learn more
Get the latest from ASBMB Today
Enter your email address, and we'll send you a weekly email with recent articles, interviews and more.
Latest in People
People highlights or most popular articles